The Ultimate Binance Review (For 2021)
Pros
Low fees

Ease of use, fast negotiation times

Possibility of buying and selling crypto with fiat currency

Wide range of digital currencies

High liquidity
Cons
Binance Customer Support. Although you can contact Binance by email or live chat, some users have reported long delays. There is also no phone support.

Security breaches experienced in the past

No privacy-preserving measure
Interested in Binance, but not sure what it's all about or where to even begin? Our Binance review guide will teach you everything you need to know about Binance, its core advantages, and available services.
Binance is the leading cryptocurrency exchange by trade volume. It offers crypto-to-crypto trading in more than 500 cryptocurrencies and virtual tokens, including Bitcoin (BTC), Ethereum (ETH), Dogecoin (DOGE), and its own token Binance Coin (BNB).
Binance's core features include:
Proactive community
Buying bitcoins and altcoins with over 40 fiat currencies
Private Binance chain
Binance coin (BNB)
Derivatives trading
Nonfungible token marketplace
While it can handle large volumes of trades without experiencing a major slowdown in transaction times, the Binance platform has experienced unexpected maintenance issues and security vulnerabilities. Nonetheless, Binance remains one of the most successful crypto exchanges on the market.
General Information
Web address: www.binance.com
Headquarters: the Cayman Islands, Seychelles
Average Daily Volume (as of Sep 9, 2021): $2 billion
Mobile app available: Yes
Decentralized: No
Parent company: Binance Holding
Transfer types: Credit card, Debit Card,  Bank Transfer, Crypto Transfer
Fiat compatible: Yes
Compatible Pairs: 563
Native token: Binance Coin BNB
Key Features
Binance is a leading cryptocurrency exchange with innovative features led by Changpeng Zhao.
The key features of Binance include:
Trade 500+ cryptocurrencies on Binance. Binance is one of the top altcoin exchanges with a wide selection of tradable assets.
Binance Fiat Gateway. Binance enables you to instantly buy Bitcoins and 15 top cryptocurrencies with fiat currency using credit cards, bank account, and other payment methods. Additionally, you can sell them for some of the supported national currencies.
Low trading fees. Binance offers some of the lowest trading fees.
Multiplatform support. Users can access Binance through its web platform, desktop clients for macOS and Windows, mobile applications for Android (including Android APK), and iOS. Also, one can make use of the Binance API.
Binance Futures. Users can trade crypto derivatives with leveraged positions—(up to 20x leverage on futures and 10x on margin trading)—for maximum returns.
24-hour customer service. Binance has a dedicated help center, where you can contact the support team for actual beginners' guides and explanations of all kinds of exchange features.
Binance Launchpad. All Binance customers can participate in its Initial Exchange Offerings (IEOs). Binance IEOs are among the most profitable in the industry.
Binance Finance. Binance also supports staking, crypto loans, and other means of earning passive income from your crypto assets.  
Nonfungible Token (NFT). Binance's NFT marketplace and trading platform is the premier destination for NFTs and digital collectibles across mediums, from visual arts and gaming to music and sports.
Binance Smart Chain (BSC). This dual-chain architecture empowers its users to build their decentralized apps and digital assets on one blockchain and take advantage of the fast trading to exchange on the other.
In short, Binance is one of the most innovative cryptocurrency exchanges on the market and an excellent trading option for both beginners and experienced traders wanting advanced trading options. Binance developers and members of the global community continually work to improve the ecosystem and popularize cryptocurrencies globally.
Binance Review: Background
Launched in 2017 in China, Binance was designed to provide a simple, intuitive, fast, and robust cryptocurrency trading interface.
Binance was founded by Changpeng Zhao and Yi He, who had previously worked at OKCoin exchange. Zhao has also been a member of the Blockchain.com wallet team since 2013.
Binance cryptocurrency exchange has also conducted one of the most successful ICO (initial coin offering) projects in history. Between July 1-20, 2017, the exchange raised $ 15,000,000 equivalent of cryptocurrency from investors. In turn, the investors received 100,000,000 of Binance Coin (BNB) tokens issued on the Ethereum blockchain (now migrated to Binance's native Binance Chain). The initial ICO price for a BNB was $0.115 per coin.
Binance became the largest exchange in terms of global trading volume in just six months. It currently remains near the top due to its ease of use and ability to handle a large number of transactions. Additionally, Binance focuses on its global expansion—with the accessibility of the platform in multiple languages, including English, French, German, Chinese, Spanish, Russian, Korean, etc.
Although Binance was founded in China, it moved its headquarters to Japan before the Chinese government ban on crypto trading in 2017. In 2018, Binance established centers in Taiwan. Later that year, it moved to Malta. However, in 2020, Malta Financial Services Authority (MFSA) clarified that Binance was not officially registered or regulated there.
While Malta remains the de facto headquarters for Binance, the company is incorporated in the Cayman Islands and Seychelles. The company also has teams in London, California, Berlin, Paris, Moscow, Singapore, Istanbul, Kampala, New Delhi, Ho Chi Minh, Manila, Jersey, and other places in Asia. In total, its team operates from more than 40 countries.
Currently, the exchange has more than 15 million users and settles more than $ 2 billion on an average trading day.
In addition, it has developed a set of related products, including:
Binance Jersey. A European fiat-to-crypto exchange that facilitates the exchange of Bitcoin (BTC), Ethereum (ETH), Litecoin (LTC), Binance Coin (BNB), and Bitcoin Cash (BCH) for Euro (EUR) and British Pound (GBP).
 Binance US and other regional versions of the Binance Exchange. Regulated versions of Binance exchange dedicated to specific markets with different regulatory climates.
 Binance DEX. Binance's decentralized exchange, based on the Binance Chain.
 Binance JEX. Binance cryptocurrency futures and options trading platform.
 Binance Futures. Binance's crypto derivatives platform, allowing you to trade futures with up to 125x leverage.
 Binance Launchpad. Binance's crypto crowdfunding platform for launching top-tier Initial Exchange Offerings (IEOs). Binance's launch pad was among the first-of-its-kind of funding platforms in the crypto sector.
 Binance P2P trading. A peer-to-peer trading platform.
 Binance Crypto Loans. A feature that allows one to take out crypto loans secured by their crypto assets.
 Binance OTC. OTC trading table for whales and other high-volume traders.
 Binance Savings. Ability to employ crypto assets by lending them out to earn interest. Users can withdraw their funds flexibly.
 Binance Staking. Binance staking feature allowing you to stake certain cryptocurrencies and reap up to 16% annual yield. Supported cryptocurrencies include Ark, ARPA, EOS, TROY, Lisk, LOOM, Tezos, KAVA, THETA, and more.
 Binance Fiat Gateway. A fiat gateway allowing you to buy cryptocurrencies using your national currency (currently supports almost 40 fiat currencies).
 Binance Chain and Binance Coin (BNB). Community-driven blockchain ecosystem with its native token (BNB) and decentralized exchange (DEX).
 Binance USD (BUSD) and Binance GBP stablecoin. Binance's regulated stablecoins, released in partnership with Paxos Trust Company.
 Binance Academy. An open-access learning center for blockchain and crypto educational resources.
 Binance Charity. A non-profit foundation dedicated to promoting blockchain philanthropy and sustainable global development.
 Binance information. An open-source crypto encyclopedia.
 Binance Labs. Binance infrastructure impact fund and initiative to empower blockchain projects.
 Binance Research. Institutional-level research platform conducting analytics for crypto investors.
 Trust Wallet. A decentralized and secure wallet backed by Binance.
 Binance Cloud. Cryptocurrency exchange business solutions for cryptocurrency companies.
 Binance Visa Card. A crypto payment card, used as a payment option for everyday purchases like a regular bank card.
In 2019 and 2020, Binance went on an acquisition streak. First, the firm acquired India's largest cryptocurrency exchange WazirX. Then, it took over DappReview,  a Chinese Dapp analytics platform, and CoinMarketCap, the leading crypto market data aggregator platform.
Binance has aspiring goals of transforming itself into a decentralized autonomous organization (DAO), enabling fiat-to-crypto trading for over 180 fiat currencies, open-source Binance Chain, and its native Binance Coin (BNB).
Binance Trading Fees
Depositing funds is free with Binance. Once you have your account set up and your bank account linked, you can also withdraw funds in fiat currency.
Binance takes a 0.1% cut from every trade on its trading platform, making it one of the cheapest online cryptocurrency exchanges. As such, 0.1% applies to both the spot trading fee and margin trading.
For instance, Coinbase Pro charges 0.5% for any trade, while Bittrex charges 0.2%. Other popular altcoin exchanges, including KuCoin and HitBTC, charge similar rates. For example, KuCoin matches Binance's trading fee of 0.1% per trade. Meanwhile, HitBTC charges 0.1% for market makers and 0.2% per trade to receive orders. Exchanges like Poloniex or Kraken are also more expensive as they have a 0.15% -0.16% manufacturer fee and a 0.25% -0.26% buyer fee.
Users can get significant discounts on trading fees if they use Binance Coin (BNB)—of up to 25%. They can also receive similar bonuses via referrals.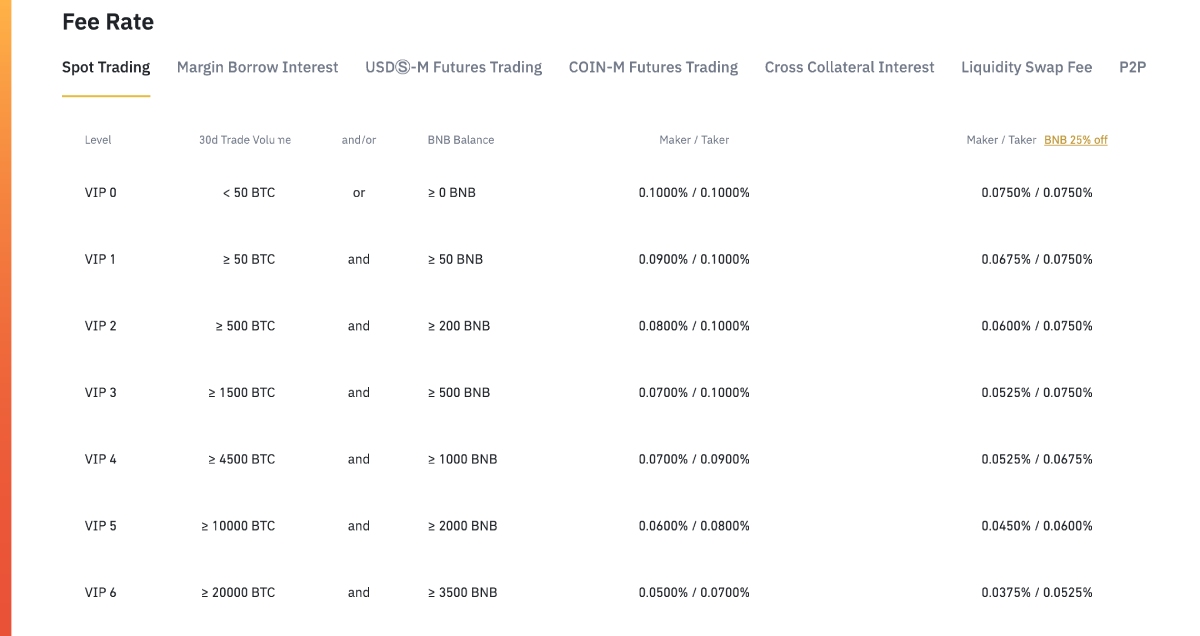 Low trading fees also apply to Binance Futures. At the most basic level (VIP 0), you will pay a 0.02% maker fee and 0.04% taker fee.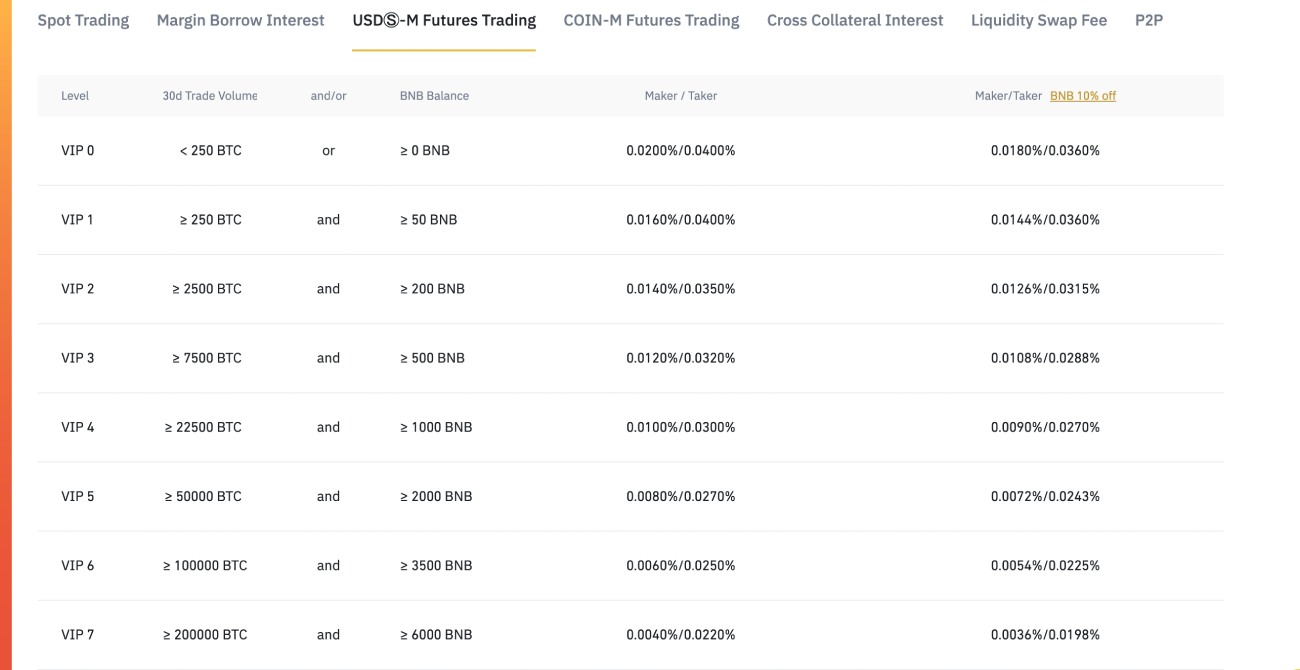 Another key factor to consider when evaluating Binance fees is the futures funding rate and margin position daily interest rate. They tend to change as per market conditions and, as a result, there are no flat fees. Users should check them regularly on Binance's website.
Binance charges deposit and withdrawal fees. The exchange strives to offer excellent value for money, although the fees vary from one cryptocurrency to another. Here is a small sample of the fees for some of the more popular currencies:
Binance does not offer fiat-to-crypto trading pairs. Nonetheless, the exchange facilitates fiat-to-crypto purchases using third-party integrations and service providers. With Binance Fiat Gateway, you can buy and sell cryptocurrencies with more than 40 national currencies.
The fees vary as per the payment method and floating exchange rates, determined by Koinal, Simplex, TrustToken, Paxos, BANXA, SEPA, iDEAL, and others.
Typically, fiat gateway fees range from 1% to 7%, depending on your chosen payment method and processor. As a result, bank card transactions happen to cost more than other payment options.
Overall, Binance charges some of the lowest fees in the industry. In addition, its wide and ever-growing suite of services is available at lower prices, making it one of the most convenient trading options out there.
Security
Security at Binance is generally strong, although the exchange has experienced a significant hack in May 2019.
In detail, Binance lost more than 7,000 BTC due to a series of compromised user accounts and used its #SAFU (Safe Asset Fund for Users) fund) for user compensations. Later, the exchange introduced the Universal 2nd Factor (U2F) authentication method, which enhanced its exchange monitoring capabilities.
Additionally, Binance encourages users to enable two-factor authentication (2FA) using Google Authenticator or SMS authentication. Also, traders have the option of whitelisting addresses and setting up an anti-phishing code. It also has extensive security FAQs in its support section, where it advises its users on how to protect their Binance account from phishing attacks and personal security breaches. Finally, one gets to confirm every withdrawal from Binance by email. All USD balances are insured up to $250,000 by the Federal Deposit Insurance Corporation (FDIC) and held in custodial bank accounts.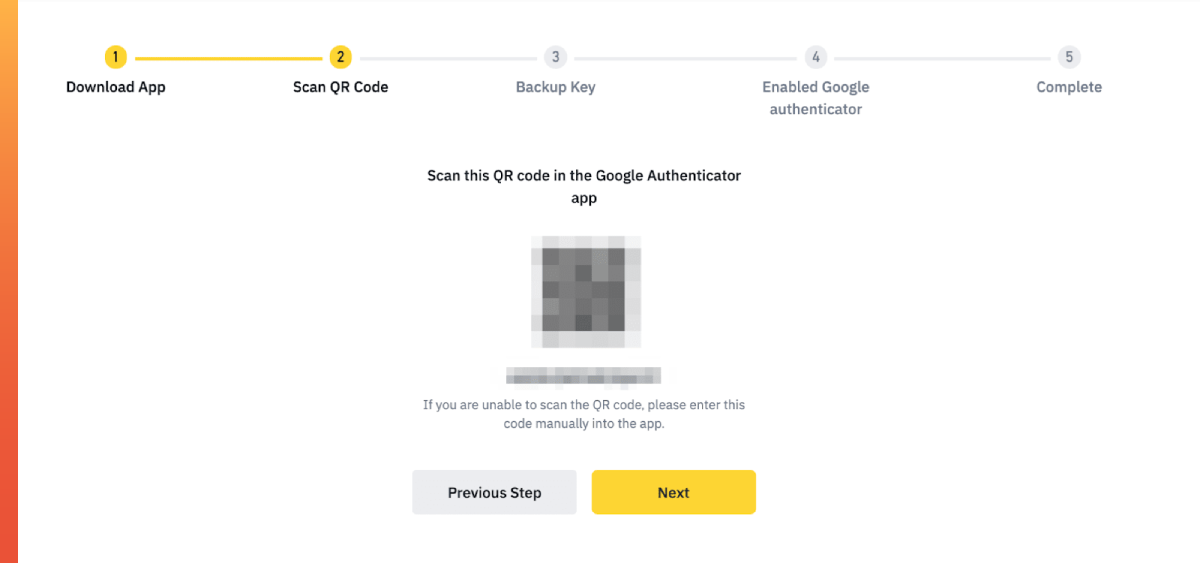 In 2020, Binance integrated state-of-the-art artificial intelligence (AI) risk control solutions that use facial recognition, big data analytics, and cyber forensic investigations. In doing so, Binance aims to monitor financial transactions and their origins to identify suspicious and irregular activities.
As a result, Binance has lately proven that it can respond to major threats promptly and protect customers' funds.
For instance, in March 2018, criminals managed to use phishing to hack into the accounts of numerous users whose funds were inexplicably sold to buy the Viacoin (VIA) cryptocurrency. However, Binance systematically identified and reversed all irregular trades, meaning that the hackers were the only people who lost money.
In July 2018, Binance started a Safe Asset Fund for Users (SAFU) and allocated 10% of all trading fee revenue. In doing so, the exchange will cover users' losses in the case of a successful hack. However, later in 2019, the exchange also suffered a KYC data leak.
A report published by CryptoCompare in 2019 called Binance "a solid grade A exchange." It also ranked Binance among the top 20 exchanges based on security, with an above-average score of 11.5 out of 20 possible points.
All in all, Binance is a secure exchange, but security is not its hallmark, and there is room for improvements.
Futures, Margin, and Options Trading
Binance offers several different options for leverage trading. Its spot trading exchange has another feature for margin trading certain cryptocurrencies with up to 3x leverage. Meanwhile, Binance has launched an integrated Binance Futures platform, which allows you to trade options with up to 20x leverage.

But what is the key difference between these modes of trading? Read on for an explanation below:
Binance or its users lend you the additional funds needed for opening a 1:3 leveraged position in margin trading. In doing so, the platform charges you a customary 0.1% trading fee in addition to an ever-changing daily interest fee.
Binance Futures allows leverage of 1:20. Here you don't buy cryptocurrencies directly, but only a contract version of the asset. Unlike traditional futures, Binance Futures does not come with an expiration date. As a result, the trading is very similar to trading pairs on the spot market. In addition to the trading fee, traders also pay a periodic funding fee.
Binance Options. An option is another type of perpetual contract. Binance Options is an American-style options contract, giving traders the option to execute the contract any time before the expiration date, which ranges from 10 minutes to 1 day.
Financial Planning with Binance
Binance has also built a suite of financial services accessible to all registered and verified users.
These include:
Binance Savings. Binance Savings is a product that allows you to earn cryptocurrency by staking short (flex) or long-term (locked) assets. Staking assets gives you a little over 1% annual yield, while locking in your assets for a while can get you up to 15% annually.
Binance Staking. Staking is another alternative way to earn money while holding and is currently used by numerous protocols. At the moment, Binance allows you to stake nine cryptocurrencies, and the estimated annual yield ranges from 1% to 16%. 
Binance Debit Card. Binance introduced its Binance Card, which is set up to allow you to make crypto purchases worldwide, just like a regular bank card.
Binance Crypto Loans. Crypto loans feature from the Binance exchange allows you to borrow USDT or BUSD stablecoins for a specified period by using crypto collateral.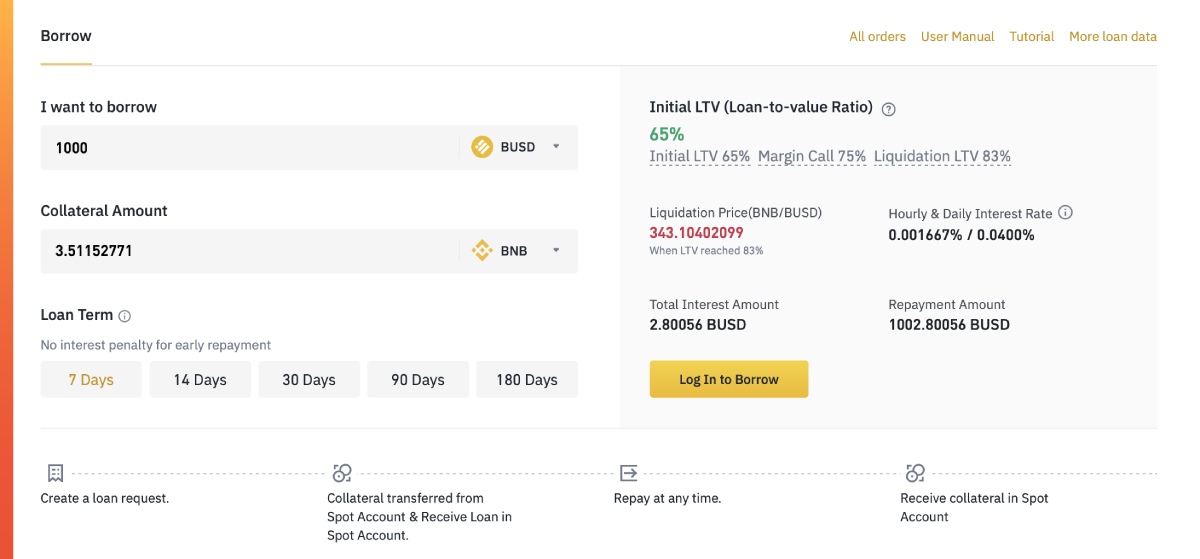 Binance's range of financial products is set to grow in the future. However, it remains to be seen what other innovative services the exchange is going to introduce to the global crypto community.
Binance Launchpad
Binance users can also access Binance Launchpad, the best IEO (initial exchange offering) launchpads out there. Since 2017, Binance has started mediating between IEO buyers and sellers and has launched many successful IEO projects, including Polygon (MATIC) and BitTorrent (BTT). IEO participants must have at least some BNB (Binance Coin) but also have some luck in the lottery, which determines in what order participants get a chance to purchase the new coins. Before Buying BNB, go and learn how to buy Binance coin (BNB).
Binance Launchpad's average return on investment (ROI) is the highest out of all other exchanges, so it might be worth checking it out.
Binance NFT
On June 24, Binance officially launched Binance NFT Marketplace, the ultimate destination for NFT and digital collectibles, ensuring a world-class lineup from regional creators to influential names and brands, exclusive 'premium events' auctions, and NFT mystery boxes. 
In doing so, Binance enabled access to rare and unique NFTs accessible for everyone from beginners to seasoned collectors. It also ensured low transaction fees and fast processing times for launching NFT collections.
Customer Support
Binance has a comprehensive support center with an extensive base of frequently asked questions regarding customer support. Apart from that, you can also send a request to the Binance support team or ask for the community's help in official Telegram, Facebook, or Twitter groups.
Nonetheless, Binance does not offer phone line support for customers to call with their inquiries. This can make the exchange slightly less responsive than other exchanges, and while its online support system is usually quick, it can get a bit bogged down during peak demand periods.
Binance Applications
Binance trading is accessible through multiple devices. The most common option is the Binance web platform, where you can enjoy all the above benefits and services.
Alternatively, you can download the Binance mobile app for Android or iOS. The mobile apps allow users to access most of the web platform's features, including the fiat gateway, Binance Options, Binance Futures, spot trading, margin trading, P2P trading, and more.
Binance is also one of the few cryptocurrency exchanges with a desktop trading app for macOS and Windows. Both applications offer better performance but have fewer built-in features than the web platform.
To sum up, Binance is an easy-to-use exchange with a wide range of easy-to-access features for both new and experienced traders. Additionally, Binance international trading community gets to participate in various contests and competitions with valuable rewards.
Regulatory Hurdles
As pressure grew from regulators worldwide, Binance started winding down its futures and derivatives business across Europe, including Germany, the UK, and Brazil, with plans to take similar steps later this year in Australia.
Binance has made these drastic moves to appease regulators, alerting that the crypto company has been operating in their jurisdictions without obtaining a license. Moreover, some also accuse Binance of openly facilitating money laundering via crypto transactions.
Binance in August said it would demand stricter background checks on customers to bolster efforts against money laundering.
Binance Review: Conclusion
Our review has demonstrated that Binance is focused on experimenting and advancing cryptocurrency services. It offers fiat-to-crypto market pairs and the ability to buy and sell Bitcoin and another 180 altcoins for fiat. Additionally, you'll enjoy some of the lowest trading fees possible when using Binance.
Binance offers futures, options, and margin trading for the most risk-tolerant users. In addition, there are savings and participation programs for the most risk-averse traders.
Binance has also announced that they will take drastic steps to better meet financial regulations, including strengthening their compliance and legal teams, banning or scaling back products, and demanding stricter background checks.
Overall, Binance offers an excellent set of services for all types of cryptocurrency users.
How to earn interest from crypto saving accounts
The cryptocurrency industry has offered developers and investors the opportunity to introduce new financial tools providing plentiful options to earn passive income. Simply holding crypto has offered patient investors the chance to make gains over the years. However, there are various other ways to increase crypto assets' stacks, even in bear markets.
Other than staking, crypto savings accounts allow retail investors to accrue their funds by earning interest on the crypto assets they deposit on specific cryptocurrency platforms if they agree to lend out their coins or tokens. Crypto interest accounts are particularly appealing because they distribute much higher returns than traditional bank savings accounts, considering that the average interest rate applied by a crypto savings account can be up to 7.5%, against the average 0.06% of bank savings accounts.
Related: DeFi staking: A beginner's guide to proof-of-stake (PoS) coins
The difference in rates between crypto and traditional savings accounts is somewhat significant but comes with higher risks associated with the service. We'll find out here how to access crypto savings accounts, the crypto interest rates and deposit terms and the risks associated with this type of financial instrument.
What is a crypto savings account?
A crypto interest account is generally a DeFi platform's service that lets you earn interest on digital assets you've deposited and agreed to lend out in exchange for a return. This service is similar to a bank savings account that will lend out your money to other customers or financial institutions for a certain amount of time and will give you interest for that service.
By definition, blockchain technology encourages users to become self-sovereign and independent from third parties. However, intermediate companies have become a necessary component of the industry providing crypto savings accounts to those who want to enjoy the benefits of the technology without making too much effort to learn complicated and burdensome processes.
Other than convenience, these companies will also hold some of the risks involved and ensure depositors are paid first if adverse events like insolvency occur. Some companies are backed by insurance and work with well-established custodians to protect their customers.
How does a crypto savings account work?
Once you deposit your crypto assets into a savings account, you start accruing interest from day one. Most of the popular cryptocurrencies can be used in a crypto savings account, with the most picked being Bitcoin (BTC), Ether (ETH) and Litecoin (LTC), while many favor interest rates on stablecoins like Tether (USDT), USD Coin (USDC) and Pax Dollar (USDP).
By depositing your crypto assets into a savings account, you formally grant the platform the right to use your money for any purpose, from lending it out to investing it or staking it on your behalf. Primarily, it will be used for lending it out to earn high returns, some of which will be paid to you as regular interest payments.
Crypto savings accounts may offer you more favorable rates if you agree to lock up your crypto for a while or hold a platform-specific token. Nexo, for instance, increases interest rates by up to 4% for holders of the platform's governance token.
How to invest in a crypto savings plan?
When you want to invest in a crypto savings plan, the first step is to pick the right account for you and get started as follows:
Choose a cryptocurrency platform you trust that offers realistic interest rates;
Transfer cryptocurrency to this chosen platform;
Follow the few simple steps to deposit your crypto assets into a savings account. Usually, these steps are straightforward, and you'll be guided through the process by the platform;
Choose if you want to deposit your asset for a limited amount of time or select a flexible time that will allow you to withdraw your crypto at any time;
Start earning interest from the first day.
As mentioned, there are plenty of platforms to choose from, including well-established cryptocurrency exchanges like Coinbase, with the following indications of interest rates on fixed savings:
Binance is the other global popular crypto platform that offers interest rates on many cryptocurrencies with flexible savings and locked savings options:
An increasing number of other financial service companies and cryptocurrency platforms provide these types of accounts. Nexo and Crypto.com are among companies offering greater interest rates to cryptocurrency holders who lock their assets away for weeks or months. However, the drawback with this type of savings account is that you can't withdraw or sell your crypto during that period.
How much interest you can earn with a crypto savings account largely depends on the platform and the cryptocurrency you choose to deposit. The interest rate offered by the service will also be driven by market conditions and is usually paid out in the cryptocurrency you have deposited.
While their high-interest rates can entice you, you should consider how secure your investment is with them. Choosing the best crypto interest account is not simply a matter of comparing interest rates paid but also making sure your investment is as safe as possible.
Remember, they are custodians of your crypto assets, meaning that by holding your funds, they can even stop you from withdrawing them or delaying the withdrawal process, which may result in a loss for you if the value of the crypto asset changes in the meantime. When choosing the best interest rates, make sure you understand the difference between the annual percentage rate (APR) and the annual percentage yield (APY) because they might mislead you in calculating your yearly returns.
In short, APY includes a compound interest — i.e., the addition of interest to the principal sum of a loan or deposit (the interest on interest accrued). On the other hand, APR does not include compound interest. Due to the compound interest factor, APY will provide a higher return than APR. Yet, it's always worth reading the savings account's small print because certain services will pay simple interest only and won't produce compound interest over time.
Crypto saving account risks
The crypto industry is mostly unregulated, so the investors might not have any cover in case something goes wrong with their assets. In this framework, operate crypto savings accounts that do not offer government-backed deposit insurance like the Federal Deposit Insurance Corporation (FDIC) or the National Credit Union Administration (NCUA).
These savings accounts offer higher yields because they are riskier. For example, they could limit how quickly you can withdraw your assets and, in times of difficulties, they might not let customers withdraw their assets at all.
In exchange for these restrictions and the associated risk, these savings accounts are much more interesting for an investor than a typical bank account. However, for these accounts to yield such a high interest which may exceed 20% in some cases, you should wonder how your money is employed in the background.
Like regular banks operate under a "fractional reserve" banking service, so do most crypto companies. They are lending out more than they have to financial institutions with the difference that there is no deposit insurance to back them, as in the case of traditional banks.
Crypto savings accounts vs. crypto wallets
Crypto wallets simply won't accrue your cryptocurrency holdings as opposed to crypto savings accounts that are conceived to increase the number of coins you own over time.
This might be at the expense of key ownership, though, because the private keys that allow you to access your coins are maintained by the crypto platform. On the other hand, most crypto wallets will ensure you keep full ownership of your private keys.
Security is another concern that should be very well addressed. There are security risks in the centralized platform that holds your private keys because it is potentially at risk of becoming insolvent, bankrupt or being hacked, and you could lose your money.
In the same way, you should choose a wallet carefully to avoid picking a service with little security and a vulnerability to hacking. Also, you must ensure you can easily access your wallet's private keys if you lose your operational device and need to restore your assets in another digital location.
Cryptocurrency is a work in progress and will likely undergo continuous changes over the years, especially in terms of regulation, which will also affect how crypto savings accounts are managed. In June 2022, the issues of leading crypto lending platforms like Block.Fi and Celsius have raised further concerns over the future of crypto savings accounts and similar related cryptocurrency services.
Related: A step-by-step framework for evaluating crypto projects
Caution and due diligence are always recommended if you consider opening a crypto savings account and weigh the associated risks against the chances of high returns, especially if you risk life savings or anything close to that.
Experts dissect what went wrong
Decentralized finance protocols continue to be targeted by hackers, with Curve Finance becoming the latest platform to be compromised after a domain name system (DNS) hijacking incident.
The automated market maker warned users not to use the front end of its website on Tuesday after the incident was flagged online by a number of members of the wider cryptocurrency community.
While the exact attack mechanism is still under investigation, the consensus is that attackers managed to clone the Curve Finance website and rerouted the DNS server to the fake page. Users who attempted to make use of the platform then had their funds drained to a pool operated by the attackers.
Curve Finance managed to remedy the situation in a timely fashion, but attackers still managed to siphon what was originally estimated to be $537,000 worth of USD Coin (USDC) in the time it took to revert the hijacked domain. The platform believes its DNS server provider Iwantmyname was hacked, which allowed the subsequent events to unfold.
Cointelegraph reached out to blockchain analytics firm Elliptic to dissect how attackers managed to dupe unsuspecting Curve users. The team confirmed that a hacker had compromised Curve's DNS, which led to malicious transactions being signed.
Related: Cross chains, beware: deBridge flags attempted phishing attack, suspects Lazarus Group
Elliptic estimates that 605,000 USDC and 6,500 Dai was stolen before Curve found and reverted the vulnerability. Utilizing its blockchain analytics tools, Elliptic then traced the stolen funds to a number of different exchanges, wallets and mixers.
The stolen funds were immediately converted to Ether (ETH) to avoid a potential USDC freeze, amounting to 363 ETH worth $615,000.
Interestingly, 27.7 ETH was laundered through the now United States Office of Foreign Assets Control-sanctioned Tornado Cash. 292 ETH was sent to the FixedFloat exchange and coin swap service. The platform managed to freeze 112 ETH and confirmed the movement of funds, according to an Elliptic spokesperson:
"We have been in contact with the exchange, which confirmed a further three addresses that the hacker withdrew funds into from the exchange (these were completed orders that FixedFloat were not able to freeze in time). These include 1 BTC address, 1 BSC Address and 1 LTC address."
Elliptic is now monitoring these flagged addresses in addition to the original Ethereum-based addresses. A further 20 ETH was sent to a Binance hot wallet, and another 23 ETH was moved to an unknown exchange hot wallet.
Elliptic also cautioned the wider ecosystem of further incidents of this nature after identifying a listing on a darknet forum claiming to sell "fake landing pages" for hackers of compromised websites.
It is unclear whether this listing, which was discovered just a day before the Curve Finance DNS hijacking incident, was directly related, but Elliptic noted it highlights the methodologies used in these types of hacks.
F2Pool co-founder responds to allegations it's cheating the Ethereum POW system
F2Pool co-founder Chun Wang has responded to allegations that his mining pool has been manipulating Ethereum block timestamps to "obtain consistently higher mining rewards."
The allegations came from an Aug. 5 paper from researchers at The Hebrew University, claiming the mining pool has been engaging in a "consensus-level" attack on Ethereum over the last two years to gain an edge over "honest" miners.  
However, Wang on Twitter responded by saying that "we respect the *consensus* as is", implying that intentionally exploiting the system's rules doesn't necessarily mean that rules have been broken.
We respect the *consensus* as is. If you don't like the consensus, convince @TimBeiko to send me another Announcement and change it. https://t.co/Lmw2INzOzg

— Chun at 78°N (@satofishi) August 8, 2022
Earlier this week, the researchers shared what they claim has been the first proof of a "consensus-level attack" on Ethereum, in which miners such as F2Pool have found a way to manipulate block timestamps to consistently get higher mining rewards compared to mining "honestly."
The research paper was penned by cryptocurrency lecturer Aviv Yaish, software algorithm developer Gilad Stern, and computer scientist Aviv Zohar, alleging that Ethereum mining pool F2Pool has been one of the miners that have been using this timestamp manipulation strategy.
"Although most mining pools produce relatively inconspicuous-looking blocks, F2Pool blatantly disregards the rules and uses false timestamps for its blocks," said Yaish, adding that the mining pool has been executing the attack over the last two years.
Wang also appeared to own up to evidence presented by Yaish, suggestin that the timestamp manipulation was being done intentionally. 
I can't stop appreciate this elegant implementation of what we've done over the past two years.

I killed $TRC Terracoin as early as 2013 using a similar timestamp manipulation approach by lower the difficulty to virtually zero. A robust system must withstand all kind of tests. https://t.co/z8pLdLtAU0

— Chun at 78°N (@satofishi) August 8, 2022
F2Pool is a geographically distributed mining pool, which mostly mines blocks on the Bitcoin, Ethereum, and Litecoin networks. 
How the 'attack' works
According to the researchers, Ethereum's current proof-of-work (POW) consensus laws include a vulnerability that gives miners a "certain degree of freedom" when setting timestamps, which means that false timestamps can be created.
"For example, a miner can start mining a block now, but set the block's timestamp to actually be 5 seconds in the past, or 10 seconds in the future. As long as this timestamp is within a certain reasonable bound, the block will still be considered valid, according to Ethereum's consensus laws."
The ability to create these false timestamps gives these miners an edge in a "tie-breaking" scenario as a miner can replace another miner's blocks of the same block height by making the timestamp low enough to increase the block's mining difficulty.
Related: Ethereum Merge: How will the PoS transition impact the ETH ecosystem?
However, the researchers also noted that the vulnerability may be solved after Ethereum transitions to proof-of-stake (POS) after the upcoming Merge on Sep. 19, which utilizes a different set of consensus rules.
"An obvious mitigation technique which will solve both this attack and any other PoW-related one, is to migrate Ethereum's consensus mechanism to proof-of-stake (PoS)."
"Other solutions which might be smaller in scope and thus easier to implement are to adopt better fork-choosing rules, use reliable timestamps, or avoid using timestamps for difficulty adjustments altogether," the researchers added.