The really big picture IBM Supply Chain and Blockchain Blog
Share this post:
The combination of a pandemic and a record-setting year of extreme weather events has reminded leaders in every industry that the health of our people, our global economy and the environment are inextricably linked.
Sustainability is now a strategic business imperative, critical to creating new levels of resiliency and responsible practices that preserve our planet for future generations. Consider that 59% of investors choose companies that are environmentally sustainable. Leaders in enterprise sustainability are applying digital technologies like AI, IoT, blockchain, geospatial analytics and hybrid cloud to help operationalize sustainability at scale, uncover new opportunities to lower costs, win customers, and embrace new business models. While all of these technologies can help, geospatial data plays a key role in protecting wildlife, creating a healthier planet and a more resilient economy, too.
Learn why IBM is the top-ranked blockchain for business services provider
What is geospatial data and analytics?
If you've ever typed into your phone, "Coffeeshop near me," you've used geospatial data. Put simply, geospatial data represents objects, events, or other features on or near the surface of the earth. Geospatial analytics takes this data and creates geographic models and visualizations – "The closest coffeeshop is on 4th street. Do you want me to map a route?" – and can show historical changes and current trends. This additional context allows for a more complete picture of events. Geospatial data is also used in nearly every industry, from enterprise asset management to managing occupancy in facilities, a key focus for the future workplace.
Helping governments understand critical habitats and threatened species
The geospatial data and analytics embedded in the IBM Environmental Intelligence Suite isn't just for helping businesses address sustainability and climate risk. In Australia, with more than 1,700 species and ecological communities threatened or at risk of extinction, the IBM Service Corps is helping upgrade Taronga Conservation Society Australia's conservation efforts with the same geospatial data technology available to businesses.
"The team will draw on IBM software and IBM Cloud solutions to create a concept that will improve conservation research based on past weather patterns and future predictions," said Katrina Troughton, IBM Managing Director, Australia and New Zealand.
Big, big data needs the right software to yield big results
Dealing with large geospatial data sets presents many challenges. For this reason, many organizations struggle to take full advantage of it. First, there is the sheer volume of geospatial data. For example, it is estimated that 100 terabytes of weather-related data is generated daily. So, while 96% of executives surveyed said they incorporate weather data into their organization's operational plans, without analytics to put that data in context, organizations can't ensure weather events and climate risk won't affect their continuity.
Geospatial data and geospatial analysis tools – like those found in the IBM Environmental Intelligence Suite – provide many business advantages including mapping wildfires or tracking tornadoes and super storms that could disrupt a company's logistics, affect supply chains, or even inform what a retailer might offer.
There are many ways industries can take advantage of geospatial data analysis within the Environmental Intelligence Suite:
A government can derive actionable insights on health, disease and weather, in order to better advise the public during a natural disaster or pandemic.
An electric utility can better predict disruption risks to optimize maintenance and crew schedules.
An insurer can better project risk and alert policy holders before issues occur, increasing efficiency.
A lender can improve its credit risk scoring methodology and reduce bad loan placements.
A food company can better respond to consumer demand for greater quality and ensure sustainability initiatives are being met.
Visualizing geospatial data to help manage climate risk
When data is made visual, it makes it easier to derive insights from trends. Geospatial analysis lets data scientists effectively convey the shape and the energy of a changing situation. As increasing amounts of data about a scenario are gathered, it becomes easier to spot even more subtle nuances within it.
Geospatial analysis affects matters as critically important as natural resource management and national intelligence. Experts expect geospatial technology to become increasingly sophisticated, especially as it integrates with machine learning and AI to generate advanced modeling that will aid in critical decision making.
Experts also forecast the evolution of GIS mapping as it relates to geospatial data, for remarkably high-resolution mapping in nearly any scenario.
You can't control the weather, but you can be prepared for it
Fair or foul, when weather strikes, the Environmental Intelligence Suite provides actionable insights so organizations can plan for and respond to changing conditions to ensure business continuity.  The suite of applications frees up data scientists and developers from the cumbersome process of conventional data preparation by providing search-friendly access to diverse and continually updated geospatial-temporal data for even deeper insights around decisions that matter.
The IBM Environmental Intelligence Suite of applications brings together a company's proprietary data, third-party geospatial data and weather data, with geospatial analytics, custom weather alerts and dashboard visualizations. Industry add-ons, including renewable energy forecasting, agribusiness, airports, vegetation management and outage predictions, provide even deeper insights so you can plan and adjust to changing conditions to ensure business continuity.
The IBM Environmental Intelligence Suite is engineered for geospatial analytics so that businesses can go from blaming the weather to capitalizing on it, moving beyond weather predictions to business projections. Because today, weather decisions are business decisions.
See a demo of the IBM Environmental Intelligence Suite.
Read the guide to environmental intelligence.
Read the original article, published July 8, 2021 on the IBM Business Operations blog.
Learn how blockchain and other innovators are putting blockchain to work against the world's biggest challenges.
Polygon Accommodate 37,000 DApp, Scoring 400% This Year
Since the beginning of 2022, the number of decentralized apps (DApps) on the Ethereum scaling platform Polygon has surged 400%, hitting 37k. According to a blog post from partnered Web3 development platform Alchemy published by the Polygon team, the 37,000 figure signifies the total apps produced on both the testnet and mainnet.
At the end of July, there were 11.8k monthly active teams, a sign of blockchain developer involvement, a 47.5% increase from March. In addition, the project team offered an overview of dApp projects, noting that "74% of the teams are entirely integrated on Polygon."
Your capital is at risk.
The Reason Behind Its Surgence
Their collaboration with Alchemy was the driving force behind the expanding number of DApps. The Polygon team noted earlier this year that the increased amount of DApps being developed on the network was a major contributing reason.
~500 dApps in November, now 37,000+ with 11.8k active teams.

"Many projects are increasingly choosing to build solely on Polygon. Alchemy data shows that 74% of teams integrated exclusively on Polygon"
This is because the Web3 platform's infrastructure makes it "far easier for Polygon developers" to construct DApps.
Cooperation by Polygon and Alchemy Support dApps
The cooperation launched by Polygon and Alchemy in June 2021 aided in increasing the number of dApps on the network from 3,000 in October to 7,000 in January to over 19,000 in April.
Polygon's native asset, MATIC, has risen by 66.3% in the last month as cryptocurrency markets have turned green and recently exhibited signs of a possible positive revival. MATIC is presently the sixteenth most valuable cryptocurrency asset, having a market capitalization of $6.9 billion.

Polygon (MATIC) Price and Tokenomics
The current price of Polygon is $0.9241, with a 24-hour trading volume of $498 million. Polygon's value has risen by 2.50% in the last 24 hours. MATIC is now the world's 13th most valuable company, with a market capitalization of $7.6 billion.
It can hold up to 10,000,000,000 MATIC coins, but currently only 8,035,303,935 MATIC coins are in circulation.
Polygon (MATIC) Technical Outlook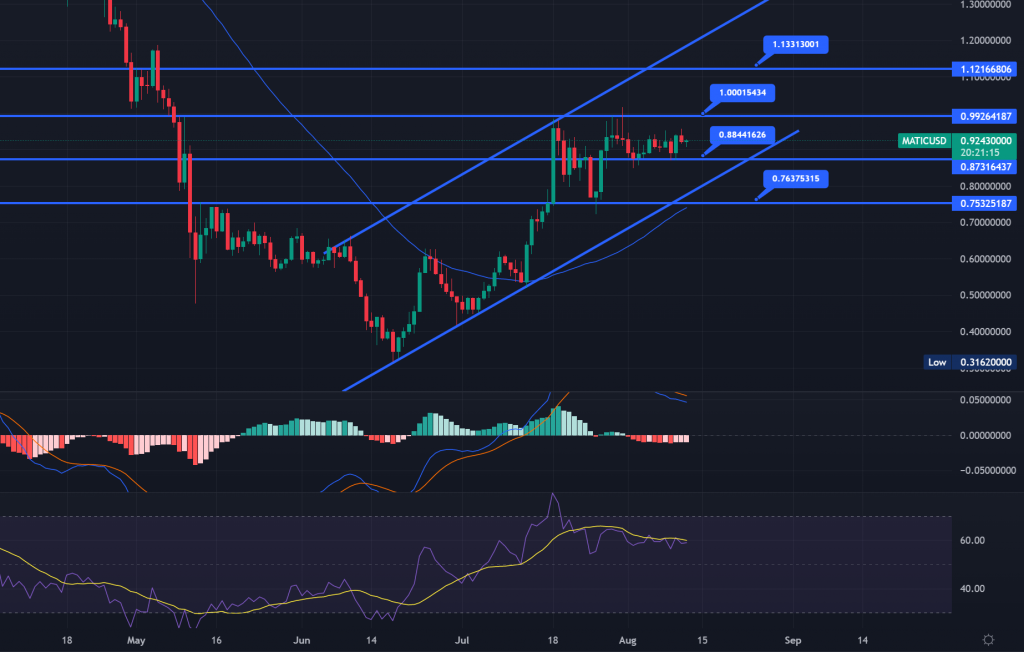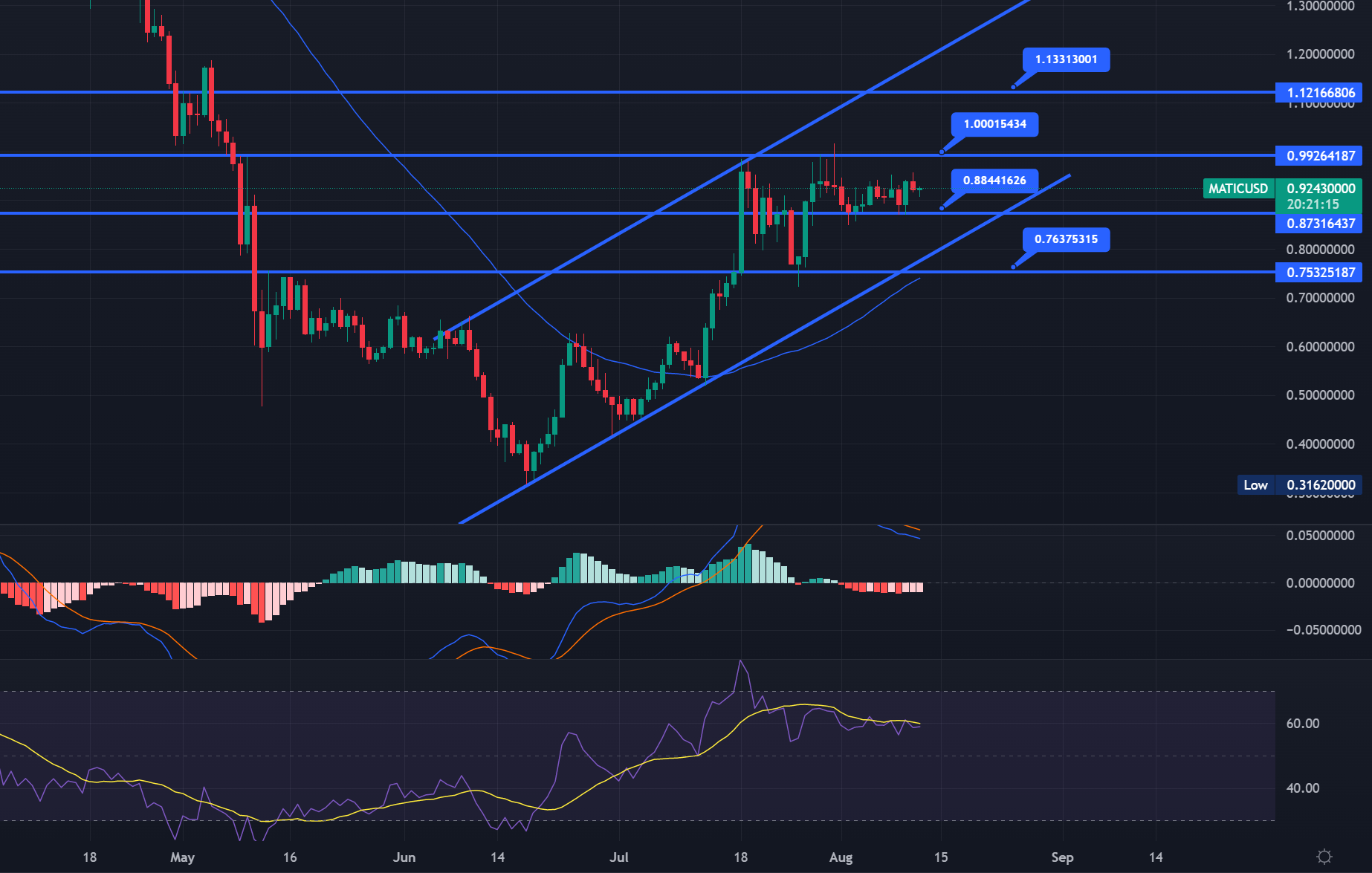 The MATIC/USD is currently trading at $0.9241 after consolidating in a narrow range of $0.8844 to $1.0001. Given the recent 400% increase in dApp registrations on the Polygon network, MATIC may experience a bullish trend.
A surge in MATIC demand could pierce the $1.0001 resistance level, exposing the MATIC price to the next target area of $1.1330. Further to the upside, MATIC's next resistance level will be $1.2770.
The leading indicators MACD and RSI indicate divergence, with one indicating a buying trend and the other indicating a selling trend. However, the 50-day EMA is in support of a buying trend.
On the support side, MATIC at $0.8844 is likely to be supported by the upward trendline. On the other hand, a bearish breakout could push Polygon's price down to $0.7635. Consider staying bullish above the $0.7635 level and vice versa. Good luck!
Read more:
Tamadoge – Play to Earn Meme Coin
Earn TAMA in Battles With Doge Pets
Capped Supply of 2 Bn, Token Burn
NFT-Based Metaverse Game
Presale Live Now – tamadoge.io
Vinteum launches in Brazil to aid the Bitcoin ecosystem
Vinteum, a nonprofit Bitcoin research and development firm, has been unveiled in Brazil. The firm announced the development in its press release. The entry of Vinteum into Brazil will help facilitate the decentralization of open-source networks within the country.
Vinteum will provide the necessary infrastructures for open-source developers' training and funding in Brazil. As revealed, this will help grow the country's bitcoin ecosystem.
The firm acknowledges the criticality enveloped in the Bitcoin ecosystem and the Lightning network. According to Vinteum, the two mechanisms have, in recent years, become complicated owing to bitcoin's growing maturity. It added that the development had become a significant challenge for developers within the country.
Vinteum believes its investment in proficient open-source developers will aid the Bitcoin and Lightning Network, thereby resolving the problem. Additionally, the firm reiterates its commitment to safeguarding and sustaining the next generation of Bitcoin developers.
According to reports, the firm decided to unveil its center in Brazil to safeguard the Bitcoin ecosystem. Vinteum is optimistic about Bitcoin as a deserving network owing to its various use cases. According to the firm, this necessitated the effort to establish the center, facilitating improved efficiency within the ecosystem. 
However, it noted that "there is no official team, nor is there any built-in mechanism for funding Bitcoin developers." According to the firm, the situation is obtainable because "it is an open-source software and a decentralized protocol with no owners nor a system of leadership."
This development is prompting Vinteum to source for investors so that integrated developers can work full-time on the lightning network and other notable open-source projects in the Bitcoin sphere. 
As of press time, it has secured the support of numerous investors. Some investors are John Pfeffer of Pfeffer Capital; Xapo Bank founder and early Bitcoin champion Wences Casares; Sebastian Serrano, CEO and co-founder of Bitcoin blockchain company Ripio; crypto-exchange Okcoin; and the Human Rights Foundation (HRF). However, the firm is yet to publish the amount it has raised through the commitment of these investors.
Vinteum further states that it is on the lookout for developers who can sustain the scaling of the Bitcoin ecosystem. More so, it added that the developers must be able to aid the network's security, privacy, and programmability.
Reportedly, the co-founders of Vinteum, Lucas Ferreira of Lightning Labs and André Neves of ZEBEDEE, will function as the foundation's executive director and director of partnerships of the firm.
Related
Tamadoge – Play to Earn Meme Coin
Earn TAMA in Battles With Doge Pets
Capped Supply of 2 Bn, Token Burn
NFT-Based Metaverse Game
Presale Live Now – tamadoge.io
Ethereum Co-Founder Vitalik Buterin Downplays Ethereum PoW Fork, Hopes It 'Doesn't Result in Folks Losing Money'
Ethereum co-founder Vitalik Buterin recently mentioned that he cares about the recent Ethereum proof-of-work (PoW) fork topic that's been finding its method into a variety of conversations inside the crypto community. Buterin remarked at the ETH-Seoul conference over the weekend, that he believes the folks introducing the forked token construct ar essentially a "couple of outsiders" that "mostly simply wish to create a fast buck."
Vitalik Buterin provides His Opinion on the Proposed Ethereum PoW Fork plan
A lot of individuals inside the crypto community are discussing a potential ETH captive fork (ETHW) that's distinctive from the present Ethereum Classic blockchain. Bitcoin.com News reported on the prestigious Chinese crypto manual miner Chandler Guo, who initiated the ETHW language when explaining that he participated within the birth of Ethereum Classic (ETC). The thought then gained additional traction, as a web site referred to as ethereumpow.org was revealed and a number of exchanges set to list the fork.
Presently, the promissory note tokens for ETHW ar value $138.69 per token, per coinmarketcap.com metrics and against Tron's USDD stablecoin, ETHW is exchanging hands for 142.27 USDD on Poloniex. This weekend, co-founder of Ethereum Vitalik Buterin mentioned ETHW throughout a Q&A session at the ETH-Seoul conference. Buterin downplayed the chance of a fork of this type seeing semipermanent acceptance. "I'm not expecting it to own substantial, semipermanent adoption," Buterin stressed.
The Ethereum developer and co-founder conjointly talked concerning Ethereum Classic (ETC) and Buterin complimented the ETC community. "I assume Ethereum Classic already incorporates a superior community and a superior product for folks quite with those pro-proof-of-work values and preferences," Buterin expressed. once Buterin was asked concerning the ETHW proposal, he explained that those attached its creation ar simply a "couple of outsiders that essentially have exchanges, and principally simply wish to create a fast buck." Buterin added:
"I hope that whatever happens, doesn't lead to people losing money."
Digital Currency Group CEO Barry Silbert Discusses ETHW, Buterin Doesn't See Fork Harming Ethereum's Ecosystem
Buterin's statement follows the statements the founder and chief executive officer of Digital Currency cluster (DCG), Barry Silbert, has created concerning the ETHW plan on Twitter. Silbert tweeted to the Evariste Galois Capital account on Twitter and said: "[For what it's worth], our full support is behind [Ethereum proof-of-work], additionally to [Ethereum Classic], and have zero intention to support any [Ethereum proof-of-work] fork. [Ethereum] miners ought to move to [Ethereum Classic] to maximise their revenue semipermanent. easy as that."
Silbert has conjointly created different statements on Twitter on to a number of Chandler Guo's threads, and Guo asks Silbert in one tweet: "why solely [Ethereum Classic]?" The DCG government replied and aforementioned it's "the good play for [ethereum] miners" and he conjointly mentioned that Antpool is leading the initiative to support the Ethereum Classic chain. once somebody told Silbert to prevent participating with Guo, Silbert responded and said: "I like and respect Chandler. simply trouble him on this strategy."
Meanwhile, at this weekend's ETH-Seoul conference, Buterin elaborated that he doesn't expect Ethereum (ETH) to be deterred by the chance of another fork. "I don't expect Ethereum to essentially be considerably injured by another fork," Buterin remarked. On Twitter, it's business as was common for Buterin, because the computer code developer tweeted concerning stealing addresses for ERC721 (non-fungible tokens) NFTs on Mon. "A low-tech approach to feature a major quantity of privacy to the NFT scheme," the Ethereum co-founder aforementioned.
The post Ethereum Co-Founder Vitalik Buterin Downplays Ethereum PoW Fork, Hopes It 'Doesn't Result in Folks Losing Money' first appeared on BTC Wires.