PeckShield says hackers drained $4.8M from the ZB.com exchange
PeckShield, a blockchain security company, reported that around $4.8 million worth of cryptocurrencies were transferred from ZB.com as the exchange announced it would suspend withdrawals.
PeckShield says hackers drained $4.8M from ZB.com
On Wednesday, PeckShield tweeted that hackers could be responsible for transferring 21 types of cryptocurrencies from the exchange. The draining for these assets started on Monday, with the assets affected, including Tether (USDT) and Shiba Inu (SHIB). The blockchain investigating company said the total funds transferred totaled around $4.8 million.
The suspected hack on these protocols came after the ZB.com exchange announced it would suspend deposits and withdrawals to respond to the failure of some primary applications. The exchange further warned that users should not deposit cryptocurrency before the price recovers.
Your capital is at risk.
ZB.com claims to be the most secure cryptocurrency exchange globally. The exchange was founded in 2013 and existed under the name CHBTC.com as per its website. ZB.com initially had its headquarters in China. It later suspended its operations in September 2017 after the local regulators banned cryptocurrency exchanges.
Hacks in the cryptocurrency sector
The cryptocurrency sector has been a victim of persistent hacks in recent months. Multimillion-dollar hacks have resulted in massive losses for crypto investors. In June, the Horizon Bridge suffered a $100 million exploit. Horizon is a cross-chain bridge that facilitates the transfer of tokens from the Harmony blockchain and the other cryptocurrency networks.
Earlier this week, hackers managed to drain $200 million worth of cryptocurrencies from the Nomad token bridge, further adding to the amount of crypto stolen from decentralized finance (DeFi) protocols.
The latest attack happened on Solana wallets. The exploit was reported on August 3, with users on crypto Twitter reporting that hackers had accessed their funds through an exploit targeting Solana-based wallets.
The issue with the exploit on these Solana wallets is still under review. The Solana status Twitter account said that 7767 wallets based on mobile and browser extensions had been affected, with nearly $8 million being drained from these wallets.
Solana Status, and the co-founder of the Solana blockchain, Anatoly Yakovenko, have said that an issue with the Solana protocol did not cause the loss of funds from this wallet. Instead, the problem seems to have originated from the Slope wallet provider. Solana wallet users have also been advised to regenerate a new seed phrase to prevent further losses.
Read more:
Battle Infinity – New Crypto Presale
Presale Until October 2022 – 16500 BNB Hard Cap
First Fantasy Sports Metaverse Game
Play to Earn Utility – IBAT Token
Powered By Unreal Engine
CoinSniper Verified, Solid Proof Audited
Roadmap & Whitepaper at battleinfinity.io
Polygon Accommodate 37,000 DApp, Scoring 400% This Year
Since the beginning of 2022, the number of decentralized apps (DApps) on the Ethereum scaling platform Polygon has surged 400%, hitting 37k. According to a blog post from partnered Web3 development platform Alchemy published by the Polygon team, the 37,000 figure signifies the total apps produced on both the testnet and mainnet.
At the end of July, there were 11.8k monthly active teams, a sign of blockchain developer involvement, a 47.5% increase from March. In addition, the project team offered an overview of dApp projects, noting that "74% of the teams are entirely integrated on Polygon."
Your capital is at risk.
The Reason Behind Its Surgence
Their collaboration with Alchemy was the driving force behind the expanding number of DApps. The Polygon team noted earlier this year that the increased amount of DApps being developed on the network was a major contributing reason.
~500 dApps in November, now 37,000+ with 11.8k active teams.

"Many projects are increasingly choosing to build solely on Polygon. Alchemy data shows that 74% of teams integrated exclusively on Polygon"
This is because the Web3 platform's infrastructure makes it "far easier for Polygon developers" to construct DApps.
Cooperation by Polygon and Alchemy Support dApps
The cooperation launched by Polygon and Alchemy in June 2021 aided in increasing the number of dApps on the network from 3,000 in October to 7,000 in January to over 19,000 in April.
Polygon's native asset, MATIC, has risen by 66.3% in the last month as cryptocurrency markets have turned green and recently exhibited signs of a possible positive revival. MATIC is presently the sixteenth most valuable cryptocurrency asset, having a market capitalization of $6.9 billion.

Polygon (MATIC) Price and Tokenomics
The current price of Polygon is $0.9241, with a 24-hour trading volume of $498 million. Polygon's value has risen by 2.50% in the last 24 hours. MATIC is now the world's 13th most valuable company, with a market capitalization of $7.6 billion.
It can hold up to 10,000,000,000 MATIC coins, but currently only 8,035,303,935 MATIC coins are in circulation.
Polygon (MATIC) Technical Outlook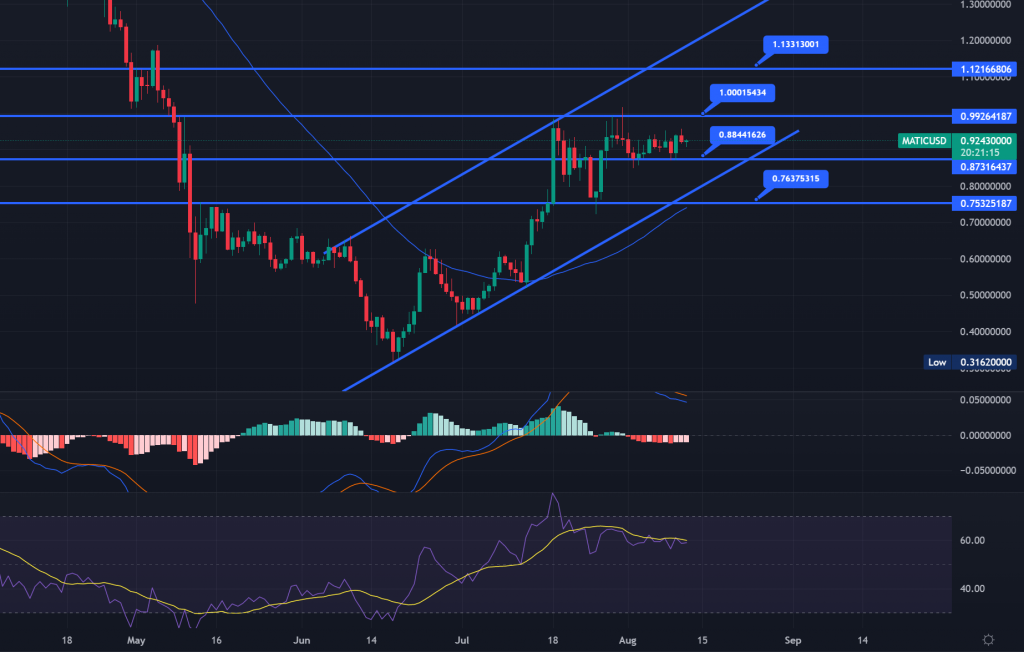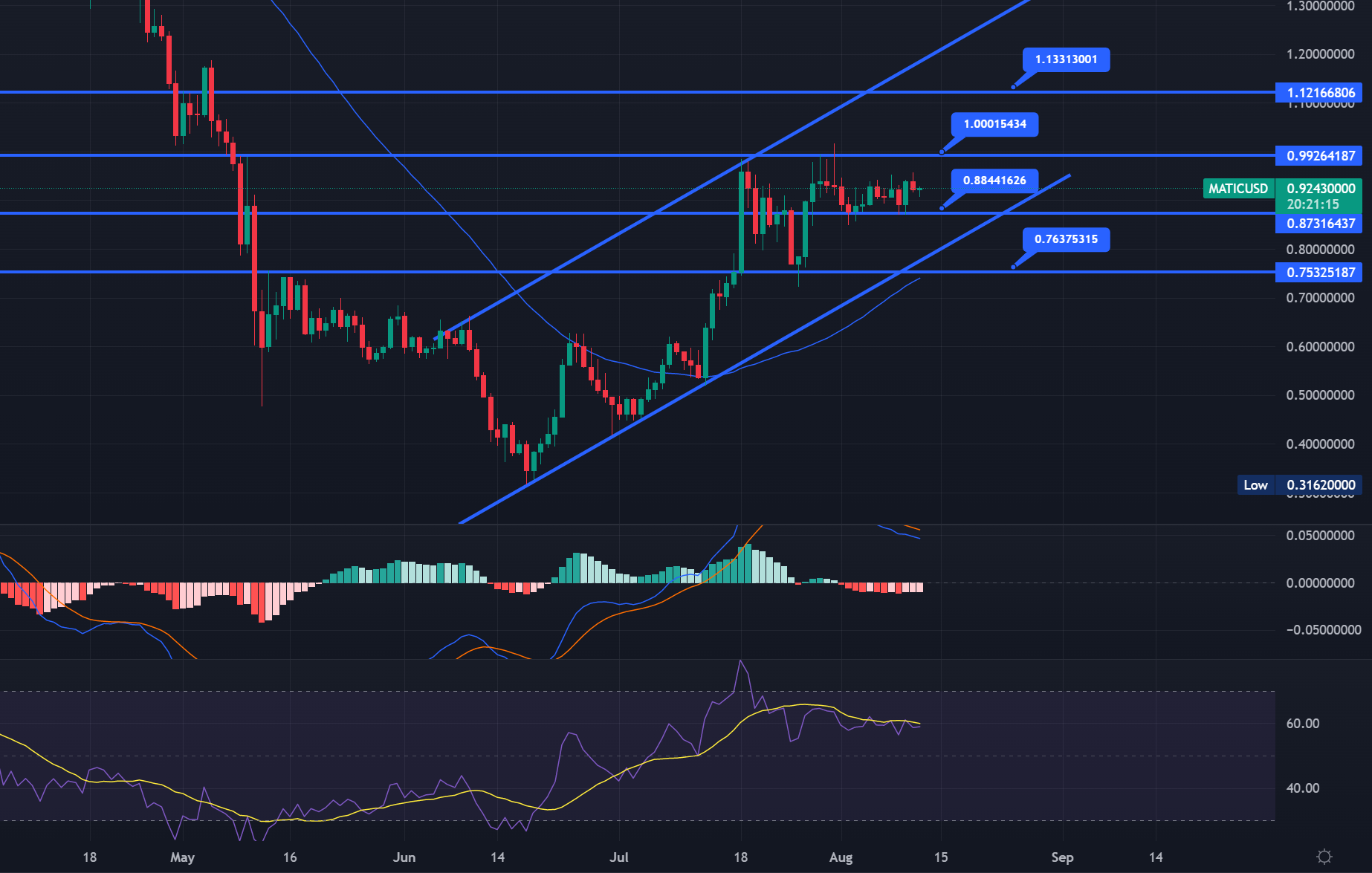 The MATIC/USD is currently trading at $0.9241 after consolidating in a narrow range of $0.8844 to $1.0001. Given the recent 400% increase in dApp registrations on the Polygon network, MATIC may experience a bullish trend.
A surge in MATIC demand could pierce the $1.0001 resistance level, exposing the MATIC price to the next target area of $1.1330. Further to the upside, MATIC's next resistance level will be $1.2770.
The leading indicators MACD and RSI indicate divergence, with one indicating a buying trend and the other indicating a selling trend. However, the 50-day EMA is in support of a buying trend.
On the support side, MATIC at $0.8844 is likely to be supported by the upward trendline. On the other hand, a bearish breakout could push Polygon's price down to $0.7635. Consider staying bullish above the $0.7635 level and vice versa. Good luck!
Read more:
Tamadoge – Play to Earn Meme Coin
Earn TAMA in Battles With Doge Pets
Capped Supply of 2 Bn, Token Burn
NFT-Based Metaverse Game
Presale Live Now – tamadoge.io
Vinteum launches in Brazil to aid the Bitcoin ecosystem
Vinteum, a nonprofit Bitcoin research and development firm, has been unveiled in Brazil. The firm announced the development in its press release. The entry of Vinteum into Brazil will help facilitate the decentralization of open-source networks within the country.
Vinteum will provide the necessary infrastructures for open-source developers' training and funding in Brazil. As revealed, this will help grow the country's bitcoin ecosystem.
The firm acknowledges the criticality enveloped in the Bitcoin ecosystem and the Lightning network. According to Vinteum, the two mechanisms have, in recent years, become complicated owing to bitcoin's growing maturity. It added that the development had become a significant challenge for developers within the country.
Vinteum believes its investment in proficient open-source developers will aid the Bitcoin and Lightning Network, thereby resolving the problem. Additionally, the firm reiterates its commitment to safeguarding and sustaining the next generation of Bitcoin developers.
According to reports, the firm decided to unveil its center in Brazil to safeguard the Bitcoin ecosystem. Vinteum is optimistic about Bitcoin as a deserving network owing to its various use cases. According to the firm, this necessitated the effort to establish the center, facilitating improved efficiency within the ecosystem. 
However, it noted that "there is no official team, nor is there any built-in mechanism for funding Bitcoin developers." According to the firm, the situation is obtainable because "it is an open-source software and a decentralized protocol with no owners nor a system of leadership."
This development is prompting Vinteum to source for investors so that integrated developers can work full-time on the lightning network and other notable open-source projects in the Bitcoin sphere. 
As of press time, it has secured the support of numerous investors. Some investors are John Pfeffer of Pfeffer Capital; Xapo Bank founder and early Bitcoin champion Wences Casares; Sebastian Serrano, CEO and co-founder of Bitcoin blockchain company Ripio; crypto-exchange Okcoin; and the Human Rights Foundation (HRF). However, the firm is yet to publish the amount it has raised through the commitment of these investors.
Vinteum further states that it is on the lookout for developers who can sustain the scaling of the Bitcoin ecosystem. More so, it added that the developers must be able to aid the network's security, privacy, and programmability.
Reportedly, the co-founders of Vinteum, Lucas Ferreira of Lightning Labs and André Neves of ZEBEDEE, will function as the foundation's executive director and director of partnerships of the firm.
Related
Tamadoge – Play to Earn Meme Coin
Earn TAMA in Battles With Doge Pets
Capped Supply of 2 Bn, Token Burn
NFT-Based Metaverse Game
Presale Live Now – tamadoge.io
Ethereum Co-Founder Vitalik Buterin Downplays Ethereum PoW Fork, Hopes It 'Doesn't Result in Folks Losing Money'
Ethereum co-founder Vitalik Buterin recently mentioned that he cares about the recent Ethereum proof-of-work (PoW) fork topic that's been finding its method into a variety of conversations inside the crypto community. Buterin remarked at the ETH-Seoul conference over the weekend, that he believes the folks introducing the forked token construct ar essentially a "couple of outsiders" that "mostly simply wish to create a fast buck."
Vitalik Buterin provides His Opinion on the Proposed Ethereum PoW Fork plan
A lot of individuals inside the crypto community are discussing a potential ETH captive fork (ETHW) that's distinctive from the present Ethereum Classic blockchain. Bitcoin.com News reported on the prestigious Chinese crypto manual miner Chandler Guo, who initiated the ETHW language when explaining that he participated within the birth of Ethereum Classic (ETC). The thought then gained additional traction, as a web site referred to as ethereumpow.org was revealed and a number of exchanges set to list the fork.
Presently, the promissory note tokens for ETHW ar value $138.69 per token, per coinmarketcap.com metrics and against Tron's USDD stablecoin, ETHW is exchanging hands for 142.27 USDD on Poloniex. This weekend, co-founder of Ethereum Vitalik Buterin mentioned ETHW throughout a Q&A session at the ETH-Seoul conference. Buterin downplayed the chance of a fork of this type seeing semipermanent acceptance. "I'm not expecting it to own substantial, semipermanent adoption," Buterin stressed.
The Ethereum developer and co-founder conjointly talked concerning Ethereum Classic (ETC) and Buterin complimented the ETC community. "I assume Ethereum Classic already incorporates a superior community and a superior product for folks quite with those pro-proof-of-work values and preferences," Buterin expressed. once Buterin was asked concerning the ETHW proposal, he explained that those attached its creation ar simply a "couple of outsiders that essentially have exchanges, and principally simply wish to create a fast buck." Buterin added:
"I hope that whatever happens, doesn't lead to people losing money."
Digital Currency Group CEO Barry Silbert Discusses ETHW, Buterin Doesn't See Fork Harming Ethereum's Ecosystem
Buterin's statement follows the statements the founder and chief executive officer of Digital Currency cluster (DCG), Barry Silbert, has created concerning the ETHW plan on Twitter. Silbert tweeted to the Evariste Galois Capital account on Twitter and said: "[For what it's worth], our full support is behind [Ethereum proof-of-work], additionally to [Ethereum Classic], and have zero intention to support any [Ethereum proof-of-work] fork. [Ethereum] miners ought to move to [Ethereum Classic] to maximise their revenue semipermanent. easy as that."
Silbert has conjointly created different statements on Twitter on to a number of Chandler Guo's threads, and Guo asks Silbert in one tweet: "why solely [Ethereum Classic]?" The DCG government replied and aforementioned it's "the good play for [ethereum] miners" and he conjointly mentioned that Antpool is leading the initiative to support the Ethereum Classic chain. once somebody told Silbert to prevent participating with Guo, Silbert responded and said: "I like and respect Chandler. simply trouble him on this strategy."
Meanwhile, at this weekend's ETH-Seoul conference, Buterin elaborated that he doesn't expect Ethereum (ETH) to be deterred by the chance of another fork. "I don't expect Ethereum to essentially be considerably injured by another fork," Buterin remarked. On Twitter, it's business as was common for Buterin, because the computer code developer tweeted concerning stealing addresses for ERC721 (non-fungible tokens) NFTs on Mon. "A low-tech approach to feature a major quantity of privacy to the NFT scheme," the Ethereum co-founder aforementioned.
The post Ethereum Co-Founder Vitalik Buterin Downplays Ethereum PoW Fork, Hopes It 'Doesn't Result in Folks Losing Money' first appeared on BTC Wires.