How to earn interest from crypto saving accounts
The cryptocurrency industry has offered developers and investors the opportunity to introduce new financial tools providing plentiful options to earn passive income. Simply holding crypto has offered patient investors the chance to make gains over the years. However, there are various other ways to increase crypto assets' stacks, even in bear markets.
Other than staking, crypto savings accounts allow retail investors to accrue their funds by earning interest on the crypto assets they deposit on specific cryptocurrency platforms if they agree to lend out their coins or tokens. Crypto interest accounts are particularly appealing because they distribute much higher returns than traditional bank savings accounts, considering that the average interest rate applied by a crypto savings account can be up to 7.5%, against the average 0.06% of bank savings accounts.
Related: DeFi staking: A beginner's guide to proof-of-stake (PoS) coins
The difference in rates between crypto and traditional savings accounts is somewhat significant but comes with higher risks associated with the service. We'll find out here how to access crypto savings accounts, the crypto interest rates and deposit terms and the risks associated with this type of financial instrument.
What is a crypto savings account?
A crypto interest account is generally a DeFi platform's service that lets you earn interest on digital assets you've deposited and agreed to lend out in exchange for a return. This service is similar to a bank savings account that will lend out your money to other customers or financial institutions for a certain amount of time and will give you interest for that service.
By definition, blockchain technology encourages users to become self-sovereign and independent from third parties. However, intermediate companies have become a necessary component of the industry providing crypto savings accounts to those who want to enjoy the benefits of the technology without making too much effort to learn complicated and burdensome processes.
Other than convenience, these companies will also hold some of the risks involved and ensure depositors are paid first if adverse events like insolvency occur. Some companies are backed by insurance and work with well-established custodians to protect their customers.
How does a crypto savings account work?
Once you deposit your crypto assets into a savings account, you start accruing interest from day one. Most of the popular cryptocurrencies can be used in a crypto savings account, with the most picked being Bitcoin (BTC), Ether (ETH) and Litecoin (LTC), while many favor interest rates on stablecoins like Tether (USDT), USD Coin (USDC) and Pax Dollar (USDP).
By depositing your crypto assets into a savings account, you formally grant the platform the right to use your money for any purpose, from lending it out to investing it or staking it on your behalf. Primarily, it will be used for lending it out to earn high returns, some of which will be paid to you as regular interest payments.
Crypto savings accounts may offer you more favorable rates if you agree to lock up your crypto for a while or hold a platform-specific token. Nexo, for instance, increases interest rates by up to 4% for holders of the platform's governance token.
How to invest in a crypto savings plan?
When you want to invest in a crypto savings plan, the first step is to pick the right account for you and get started as follows:
Choose a cryptocurrency platform you trust that offers realistic interest rates;
Transfer cryptocurrency to this chosen platform;
Follow the few simple steps to deposit your crypto assets into a savings account. Usually, these steps are straightforward, and you'll be guided through the process by the platform;
Choose if you want to deposit your asset for a limited amount of time or select a flexible time that will allow you to withdraw your crypto at any time;
Start earning interest from the first day.
As mentioned, there are plenty of platforms to choose from, including well-established cryptocurrency exchanges like Coinbase, with the following indications of interest rates on fixed savings:
Binance is the other global popular crypto platform that offers interest rates on many cryptocurrencies with flexible savings and locked savings options:
An increasing number of other financial service companies and cryptocurrency platforms provide these types of accounts. Nexo and Crypto.com are among companies offering greater interest rates to cryptocurrency holders who lock their assets away for weeks or months. However, the drawback with this type of savings account is that you can't withdraw or sell your crypto during that period.
How much interest you can earn with a crypto savings account largely depends on the platform and the cryptocurrency you choose to deposit. The interest rate offered by the service will also be driven by market conditions and is usually paid out in the cryptocurrency you have deposited.
While their high-interest rates can entice you, you should consider how secure your investment is with them. Choosing the best crypto interest account is not simply a matter of comparing interest rates paid but also making sure your investment is as safe as possible.
Remember, they are custodians of your crypto assets, meaning that by holding your funds, they can even stop you from withdrawing them or delaying the withdrawal process, which may result in a loss for you if the value of the crypto asset changes in the meantime. When choosing the best interest rates, make sure you understand the difference between the annual percentage rate (APR) and the annual percentage yield (APY) because they might mislead you in calculating your yearly returns.
In short, APY includes a compound interest — i.e., the addition of interest to the principal sum of a loan or deposit (the interest on interest accrued). On the other hand, APR does not include compound interest. Due to the compound interest factor, APY will provide a higher return than APR. Yet, it's always worth reading the savings account's small print because certain services will pay simple interest only and won't produce compound interest over time.
Crypto saving account risks
The crypto industry is mostly unregulated, so the investors might not have any cover in case something goes wrong with their assets. In this framework, operate crypto savings accounts that do not offer government-backed deposit insurance like the Federal Deposit Insurance Corporation (FDIC) or the National Credit Union Administration (NCUA).
These savings accounts offer higher yields because they are riskier. For example, they could limit how quickly you can withdraw your assets and, in times of difficulties, they might not let customers withdraw their assets at all.
In exchange for these restrictions and the associated risk, these savings accounts are much more interesting for an investor than a typical bank account. However, for these accounts to yield such a high interest which may exceed 20% in some cases, you should wonder how your money is employed in the background.
Like regular banks operate under a "fractional reserve" banking service, so do most crypto companies. They are lending out more than they have to financial institutions with the difference that there is no deposit insurance to back them, as in the case of traditional banks.
Crypto savings accounts vs. crypto wallets
Crypto wallets simply won't accrue your cryptocurrency holdings as opposed to crypto savings accounts that are conceived to increase the number of coins you own over time.
This might be at the expense of key ownership, though, because the private keys that allow you to access your coins are maintained by the crypto platform. On the other hand, most crypto wallets will ensure you keep full ownership of your private keys.
Security is another concern that should be very well addressed. There are security risks in the centralized platform that holds your private keys because it is potentially at risk of becoming insolvent, bankrupt or being hacked, and you could lose your money.
In the same way, you should choose a wallet carefully to avoid picking a service with little security and a vulnerability to hacking. Also, you must ensure you can easily access your wallet's private keys if you lose your operational device and need to restore your assets in another digital location.
Cryptocurrency is a work in progress and will likely undergo continuous changes over the years, especially in terms of regulation, which will also affect how crypto savings accounts are managed. In June 2022, the issues of leading crypto lending platforms like Block.Fi and Celsius have raised further concerns over the future of crypto savings accounts and similar related cryptocurrency services.
Related: A step-by-step framework for evaluating crypto projects
Caution and due diligence are always recommended if you consider opening a crypto savings account and weigh the associated risks against the chances of high returns, especially if you risk life savings or anything close to that.
Spanish Telecom Giant Telefonica Embraces Bitcoin Payments
One of the largest telephone operators and mobile network providers in Spain – Telefonica – partnered with the crypto exchange Bit2Me to allow clients to pay for services in digital assets.
Cryptocurrency adoption seems to be on a high level in the Iberian country. A few months ago, the leading airline company – Vueling – said travelers will be able to purchase flight tickets in bitcoin and other assets from January 2023.
Telefonica Says 'Yes' to Crypto
The Madrid-based corporation allowed customers to settle bills in several cryptocurrencies, including Bitcoin (BTC), Ether (ETH), Litecoin (LTC), Circle's stablecoin USDC, and others on its online marketplace named Tu.
To enable the crypto payments, Telefonica joined forces with the Spanish digital asset platform Bit2Me, which provided the infrastructure and will oversee the transactions.
The news grabbed the attention of the Chief Executive Officer of Binance – Changpeng Zhao (CZ) – since he shared it on his personal Twitter account.
Spain's largest telecom company now accepts crypto payments.

— CZ 🔶 Binance (@cz_binance) September 30, 2022
It is worth noting that his company recently expanded its presence in the Spanish market. Two months ago, Binance's subsidiary – Moon Tech Spain – received regulatory approval to register as a Virtual Asset Services Provider (VASP) in the European country.
"MoonTech's registration in Spain is an acknowledgment of the hard work and commitment of our teams to providing a platform that places users' protection above all else," Zhao said back then.
Vueling Also Jumped on the Bandwagon
Another prominent Spanish firm that joined crypto's ecosystem in the past few months is the Barcelona-based airline Vueling.
In June, it collaborated with BitPay to allow clients to buy tickets in 13 different digital assets, such as Bitcoin (BTC), Ether (ETH), Bitcoin Cash (BCH), Litecoin (LTC), Dogecoin (DOGE), Shiba Inu (SHIB), and others.
The move is expected to see the light of day at the beginning of 2023, which would turn Vueling into the first low-cost airline in Europe to embrace cryptocurrencies as a payment method.
BitPay's Vice President of Marketing – Merrick Theobald – said the Spanish firm "recognizes the potential of cryptocurrencies to transform the airline industry, making payments faster, more secure, and less expensive on a global scale."
SPECIAL OFFER (Sponsored)
Binance Free $100 (Exclusive): Use this link to register and receive $100 free and 10% off fees on Binance Futures first month
(
terms
).
PrimeXBT Special Offer: Use this link to register & enter POTATO50 code to receive up to $7,000 on your deposits.
MEXC Leveraged ETF Leads the Cryptocurrency Market as Its Liquidity Ranks First
[PRESS RELEASE – Please Read Disclaimer]
Crypto asset trades emerge one after another, and leveraged ETFs are becoming the next star product after futures. MEXC, the cryptocurrency exchange with the highest futures trading liquidity on the Internet, takes the lead again in the cryptocurrency market with leveraged ETFs.
Comparing the leveraged ETF depth indicators of trading platforms such as Binance, MEXC, Kucoin, Gate, and Huobi, and analyzing their leveraged ETF transactions of mainstream cryptocurrencies with the highest market cap, it is found that the top three platforms in depth performance are MEXC, Binance, and Kucoin. The data shows that in terms of the trading depth of BTC 3L, ETH 3L, LTC 3L, and EOS 3L, MEXC ranks first in the aspect of liquidity.
Taking BTC 3L as an example, the depth of 1% on MEXC is 14,403,439USDT; The depth of 1% on Binance, which ranks second, is 87,359.56USDT; And the depth of 1% on Kucoin, which ranks third, is only 48,479.6USDT. At this depth, MEXC has surpassed the sum of Binance and Kucoin, and the gap tends to widen.
Comparing ETH, LTC, EOS and other mainstream cryptocurrencies, it can also be seen that MEXC's leveraged ETF trading has the best liquidity, and the depth of other trading platforms is much lower than MEXC. Meanwhile, according to cryptorank data, Binance's 24-hour leveraged ETF trading volume was $23.67 million USD, accounting for 63.5% of the market; MEXC's 24-hour leveraged ETF trading volume was $9.25 million USD, with a market share of 24.8%, ranking second.
The leveraged ETF was first launched by MEXC in November 2019. It is a perpetual leveraged product that magnifies the price change of the benchmarked asset, aiming to provide leveraged returns on the benchmarked perpetual futures. It can be understood as an exchange-traded fund with leverage multiples.
The trading rules of leveraged ETF products are as simple as those of spot products. It is not necessary to use part of the margin to occupy positions like futures. At the same time, it can achieve multiple gains and returns like futures, so it is favored by some investors with low-risk appetite.
At present, each token on MEXC supports leveraged ETF trading of 3x long (3L) and 3x short (3S), and some mainstream cryptocurrencies also support 2x, 4x, or 5x leverage and the risk is controllable. For example, when you want to go 3x long for BTC, you only need to buy BTC3L/USDT; When you want to go 3x short for BTC, you only need to buy BTC3S/USDT; And when you want to clear the position, you only need to sell the corresponding position. Leveraged ETFs do not use margins to occupy positions and do not have liquidation rules, so there is no need to worry about the risk of liquidation.
Leveraged ETFs have a rebalance mechanism, and the compound interest effect is obvious. In the continuous rising/falling market, the daily profit will be automatically transferred to the position and reinvested to realize compound interest, and the profit will be higher than that of margin or futures products of the same multiple. At present, MEXC supports leveraged ETF trading of more than 300 cryptocurrencies such as BTC, ETH, DOT, ATOM, SHIB, DOGE, AAVE, CRV, etc. It provides the most cryptocurrencies on the Internet, allowing traders to have different choices in different trends or unilateral market conditions.
About MEXC:
MEXC is the world's leading cryptocurrency trading platform, providing one-stop cryptocurrency trading services for spot, ETF, futures, Staking, NFT Index, etc.,and serving more than 10 million users worldwide. The core team has a solid background in traditional finance, and has professional financial product logic and technical security guarantees in terms of cryptocurrency products and services. In October 2021, MEXC Global won the title of "Best Cryptocurrency Exchange in Asia". Currently, it supports the trading of more than 1,500 cryptocurrency, and is the trading platform with the fastest launch speed for new projects and the most tradable categories. Visit the website and blog for more information, and follow MEXC Global and M-Ventures & Labs.
SPECIAL OFFER (Sponsored)
Binance Free $100 (Exclusive): Use this link to register and receive $100 free and 10% off fees on Binance Futures first month
(
terms
).
PrimeXBT Special Offer: Use this link to register & enter POTATO50 code to receive up to $7,000 on your deposits.
Bitmart Review [The Ultimate Guide 2022]
Pros
Competitive Trading Fees

Wide Range of Supported Coins

Advanced Products and Services

NFT Marketplace.
Cons
Hacked in December 2021

Negative Customer Reviews.
As a cryptocurrency trader, you were undoubtedly faced with the dilemma of choosing an exchange to suit your investment needs among a staggering number of cryptocurrency exchanges.
CoinStats regularly reviews leading platforms like Binance, Coinbase, or Kraken, relatively small but reliable crypto exchanges like the Bibox exchange, and a global exchange like Bitmart and presents their advantages and drawbacks to help you pick the right trading platform that suits your needs.
Bitmart exchange is a global cryptocurrency exchange platform for trading cryptocurrencies and earning on crypto. It offers users decentralized financial (DeFi) services, a wide range of cryptocurrencies, advanced trading features, and an NFT marketplace.
Unfortunately, the exchange was hacked in December 2021 and lost an estimated $196 million in cryptocurrency.
Our Bitmart review will discuss the platform's services and features, pros and cons, trading fees, security, etc., and demonstrate how to start trading on the platform to maximize profits.
Let's get right to it!
What Is BitMart
BitMart is a global cryptocurrency exchange with over 5.5 million users in 180 countries. The platform was launched in 2017 in the Cayman Islands, with its offices in China, South Korea, and the United States.
BitMart enables trading in over 1,000 digital assets and provides investment services and advanced features to a global customer base, including margin and futures trading. You can trade not only the most popular cryptocurrencies, such as Bitcoin, Ethereum, Dogecoin, Solana, Ripple, Cardano, etc. but also small and newly released crypto assets.
In 2018, BitMart launched the BitMart Token (BMX), which provides token holders with special trading discounts and numerous other benefits on the exchange.
The trading platform has added numerous new features, including staking, lending, savings products, and derivatives trading.
Bitmart provides a simple buy/sell crypto feature where beginners can trade crypto using multiple payment methods with just a few clicks. Additionally, it offers advanced features such as spot trading, futures trading, margin trading, derivatives trading, OTC trading, etc., allowing investors to use leverage with their crypto investing.
The platform provides an NFT marketplace where you can buy NFT tokens and competitive fees. BitMart uses a maker and taker model to determine the trading fees, starting from 0.25% respectively and reducing with trading volume.
However, the BitMart exchange was hacked in December 2021, when the private keys of its hot wallets were compromised, resulting in the theft of $196 million worth of cryptocurrency. 
Bitmart Features
Now, let's have a closer look at the Bitmart crypto exchange features:
Wide Selection of Cryptocurrencies
Bitmart has a vast selection of digital assets compared to other trading platforms that users can buy and sell easily on the exchange.  
Margin and Futures Trading
In addition to its simple buy and sell function, Bitmart provides its users with crypto futures trading and margin trading options.
Bitmart includes a futures market with leveraged trading up to 100x and DeFi services such as borrowing and lending products. The derivatives and futures markets allow Bitmart customers to perform future trading without the hassle and speculate on the market.
Remember that trading crypto is highly risky, and futures and margin aren't recommended for most crypto investors.
Bitmart Lending
BitMart Lending offers passive income for investors looking to earn passive income via crypto lending options. To participate in lending, you must subscribe, and your selected token will get locked. You'll receive the deposited tokens and the interest accrued to your BitMart account when the term is completed.
The annually calculated accrued interest can vary between 5% and 120%.
Bitmart Earn
Bitmart customers can earn passive income through their crypto holdings on the platform. There are multiple ways to earn passive income on Bitmart, namely:
Bitmart Staking: Staking is the process through which users lock their crypto assets on a blockchain network to validate transactions on the blockchain and earn rewards in proportion to their locked tokens. With Bitmart Staking, users can lock up funds for 30 to 90 days to earn Bitmart staking rewards.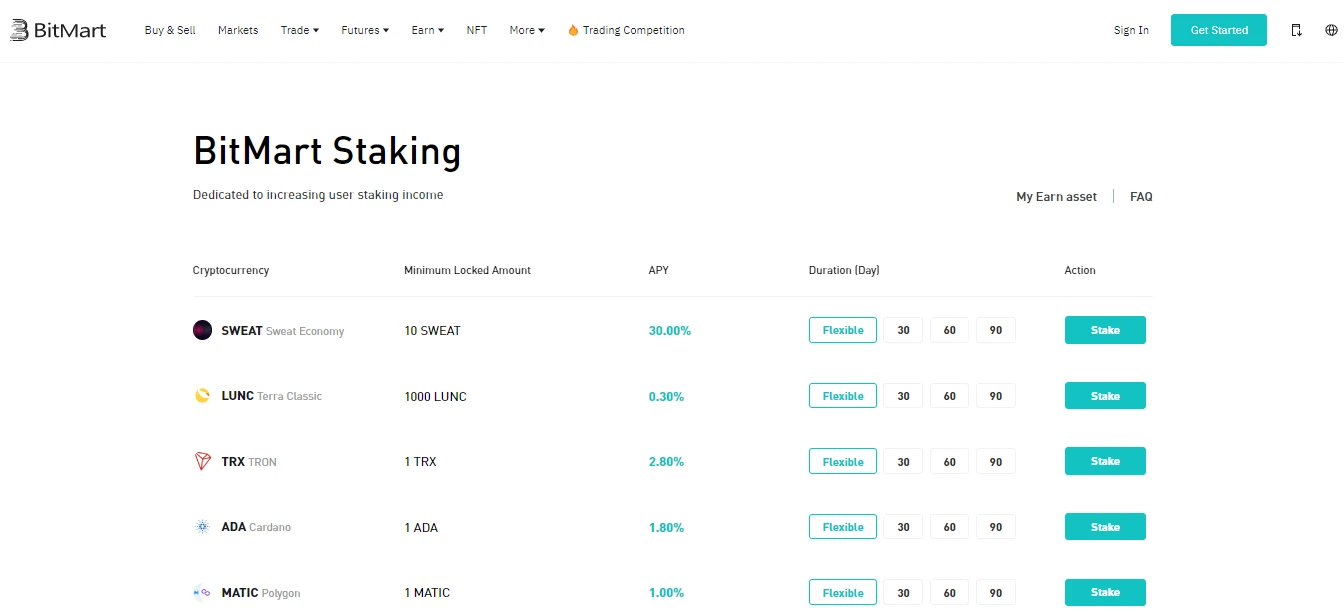 Bitmart Savings: With Bitmart Savings, you can earn an APY as high as 50 percent on your crypto holdings. The digital assets you can make through Bitmart savings range from stablecoins like USDC and USDT to large caps like BTC, ETH, LTC, etc., and newly listed tokens such as FND, VCG, DHLT, etc. Remember, however, that the feature is not available to US users.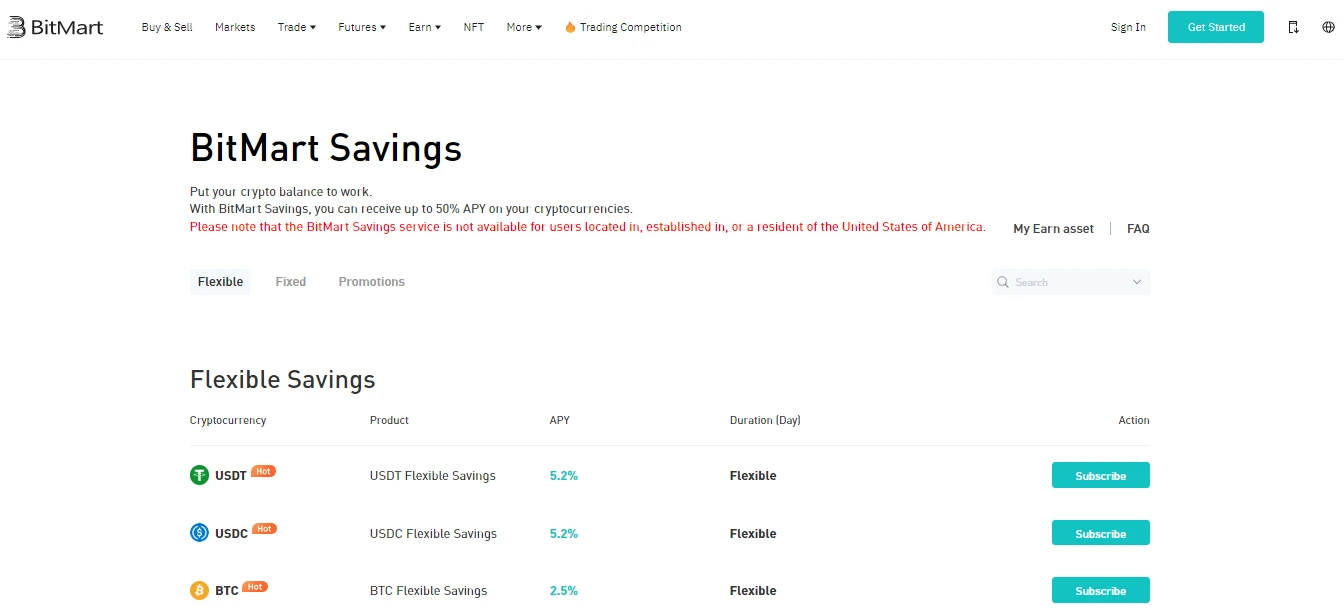 Bitmart Dual Investment: This unique feature allows users to earn in any of the two currencies in a trading pair. The trading pairs available are BTC/USDC, ETH/USDC, SOL/USDC, and BCH/USDC. You can select your preferred asset, choose the method (Sell high or Buy low), enter the subscription amount, and pick a settlement date from the options. With Bitmart Dual Investment, users can hedge against the massive price fluctuations in cryptocurrencies and earn on crypto assets or stablecoins like USDC. This feature also isn't available to US users.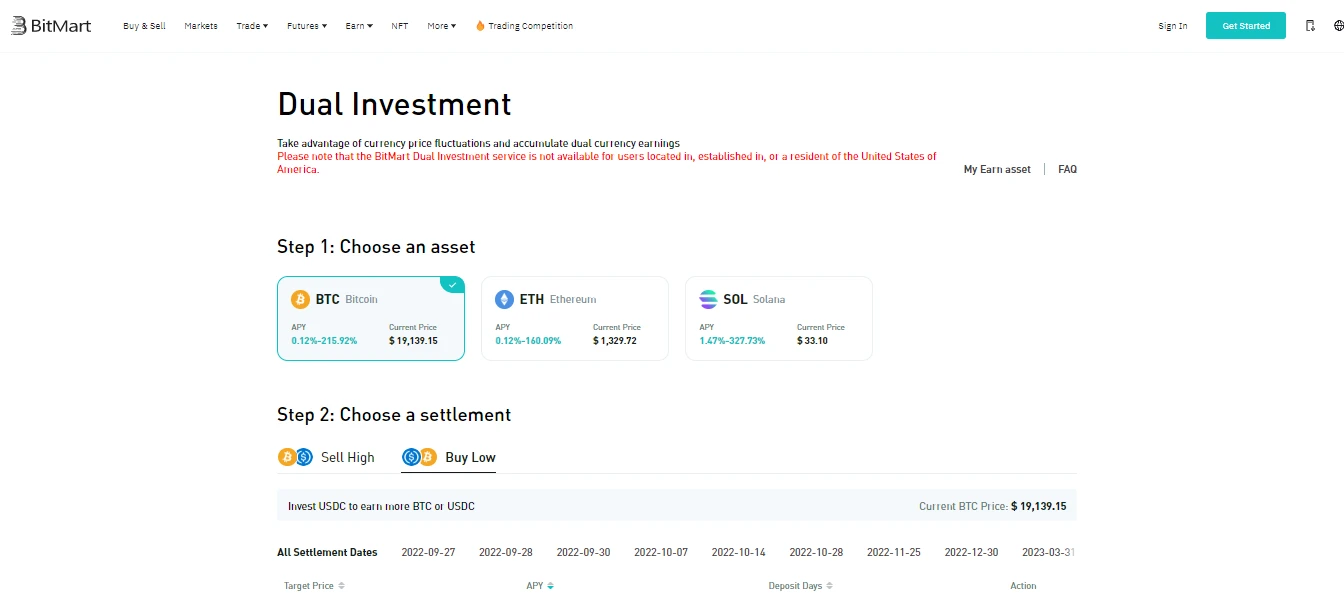 Bitmart NFT Marketplace
The Bitmart NFT marketplace aims to bring NFT artists, communities, enthusiasts, and collectors together, enabling them to create, purchase, and trade some of the world's best and most unique NFTs. Users need to create a Bitmart account to access the BitMart NFT marketplace. The NFTs supported on Bitmart are all ERC-721 tokens, the details of which can be found on Etherscan.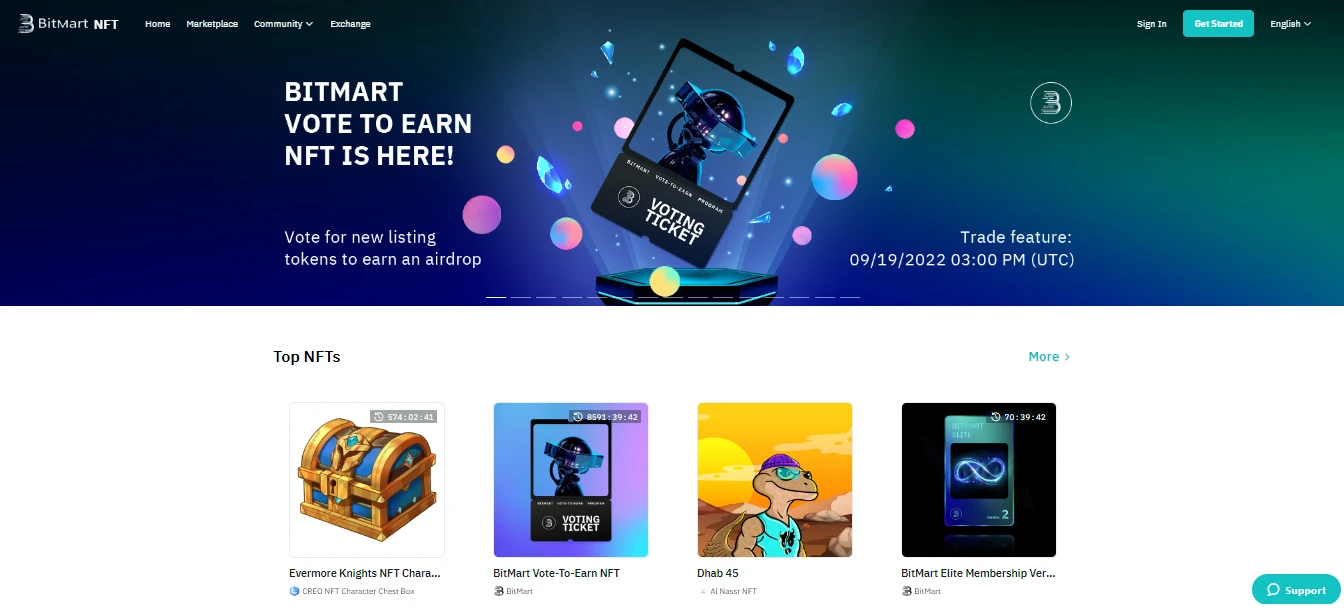 Bitmart Launchpad
Bitmart launchpad is the place where new and exciting tokens are launched. The Mission X2 project has been created for investors wanting to support startups and receive premiums from them. The investors are required to transfer a certain amount of BMX to the chosen startup. Once the amount of BMX reaches 1 million, the project token may enter the BMX market and be paired with BMX.
Bitmart Institution
Bitmart Institution is designed for large institutional investors and enables them to become a broker and a market maker, earn rewards, participate in OTC trading, or list their own tokens on the platform. While users have to fulfill certain conditions to access these features and services, Bitmart Institution proves to be very profitable for large institutional investors and entities. 
Bitmart Referral Program
Bitmart has a very lucrative referral program for existing users, allowing them to invite their friends to trade on Bitmart and earn up to 40 percent from their trading fees. You can invite your friends to Bitamrt through a referral link or QR code. 
Bitmart Affiliate
Any user can apply to become an affiliate for Bitmart. Once the application is approved, the user gets their unique referral link to share in their networks and earn commissions as high as 100 percent on spot and futures trading.
Bitmart Task Center
Even new users on Bitmart can get a chance to win up to USD 3000 rewards by completing a few simple tasks. By signing up for Bitmart and creating an account, you can win up to USD 500. For depositing USD 100 or more, you stand a chance to win up to USD 1000, and if your first spot trade is USD 100 or more, you become eligible to win up to USD 1500.
These are some of the most popular and commonly used features of Bitmart. In the next section of our Bitmart review, we'll explain how to access these features and introduce you to the Bitmart fee structure. 
Setting up a Bitmart Account
To set up a Bitmart account, you must sign up with your email address or phone number and create a strong password. Once you've successfully created an account on Bitmart, you must verify your identity to start crypto trading immediately.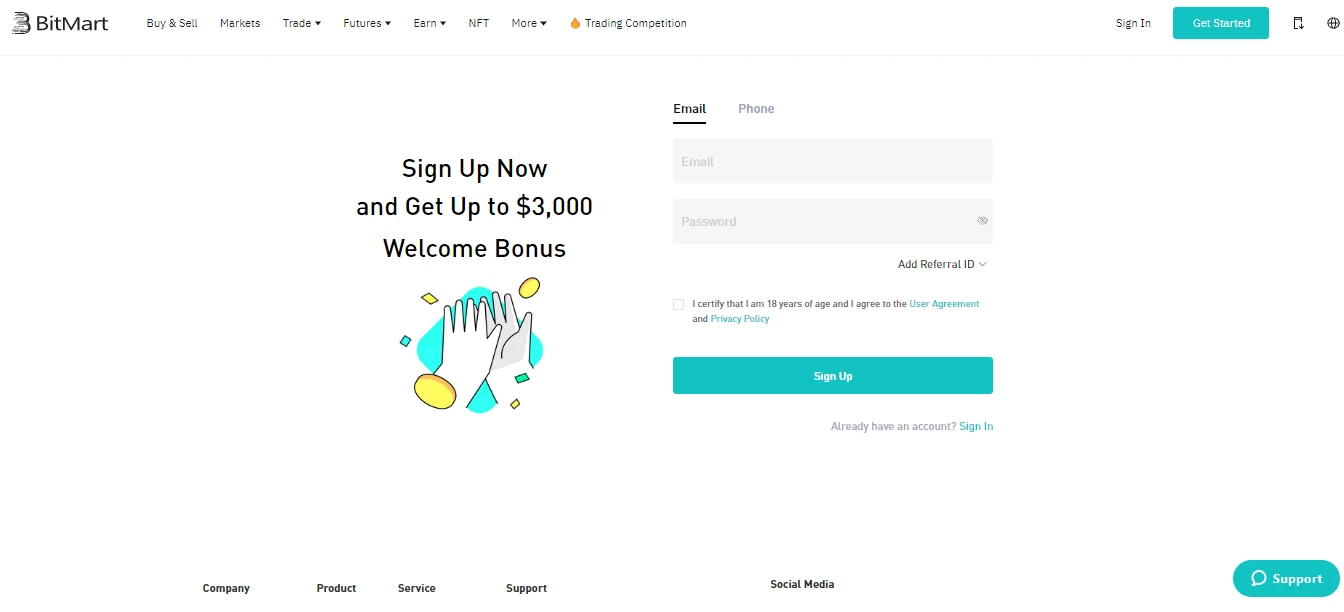 The verification process differs depending on the accounts' types:
Level 1 Starter
The verification process for Level 1 users' accounts is straightforward and requires only personal details like a valid email and a phone number to set up two-factor authentication. Once you've entered these details correctly, you can start using the Bitmart trading platform to buy and sell crypto assets. 
Level 2 Advanced
To gain access to all the features and make the most of your Bitmart trading, you must upgrade to Level 2 and become an Advanced trader. The verification process involves providing a government-issued valid identification card and a complete facial verification. 
Additionally, there is a special onboarding process for institutional investors and companies. Our Bitmart review will focus on retail users. 
Once you've created a user account, the next step is to deposit funds into your Bitmart wallet. You can deposit crypto assets directly from your crypto wallets (software or hardware), and the exchange doesn't charge deposit fees. The Bitmart withdrawal fees vary depending on the cryptocurrency and the network used to withdraw funds. 
Buy Cryptocurrencies
Bitmart allows you to buy and sell cryptocurrencies using fiat currencies through debit or credit cards, PayPal, payment gateways such as MoonPay or Simplex, etc.
Bitmart Fee Structure
While the exchange doesn't charge any deposit fees, it charges a small trading fee from its users. Bitmart competitive fee structure is one of the factors that makes it so popular amongst its users. The fee structure is tiered, and the trading fee for a standard user starts at 0.25 percent. Your level in the tiered structure depends on the number of BMX tokens you hold. The higher the number of BMX tokens, the lower the fee charged, as shown in the table below.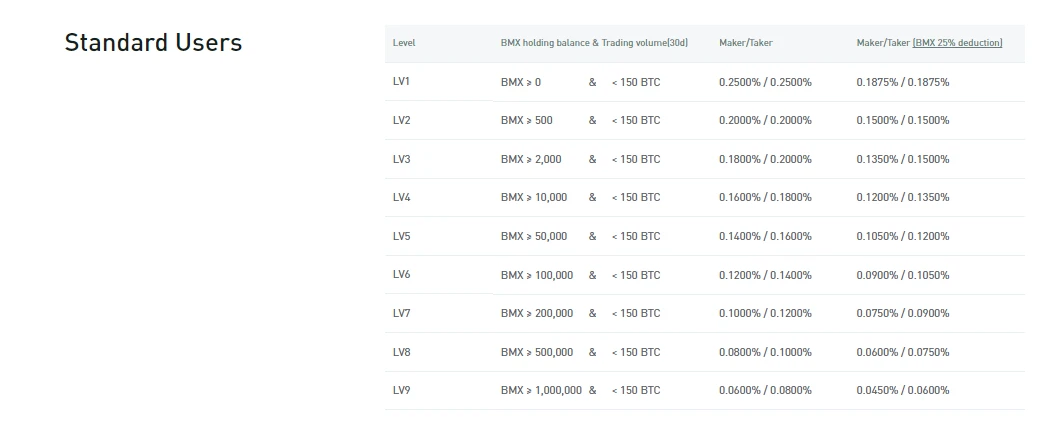 For professional users, the levels range from PRO1 to PRO6, and the trading fee goes down as one moves up the level. The 30-day trading volume in BTC determines the trading fees and levels for professional users – higher volume means higher level and lower trading fees. The trading fees for pro levels are displayed in the table below: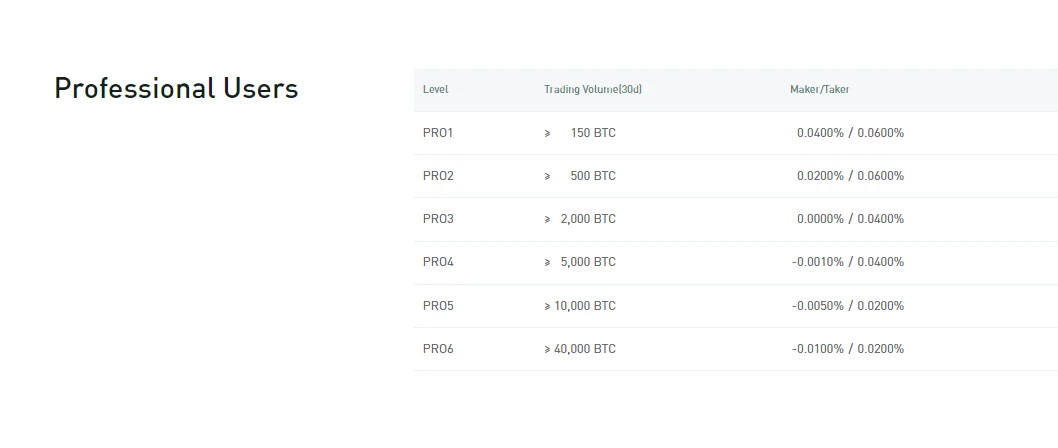 Bitmart Security
Our Bitmart review will now look into security as one of the most important considerations when choosing a crypto exchange for crypto trading. According to the official Bitmart website, it has an Advanced Risk Control System that utilizes a hybrid model of hot and cold wallet systems with multi-signature technologies. On top of that, Bitmart is registered as a Money Service Business in the USA with Financial Crimes Enforcement Network, making it a legitimate cryptocurrency exchange for crypto trading in the US. 
However, despite all the Bitmart exchange's security measures, it became subject to a hack of USD 196 million in 2021. As stated, some hackers had gotten control over the private keys to two of Bitmart's hot wallets used to store users' funds and assets and managed to hack the Bitmart exchange. The company later stated that it would reimburse all its users with the funds they had raised.
Trading Experience Bitmart
Since the hacking incident in 2021, the Bitmart ratings on Trustpilot have gone down to 3.6 out of 5 stars. Another reason behind this low ranking is that the 0.25 percent standard fee charged by the trading platform can be higher than other popular exchanges.
To sum up, the Bitmart exchange is suitable for professional-level traders or those wishing to invest in small-cap and newer cryptocurrencies. 
Final Word
Our detailed Bitmart review has revealed that you can easily trade and exchange crypto on the platform. The exchange provides several advanced features to make your crypto journey straightforward and more efficient. Moreover, its registration with FCEN makes the Bitmart exchange legit in the US, and users don't have to worry about their funds being suddenly frozen by the government.
It should, however, be kept in mind that cryptocurrencies are volatile in nature, and nothing in this article is a piece of financial advice. 
If you wish to learn more about cryptocurrencies, blockchain technology, and DeFi, you're welcome to visit our blog and read articles like "What Is DeFi." To learn how to manage your crypto portfolios, read our "Crypto Portfolio Trackers."