Hacker steals over $625 worth of Ether and USDC from Ronin network
Ronin network has suffered from what could be termed the largest exploit ever in the decentralized finance sector. On Tuesday, the network announced that more than $625 million worth of the USDC stablecoin and Ethereum (STH) had been stolen.
Ronin network hacked for over $625M
The Ronin Network published a blog post on Tuesday confirming this exploit. The attack affected the validator nodes of Sky Mavis, which are the publishers of the popular play-to-earn Axie Infinity game. The Ronin network has since frozen transactions on the Ronin bridge that facilitates deposits and withdrawals from the blockchain.
The blog post states that the team is working with law enforcement authorities to recover the stolen funds. The attacker withdrew more than $625M worth of ETH and USDC from the network on March 23.
The blog post states that the attacker used hacked private security keys to gain unauthorized access to the network validator nodes. The attacker managed to withdraw assets without being noticed. The exploit was detected almost a week after it was made.
Sky Mavis says that the attacker successfully stole the funds because of changes made to the network after experiencing a massive user load in November following the increased popularity of the Axie Infinity game. While the changes were discontinued, the permissions given at the time were never revoked.
"As we've witnessed, Ronin is not immune to exploitation, and this attack has reinforced the importance of prioritizing security, remaining vigilant, and mitigating all threats," the blog post read.
Largest DeFi hack
This Ronin network attack could be termed the largest DeFi exploit ever. The largest attack happened last year when a hacker stole $611 million from the Poly network. However, the majority of these funds were returned. Last month, another exploit on the Wormhole bridge led to a $322 million theft.
The majority of the cryptocurrencies stolen from the Ronin network are still on the attacker's wallet address. However, 6250 ETH has already been moved to other wallet addresses. RON, the native token for the Ronin network, has dipped by nearly 20% during the past 24 hours, according to CoinGecko.
Your capital is at risk.
Read more:
censorship resistance and nodes disrupting tech giants
In the twenty-first century, blockchain is the only practical route to privacy and censorship resistance
Privacy and censorship resistance are not the same things, but they are closely related. When the government or another organization, like an advertiser, has complete access to your activities, they can punish you for misbehavior.
It might be time to move quickly to ensure that seismic cracks in Web2 aren't repeated in Web3. This would be preferable to going backwards and trying to patch up Web2 flaws with duct tape. The so-called internet of the future might actually safeguard our private information and stop zealous or oppressive censorship by taking proactive measures before these problems get out of control.
Encryption is used to send the message
Suppressing open communication and free speech in nations battling for civil liberties and human rights makes it harder to overthrow repressive governments. Here, the blockchain technology's transparency and encryption features can help to protect sensitive data. File-sharing platforms like the InterPlanetary File System and Web3-based email extensions like ShelterZoom's Document GPS may be able to assist activists and citizens in hotspots for human rights in avoiding censorship and unauthorized surveillance.
When files are placed on a ledger, the sender has complete control over visibility and permissions and has access to a time-stamped record of all actions involving the file. Imagine it as Google Docs or DocuSign on steroids.
It's simple to see how these blockchain-based tools are essential in a system with strict surveillance and censorship laws. Blockchain is also used in these kinds of solutions to address the censorship blind spots in cryptocurrency. Contrary to the widespread belief that cryptocurrencies are inherently private, transactions are stored on an open, transparent distributed ledger. Because of this, they can be tracked even more precisely than conventional financial transactions.
The truck convoy blockade in Canada, which accepted donations in Bitcoin, which could be easily tracked and sanctioned, learned this lesson the hard way. Crypto is much more transparent than traditional finance, according to Michael Gronager, CEO of the blockchain data company Chainalysis.
Crypto is far more transparent than traditional finance. […] We follow the funds
Why then is crypto known for being censorship-resistant? The decentralized ledger, which is very hard to take control of and makes transactions immutable once they are recorded, is part of the solution.
Tomi, a producer of Web3-based decentralized solutions and assisted-computing hardware, is one network working to provide total anonymity. With the help of 72 developers and eight anonymous senior crypto veterans, Tomi is creating TomiNet to enable the unrestricted exchange of information between journalists, activists, and generally law-abiding citizens. While the anonymity features of TomiNet are comparable to those of the dark web, the network is controlled by the Tomi community via a decentralized autonomous organization (DAO) to ward off undesirable or harmful activities.
The basic tenet of DAO governance is to keep corporations and governments out while still providing a means of combating violence.
Decentralization is more than just a theoretical necessity
The controversial right-wing social network Parler being banned from cloud-based web hosting services like Amazon Web Services is another noteworthy instance of gatekeeping in Big Tech. The cloud is hailed as a truly advantageous component of internet infrastructure. However, the problem is that only a small number of cloud providers offer essentially all necessary infrastructure, giving them the authority to serve as gatekeepers.
Whether or not you support Parler's ban, the incident shows how a business can be effectively barred from using the internet because a cloud service wouldn't work for them.
A critical fix might be provided by decentralized web hosting. Businesses like Akash and Flux provide a variety of cloud services that are essential in the internet age, but by utilizing decentralization, they limit the ability of the cloud service to exert control over users.
The instances of powerful governmental and private organizations stifling free speech and communication are increasing daily. The time has come for Web3 to step up, but this time with more vigor and clarity than before. Privacy and censorship resistance are mutually dependent; without the other, neither is meaningful. If the cryptocurrency industry is to live up to the lofty expectations placed on it, it must keep this in mind.
Today, maintaining privacy is practically impossible. Every person is vulnerable to unintentional exposure, from data theft incidents to governments tracking citizens. TikTok recently confirmed that staff, including those based in China, can access user data in an update to its privacy policy for the European Economic Area. As a result of the Iranian regime's ongoing repression of protesters, the populace is afraid to criticize the government.
Nodes will depose tech oligarchies like Google and Apple
Marc Andreessen's seminal 2011 essay, "Why Software Is Eating the World," was well-regarded even at the time it was written and has since proven to be even more prescient than it seemed. Andreessen argued that every company was now ostensibly a software company, whether the company liked it or not, at the beginning of a decade in which software would prove invaluable to almost every aspect of modern life.
His ideas eventually applied to businesses that either hadn't fully defined their markets or didn't even exist yet but would go on to generate billions in market share, including Uber, Lyft, TikTok/ByteDance, Robinhood, and Coinbase, to name a few. He adapted his argument to many of the market leaders at the time. Software was probably going to be a crucial component of becoming a unicorn in the twenty-first century.
The emergence of true cloud computing and cloud giants, an industry in which Andreessen himself had been a pioneer at a time when many inside and outside computing were scoffing at the notion, was the covert force behind this complete disruption of modern economies and life.
But making so many aspects of life so simple came at a high price
They had stopped scoffing entirely by the second decade of the twenty-first century. Global spending on cloud computing increased by more than quintupling in the 2010s, going from $77 billion to $411 billion. The computer in our pockets relied on it to make everything available at the touch of a button.
As with anything else, the mobile-powered software revolution had trade-offs even though it made life as simple as pressing a button. Software has taken over the world, making very few, very large cloud hosting companies the dominant force. Currently, 65% of the market for cloud hosting is dominated by Amazon, Google, and Microsoft.
By using cloud hosting, this established a monopoly of sorts. For instance, hosts can remove services from clouds when using cloud hosting, as Amazon did with the infamous social media service Parler. The Apple App Store also prohibited Parler from using it.
Whether or not you concur with a service like Parler doesn't matter when it comes to the bigger issue at hand. The incident proved that, in the post-software world, it only takes two corporations—Amazon and Apple—to completely shut down a service, effectively forcing it out of business.
What happens if a developer or service violates a less serious Amazon policy or term of service? The internet has been forced into a corner where it can no longer truly function as a marketplace for free ideas and development, especially if that development is in some way seen as a threat by businesses like Amazon and Microsoft.
A new world can be created by nodes
Newer blockchain protocols have the potential to "break" data in a world consumed by software and oligopolistic companies, allowing us to think about the exchange of that data in new ways, just as Bitcoin "broke" money and allowed people to think about the exchange of value in new ways.
Web3 and the initiatives it will spawn promise to fundamentally alter how information lives and is transmitted through the internet in a transparent and self-sufficient manner. Ecosystems that prioritize decentralization and the community promise to return control to programmers and, by extension, the users of their decentralized applications (DApps) and software. This will make it possible to create a common framework that supports best practices and economies of scale and can compete with the biggest centralized internet entities.
This is not to say that a decentralized utopia has already been attained. Ironically, despite the fact that decentralized systems are also ostensibly "trustless" systems, both users and developers still need to develop trust in these systems. Whatever the drawbacks of relying on corporations like Amazon, Google, Microsoft, and Apple, they have built up decades' worth of that trust, credibility, and familiarity that makes it challenging for users and developers to adopt a completely different way of doing things.
Rewiring the incentive model that has supported the last several decades of the internet is a part of establishing that trust. In order for a new decentralized internet to function, users will need to invest in nodes, and developers will need to make the most of those nodes by creating software that is as easy to use on a phone as Uber or Wordle.
We can rebuild the world that was destroyed by software, one node at a time, if the decentralized Web3 community is successful in doing that.
Related
Dash 2 Trade – High Potential Presale
Active Presale Live Now – dash2trade.com
Native Token of Crypto Signals Ecosystem
KYC Verified & Audited
EGLD Price Prediction As Coinbase Lists MultiversX (Elrond)
EGLD Spikes on Coinbase Listing Announcement
EGLD, the native cryptocurrency that powers the MultiversX (formerly known as Elrond) blockchain, surged 5.0% on Tuesday on the news that Coinbase would list EGLD for trading as of today (Wednesday the 7th of December). The cryptocurrency was at one point up as much as 6.5% in the $46.50 per token area versus its pre-Coinbase listing announcement levels under $44.0.
Coinbase will add support for MultiversX (Previously Elrond) (EGLD) on the MultiversX network. Do not send this asset over other networks or your funds may be lost.

— Coinbase Assets (@CoinbaseAssets) December 6, 2022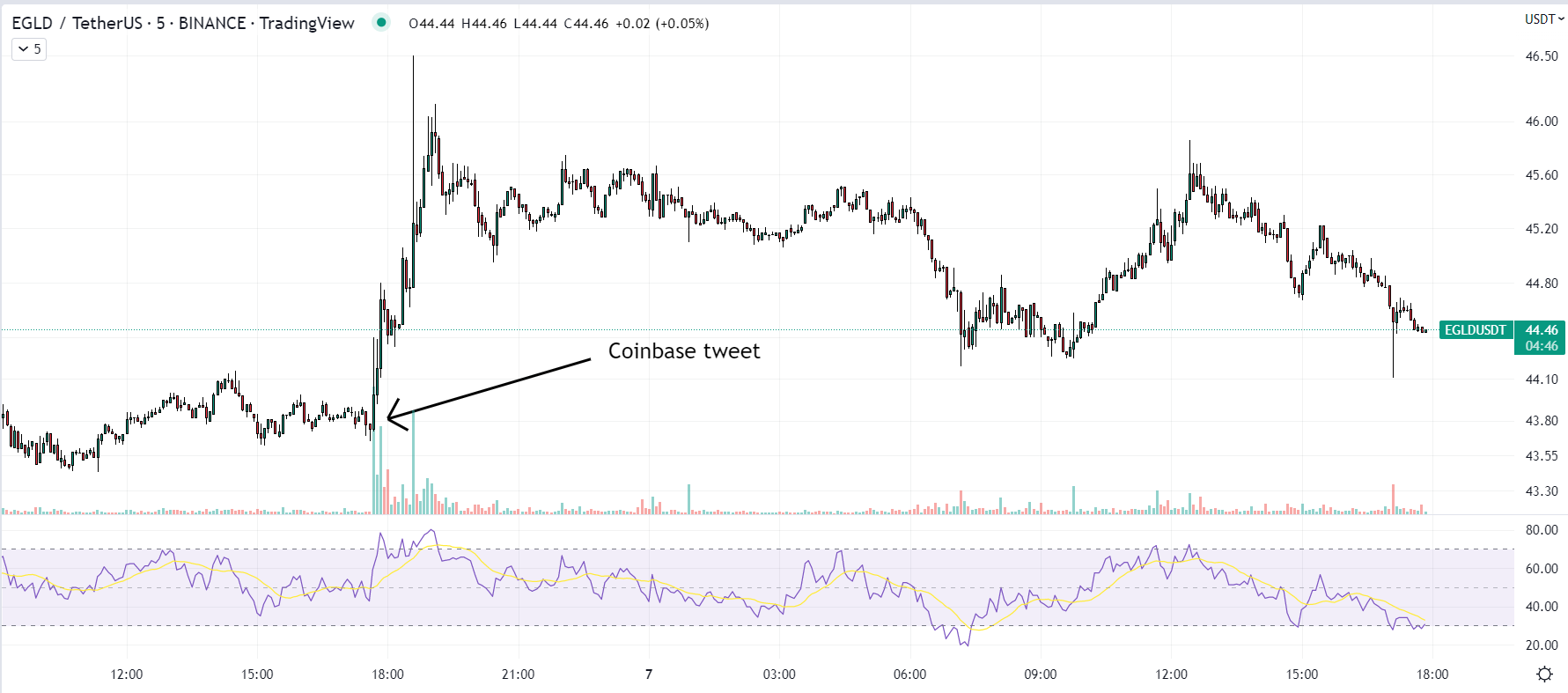 EGLD has since fallen back to trade around $44.50 on Wednesday and is still up nearly 2.0% versus pre-Coinbase listing announcement levels on optimism that the listing will result in increased demand for the token. However, on the day, EGLD is now trading about 2.0% lower, amid apparent profit-taking.
Price Prediction – EGLD to Continue Trending Higher?
EGLD's fall back into the mid-$44.00s from yesterday's multi-week highs in the $46.00s means that the cryptocurrency has for now failed in its efforts to push sustainably back to the north of resistance in the $45 area in the form of the late-September lows. However, shorter-term technicals suggest EGLD's near-term bullish prospects remain intact.
EGLD is arguably still moving higher within the bounds of a bullish trend channel. That may give the cryptocurrency the bullish momentum it needs to muster a push above $45 resistance. A break above $45 would open the door to a swift run higher towards the next key resistance area around $50, which is where a mid-October low and the 50 and 100-Day Moving Averages reside.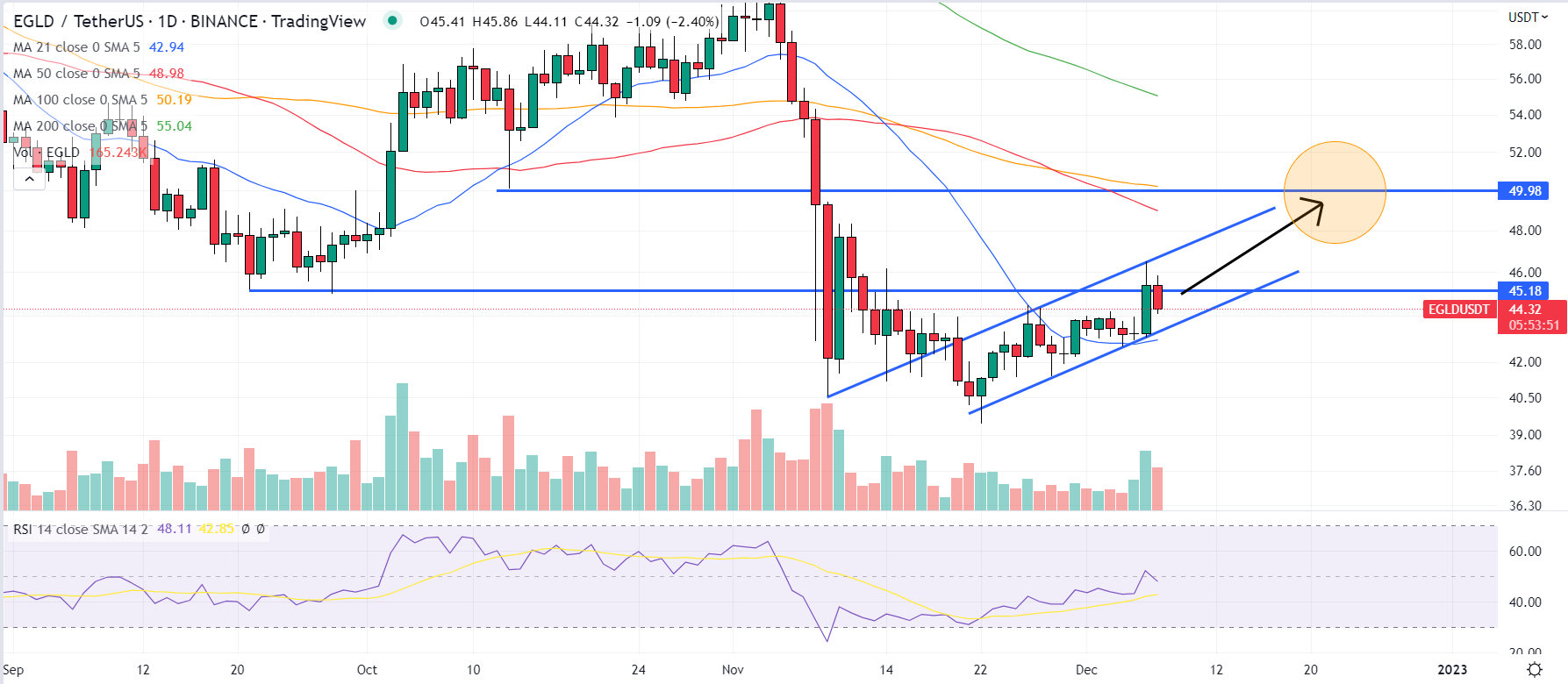 For what it's worth, a popular crypto predictor bot that gives cryptocurrency price forecasts based on historical data predicts that, over the next week, EGLD is likely to climb back towards the $45 area and stay within a $41.50 to $47ish range.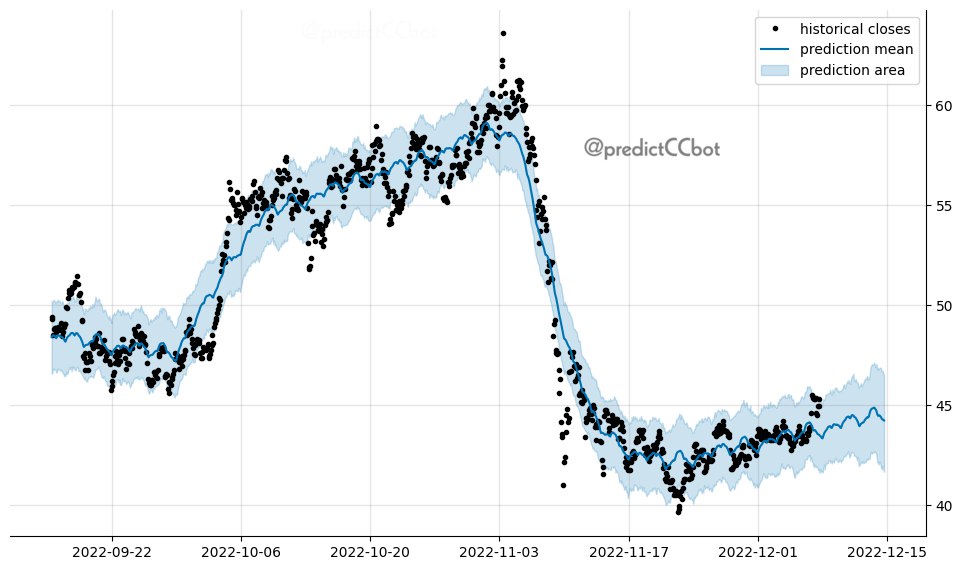 Dash 2 Trade (D2T)
Those interested in investing in a promising crypto trading platform start-up should look no further than Dash 2 Trade. The up-and-coming analytics and social trading platform hopes to take the crypto trading space by storm with its host of unique features.
These include trading signals, social sentiment and on-chain indicators, a pre-sale token scoring system, a token listing alert system and a strategy back-testing tool. Dash 2 Trade's ecosystem will be powered by the D2T token, which users will need to buy and hold in order to access the platform's features.
Dash 2 Trade is currently conducting a token pre-sale at highly discounted rates. D2T token sales recently surpassed $8.94 million. The sale has now entered its fourth and final phase and the pre-sale dashboard is going to be released soon, with the development team currently running ahead of schedule.
IMPT
Amid the growth in popularity in recent years of environmentally and socially friendly investments, investors looking for a green cryptocurrency should consider the IMPT token. IMPT.io has partnered with thousands of the world's largest retailers to help offset their carbon footprints and allows users to trade carbon credits on the blockchain.
IMPT tokens are currently in their second stage of the presale with IMPT having raised over $14.7 million. That amounts to $300K in token sales in just the last 24 hours. Investors only have another four days to purchase tokens at the current discounted price of $0.023. IMPT token exchange listings begin in seven days.
Related
Dash 2 Trade – High Potential Presale
Active Presale Live Now – dash2trade.com
Native Token of Crypto Signals Ecosystem
KYC Verified & Audited
Bitcoin Price Prediction – BTC Is Stuck at $16.9k, Are We Going Back Above $17k Today?
2022 was a rather dreadful year for cryptocurrency investors globally. Most coins witnessed a new bottom and many popular companies in the crypto space had to shut down their business. Now that the year is about to end, there's a lot of chatter about where the industry goes from here, with Bitcoin as the frontrunner crypto.
Is Bitcoin dead? Well, not really. Although the current market condition might indicate otherwise, Bitcoin is nowhere near dead, and it might make a move upwards.
Bitcoin Takes A Fall This November- Will It Stay?
The crypto market in 2020 has struggled to stay afloat for a variety of reasons, including the increasing inflation triggered by the rise in interest rates by the central bank as well as the Russia-Ukraine war that disrupted the geopolitical stability and consequently affected most major markets including cryptocurrencies.
While the effect on other commodities is relatively not that intense, Bitcoin has plummeted quite steeply and therefore rightfully raised concerns. Because of this, many investors are pulling out their investments causing BTC to decline in value.
Equally disturbing happenings aid this panic in the crypto and blockchain world, where the space first noticed the fall of the LUNA ecosystem that wiped out over $40 billion of investors' wealth in a matter of days. The Celsius network suspending withdrawals and transfers too played a part in Bitcoin tracing the bottom. Following these events, the recent crash of FTX aggravated the situation even more since the already skeptical investors are now increasingly unsure about their investments in cryptocurrencies.
Is BTC Going Back Above $17k Today?
The price of BTC has been looming within the $16,900 range for a while now. Naturally, volatility has been low over the past two days, as the market seems to have been stabilizing after the FTX fiasco. At the current rate, there does seem to be a bullish movement that can be seen in the overall cryptocurrency industry. Many have been speculating the cryptocurrency to have found its bottom and to reverse soon. Despite all the noise in the market, it is essential to understand that BTC has a rather uncommon nature when it comes to price movements.
Many major analysts claim that while there may be speculation of the bottom being found, one does need to weigh in the fact that equity markets have been bleeding on a macro level too. It has been seen historically that the crypto industry often coincides with, and is majorly influenced by other global markets. This puts the sector at a disadvantage since the economic crisis isn't something that can be gotten rid of easily.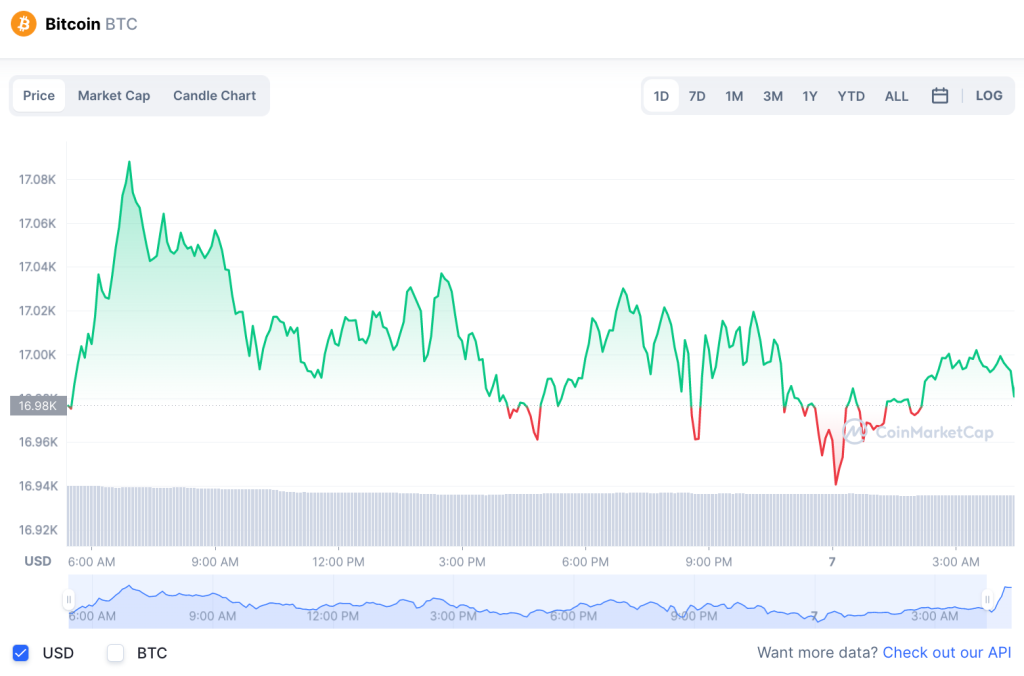 However, on the short term, BTC does indicate a move up to the $17,200 levels, since an increase in trading volume and overall interest in crypto seems to have spiked in the past 24 hours. This is evident on social media platforms, where several major cryoptocurrencies seem to be trending. Moreover, the anticipation and excitement of upcoming festivities and the ongoing Football World Cup have also created an overall bullish sentiment.
Thus, it can be speculated that although the long term move of BTC does seem to indicate further drop in price, it can easily perform and maintain a leg up for the next couple of days.
Could BTC be Dead?
The volatile nature of Bitcoin is a consequence of the asset not having any intrinsic value according to a few market players. Yes, the price of the coin is driven by speculations but there's more to Bitcoin than pump and dump. The token has historically shown such volatile patterns multiple times, during the bull runs to be precise, but this is independent of the token's utility. This is exactly the reason why investors choose to stay invested in the coin even when it has reached a plateau.
The true value of Bitcoin lies in the fact that it was the first cryptocurrency that revolutionized the way we record-keep transactions and presented a better way to send "money" while acting as a store of value. This way, investors could secure their funds and witness their rise in value over time. In addition to this, it also paved the way for an entirely new ecosystem to exist and remains among the few coins due to which investors choose to enter the crypto world.
The bottom line is, Bitcoin isn't dead. In fact, it is not going anywhere anytime soon. The current downfall is only a temporary issue and Bitcoin still holds the same potential as it did a decade ago. However, it goes without saying that investors are always looking for newer and better avenues to generate massive profits. The ideal option for such situations would be to invest in the latest projects that are not only in their early days but also have fundamentally strong ecosystems.
Listed below are some options that could potentially reward users massively in the upcoming weeks.
D2T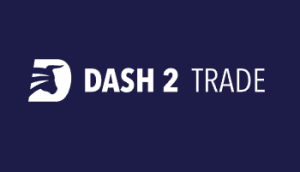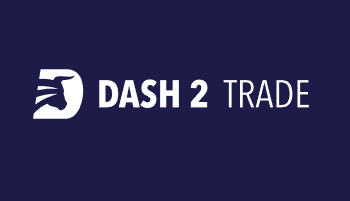 Dash 2 Trade is a revolutionary platform that'll help investors make informed trading decisions using the set of tools on the website. The platform will have features such as strategy builder tools, signal best buying opportunities and notify users of any presale launches. Anyone can become a part of the project by investing in the presale currently live on its official website.
TORA


Tora Inu is a platform where users can battle their NFTs and win the TORA token. It has a lot of play-to-earn games as well as a future metaverse integration planned. There are also a lot of arcade games including puzzles and races. With the game, players can have fun and earn at the same time making it a great choice to add to their portfolios.
RIA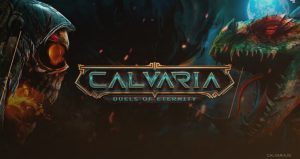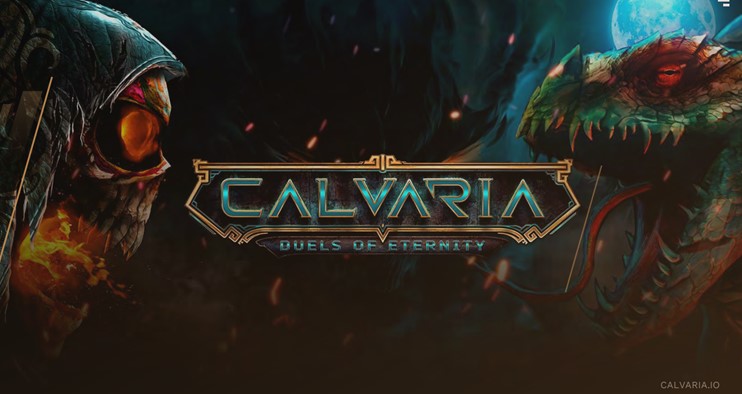 The play-to-earn economy is thriving, and Calvaria: Duels of Eternity is among the new additions to the growing category. In the game, users can build strategic decks of cards and battle against other players and win rewards. The rewards will be paid in RIA tokens, which can be used to make in-game purchases or be staked to earn a passive income. Calvaria is currently undergoing phase 5 of its presale and one can purchase 30.77 RIA tokens for 1 USDT. These tokens can be claimed when they're officially launched.
TAMA
Tamadoge is a great example of how profitable P2E tokens can be. The game recently raised $19 million in its presale and offered close to 10x gains to investors when it got listed on exchanges. In the game, investors are rewarded for battling their Tamadoge pets and ranking on the leaderboard. In return, they're rewarded with TAMA tokens which can be used to make purchases in the game or traded independently.


For those looking to make massive gains in the shorter term, while also holding strong projects in their portfolios, these cryptocurrencies can be excellent options.
Read More:
Dash 2 Trade – High Potential Presale
Active Presale Live Now – dash2trade.com
Native Token of Crypto Signals Ecosystem
KYC Verified & Audited