Bitmart Review [The Ultimate Guide 2022]
Pros
Competitive Trading Fees

Wide Range of Supported Coins

Advanced Products and Services

NFT Marketplace.
Cons
Hacked in December 2021

Negative Customer Reviews.
As a cryptocurrency trader, you were undoubtedly faced with the dilemma of choosing an exchange to suit your investment needs among a staggering number of cryptocurrency exchanges.
CoinStats regularly reviews leading platforms like Binance, Coinbase, or Kraken, relatively small but reliable crypto exchanges like the Bibox exchange, and a global exchange like Bitmart and presents their advantages and drawbacks to help you pick the right trading platform that suits your needs.
Bitmart exchange is a global cryptocurrency exchange platform for trading cryptocurrencies and earning on crypto. It offers users decentralized financial (DeFi) services, a wide range of cryptocurrencies, advanced trading features, and an NFT marketplace.
Unfortunately, the exchange was hacked in December 2021 and lost an estimated $196 million in cryptocurrency.
Our Bitmart review will discuss the platform's services and features, pros and cons, trading fees, security, etc., and demonstrate how to start trading on the platform to maximize profits.
Let's get right to it!
What Is BitMart
BitMart is a global cryptocurrency exchange with over 5.5 million users in 180 countries. The platform was launched in 2017 in the Cayman Islands, with its offices in China, South Korea, and the United States.
BitMart enables trading in over 1,000 digital assets and provides investment services and advanced features to a global customer base, including margin and futures trading. You can trade not only the most popular cryptocurrencies, such as Bitcoin, Ethereum, Dogecoin, Solana, Ripple, Cardano, etc. but also small and newly released crypto assets.
In 2018, BitMart launched the BitMart Token (BMX), which provides token holders with special trading discounts and numerous other benefits on the exchange.
The trading platform has added numerous new features, including staking, lending, savings products, and derivatives trading.
Bitmart provides a simple buy/sell crypto feature where beginners can trade crypto using multiple payment methods with just a few clicks. Additionally, it offers advanced features such as spot trading, futures trading, margin trading, derivatives trading, OTC trading, etc., allowing investors to use leverage with their crypto investing.
The platform provides an NFT marketplace where you can buy NFT tokens and competitive fees. BitMart uses a maker and taker model to determine the trading fees, starting from 0.25% respectively and reducing with trading volume.
However, the BitMart exchange was hacked in December 2021, when the private keys of its hot wallets were compromised, resulting in the theft of $196 million worth of cryptocurrency. 
Bitmart Features
Now, let's have a closer look at the Bitmart crypto exchange features:
Wide Selection of Cryptocurrencies
Bitmart has a vast selection of digital assets compared to other trading platforms that users can buy and sell easily on the exchange.  
Margin and Futures Trading
In addition to its simple buy and sell function, Bitmart provides its users with crypto futures trading and margin trading options.
Bitmart includes a futures market with leveraged trading up to 100x and DeFi services such as borrowing and lending products. The derivatives and futures markets allow Bitmart customers to perform future trading without the hassle and speculate on the market.
Remember that trading crypto is highly risky, and futures and margin aren't recommended for most crypto investors.
Bitmart Lending
BitMart Lending offers passive income for investors looking to earn passive income via crypto lending options. To participate in lending, you must subscribe, and your selected token will get locked. You'll receive the deposited tokens and the interest accrued to your BitMart account when the term is completed.
The annually calculated accrued interest can vary between 5% and 120%.
Bitmart Earn
Bitmart customers can earn passive income through their crypto holdings on the platform. There are multiple ways to earn passive income on Bitmart, namely:
Bitmart Staking: Staking is the process through which users lock their crypto assets on a blockchain network to validate transactions on the blockchain and earn rewards in proportion to their locked tokens. With Bitmart Staking, users can lock up funds for 30 to 90 days to earn Bitmart staking rewards.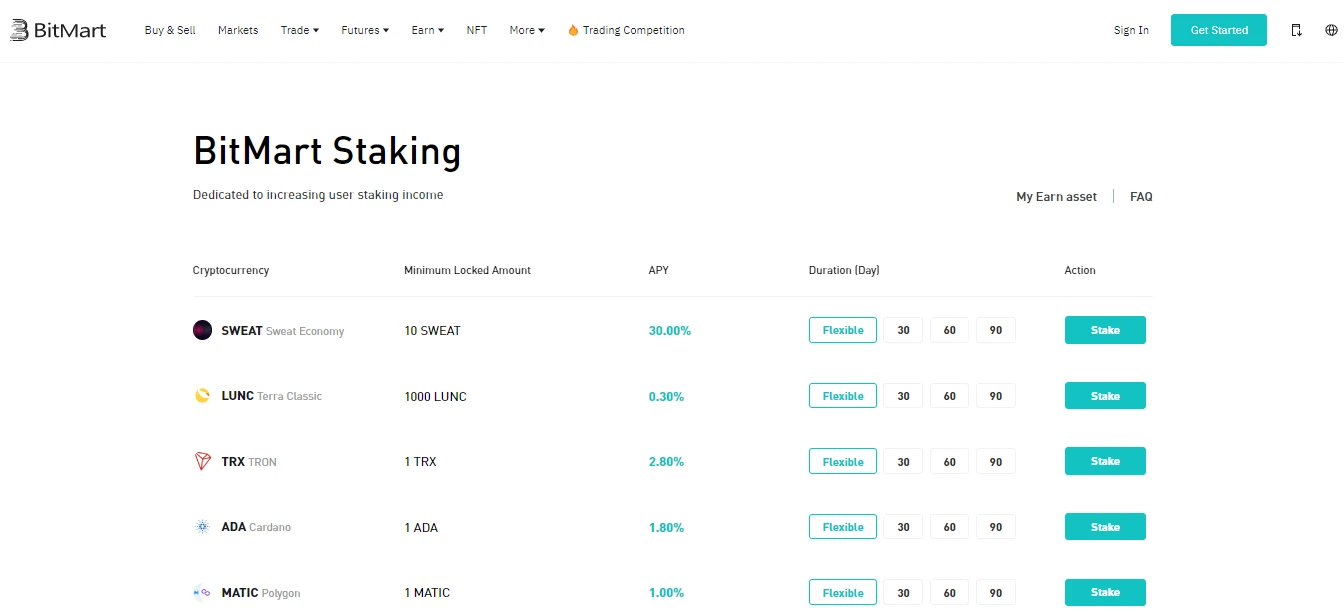 Bitmart Savings: With Bitmart Savings, you can earn an APY as high as 50 percent on your crypto holdings. The digital assets you can make through Bitmart savings range from stablecoins like USDC and USDT to large caps like BTC, ETH, LTC, etc., and newly listed tokens such as FND, VCG, DHLT, etc. Remember, however, that the feature is not available to US users.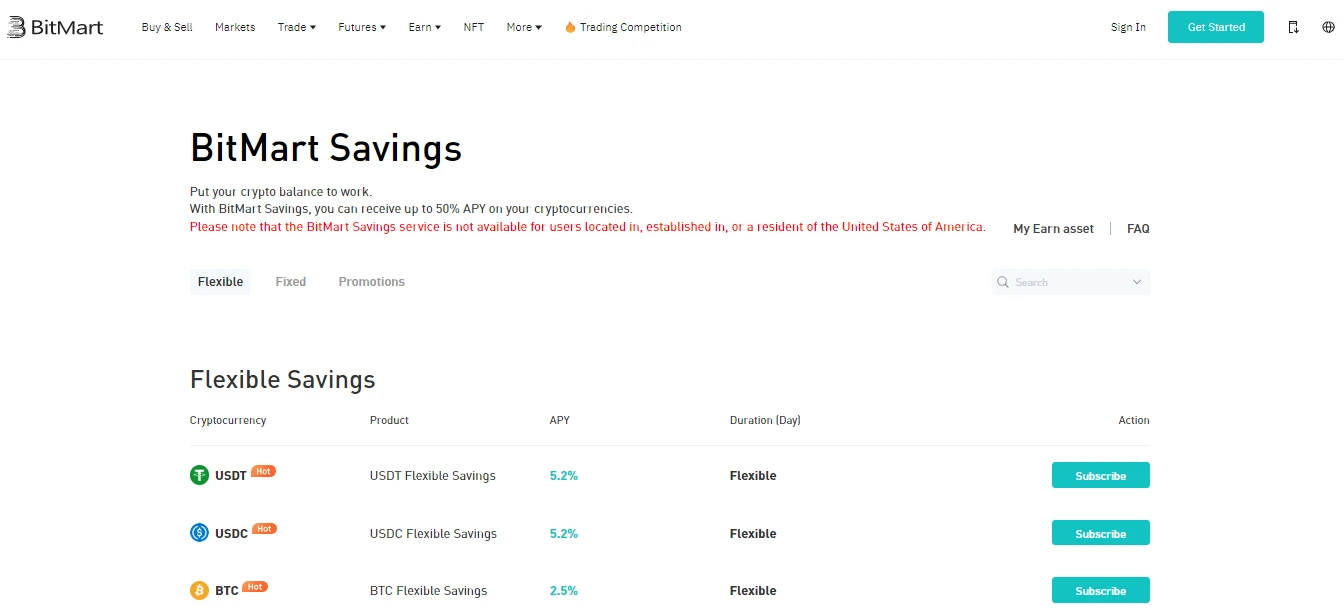 Bitmart Dual Investment: This unique feature allows users to earn in any of the two currencies in a trading pair. The trading pairs available are BTC/USDC, ETH/USDC, SOL/USDC, and BCH/USDC. You can select your preferred asset, choose the method (Sell high or Buy low), enter the subscription amount, and pick a settlement date from the options. With Bitmart Dual Investment, users can hedge against the massive price fluctuations in cryptocurrencies and earn on crypto assets or stablecoins like USDC. This feature also isn't available to US users.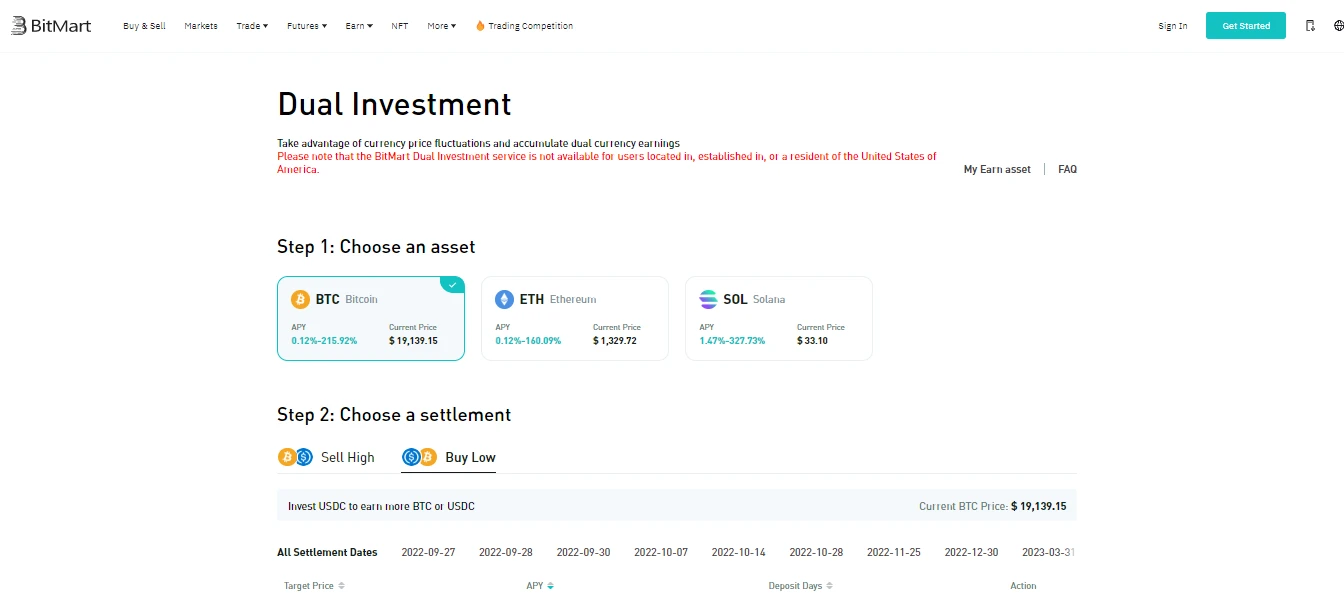 Bitmart NFT Marketplace
The Bitmart NFT marketplace aims to bring NFT artists, communities, enthusiasts, and collectors together, enabling them to create, purchase, and trade some of the world's best and most unique NFTs. Users need to create a Bitmart account to access the BitMart NFT marketplace. The NFTs supported on Bitmart are all ERC-721 tokens, the details of which can be found on Etherscan.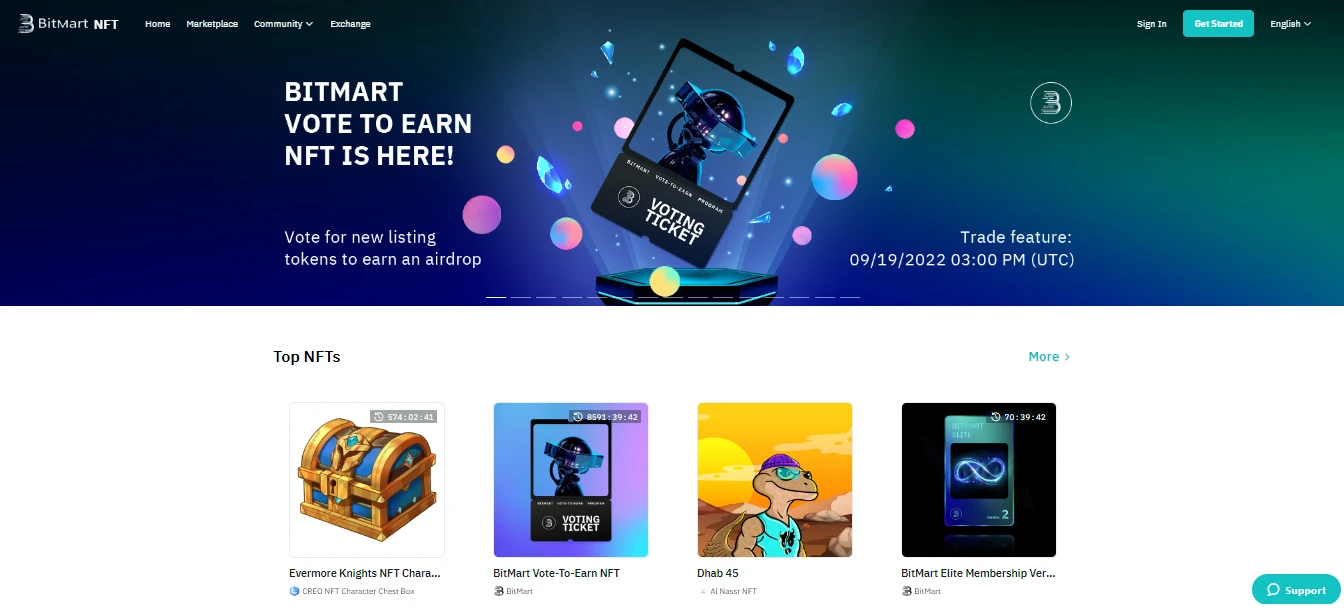 Bitmart Launchpad
Bitmart launchpad is the place where new and exciting tokens are launched. The Mission X2 project has been created for investors wanting to support startups and receive premiums from them. The investors are required to transfer a certain amount of BMX to the chosen startup. Once the amount of BMX reaches 1 million, the project token may enter the BMX market and be paired with BMX.
Bitmart Institution
Bitmart Institution is designed for large institutional investors and enables them to become a broker and a market maker, earn rewards, participate in OTC trading, or list their own tokens on the platform. While users have to fulfill certain conditions to access these features and services, Bitmart Institution proves to be very profitable for large institutional investors and entities. 
Bitmart Referral Program
Bitmart has a very lucrative referral program for existing users, allowing them to invite their friends to trade on Bitmart and earn up to 40 percent from their trading fees. You can invite your friends to Bitamrt through a referral link or QR code. 
Bitmart Affiliate
Any user can apply to become an affiliate for Bitmart. Once the application is approved, the user gets their unique referral link to share in their networks and earn commissions as high as 100 percent on spot and futures trading.
Bitmart Task Center
Even new users on Bitmart can get a chance to win up to USD 3000 rewards by completing a few simple tasks. By signing up for Bitmart and creating an account, you can win up to USD 500. For depositing USD 100 or more, you stand a chance to win up to USD 1000, and if your first spot trade is USD 100 or more, you become eligible to win up to USD 1500.
These are some of the most popular and commonly used features of Bitmart. In the next section of our Bitmart review, we'll explain how to access these features and introduce you to the Bitmart fee structure. 
Setting up a Bitmart Account
To set up a Bitmart account, you must sign up with your email address or phone number and create a strong password. Once you've successfully created an account on Bitmart, you must verify your identity to start crypto trading immediately.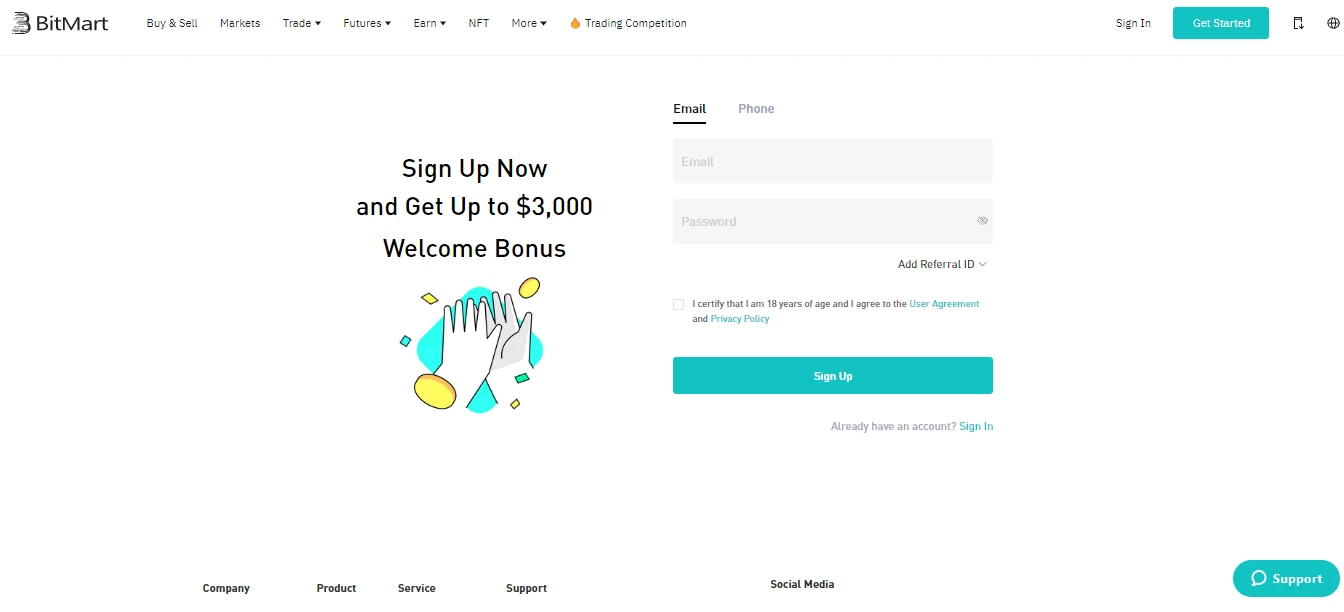 The verification process differs depending on the accounts' types:
Level 1 Starter
The verification process for Level 1 users' accounts is straightforward and requires only personal details like a valid email and a phone number to set up two-factor authentication. Once you've entered these details correctly, you can start using the Bitmart trading platform to buy and sell crypto assets. 
Level 2 Advanced
To gain access to all the features and make the most of your Bitmart trading, you must upgrade to Level 2 and become an Advanced trader. The verification process involves providing a government-issued valid identification card and a complete facial verification. 
Additionally, there is a special onboarding process for institutional investors and companies. Our Bitmart review will focus on retail users. 
Once you've created a user account, the next step is to deposit funds into your Bitmart wallet. You can deposit crypto assets directly from your crypto wallets (software or hardware), and the exchange doesn't charge deposit fees. The Bitmart withdrawal fees vary depending on the cryptocurrency and the network used to withdraw funds. 
Buy Cryptocurrencies
Bitmart allows you to buy and sell cryptocurrencies using fiat currencies through debit or credit cards, PayPal, payment gateways such as MoonPay or Simplex, etc.
Bitmart Fee Structure
While the exchange doesn't charge any deposit fees, it charges a small trading fee from its users. Bitmart competitive fee structure is one of the factors that makes it so popular amongst its users. The fee structure is tiered, and the trading fee for a standard user starts at 0.25 percent. Your level in the tiered structure depends on the number of BMX tokens you hold. The higher the number of BMX tokens, the lower the fee charged, as shown in the table below.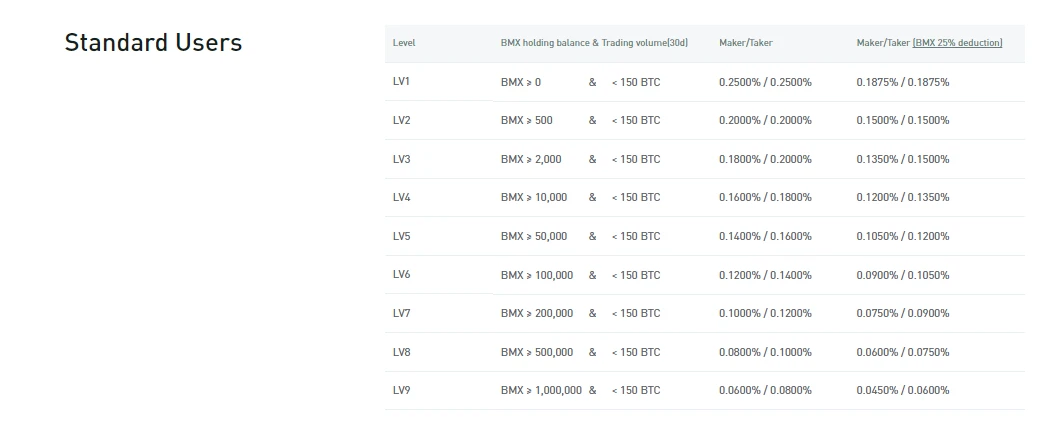 For professional users, the levels range from PRO1 to PRO6, and the trading fee goes down as one moves up the level. The 30-day trading volume in BTC determines the trading fees and levels for professional users – higher volume means higher level and lower trading fees. The trading fees for pro levels are displayed in the table below: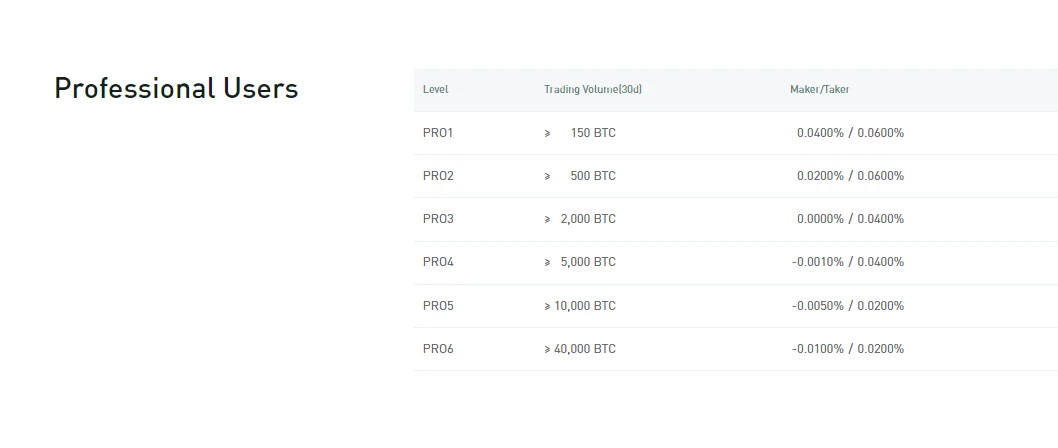 Bitmart Security
Our Bitmart review will now look into security as one of the most important considerations when choosing a crypto exchange for crypto trading. According to the official Bitmart website, it has an Advanced Risk Control System that utilizes a hybrid model of hot and cold wallet systems with multi-signature technologies. On top of that, Bitmart is registered as a Money Service Business in the USA with Financial Crimes Enforcement Network, making it a legitimate cryptocurrency exchange for crypto trading in the US. 
However, despite all the Bitmart exchange's security measures, it became subject to a hack of USD 196 million in 2021. As stated, some hackers had gotten control over the private keys to two of Bitmart's hot wallets used to store users' funds and assets and managed to hack the Bitmart exchange. The company later stated that it would reimburse all its users with the funds they had raised.
Trading Experience Bitmart
Since the hacking incident in 2021, the Bitmart ratings on Trustpilot have gone down to 3.6 out of 5 stars. Another reason behind this low ranking is that the 0.25 percent standard fee charged by the trading platform can be higher than other popular exchanges.
To sum up, the Bitmart exchange is suitable for professional-level traders or those wishing to invest in small-cap and newer cryptocurrencies. 
Final Word
Our detailed Bitmart review has revealed that you can easily trade and exchange crypto on the platform. The exchange provides several advanced features to make your crypto journey straightforward and more efficient. Moreover, its registration with FCEN makes the Bitmart exchange legit in the US, and users don't have to worry about their funds being suddenly frozen by the government.
It should, however, be kept in mind that cryptocurrencies are volatile in nature, and nothing in this article is a piece of financial advice. 
If you wish to learn more about cryptocurrencies, blockchain technology, and DeFi, you're welcome to visit our blog and read articles like "What Is DeFi." To learn how to manage your crypto portfolios, read our "Crypto Portfolio Trackers."
Price analysis 12/7: BTC, ETH, BNB, XRP, ADA, DOGE, MATIC, DOT, LTC, UNI
The current weakness in BTC and major altcoins shows that investor sentiment remains negative and that bears are active at higher levels.
Litecoin eyes $100 after 'rare' LTC price breakout
Litecoin (LTC) could rise another 20% amid a rare trend reversal breakout that has already resulted in LTC outperforming most crypto assets in recent days.
LTC's not-so-bearish symmetrical triangle
LTC's price broke out of what earlier appeared to be a bearish symmetrical triangle.
Symmetrical triangles are trend continuation patterns, meaning breaking out of their range typically prompts the price to move in the direction of their previous trend. 
Litecoin formed a symmetrical triangle pattern between May and November after dropping 70% to nearly $40 in the prior trading sessions. Ideally, the LTC/USD pair could have resolved the pattern by breaking below its lower trendline.
But instead, it broke above the upper trendline in early November, as shown below. According to Edwards and Magee, the authors of Technical Analysis of Stock Trend, the breakout move is rare, given only 25% of symmetrical triangle breakouts have historically resulted in trend reversals.
Litecoin followed up with its symmetrical triangle reversal move decisively and now eyes a run-up toward $100, or another 20% by December 2022.
This upside target is measured after calculating the distance between the triangle's upper and lower trendline and adding the output to the breakout point (around $58 in Litecoin's case).
Why is Litecoin price up?
Litecoin's symmetrical triangle breakout move started in late October. It coincided with MoneyGram's announcement that it would enable users to purchase, store, and use LTC alongside Bitcoin (BTC) and Ether (ETH) for payments.
The LTC breakout lost momentum due to the FTX collapse in the first week of November and its negative impact on the broader crypto market. But, Litecoin resumed its upward trend amid speculations about its reward halving in the summer of 2023.
Related: Litecoin hits fresh 2022 high versus Bitcoin — But will LTC price 'halve' before the halving?
"Litecoin tends to rally in the months leading up to the halving," noted market analyst, The Digital Trend, in his SeekingAlpha op-ed, adding:
"Then, the price tends to stabilize before entering a lengthier and more substantial bull market. Then, around halfway through the cycle, Litecoin enters a bearish/distribution phase like Bitcoin."
Litecoin's price could reach $180 by July 2023 if the halving fractal plays out as intended, as Cointelegraph covered here.
The bearish take
Conversely, Litecoin can see a short-term correction as its three-day relative strength index (RSI) is turning "overbought." The trigger for the downside move could be the RSI crossing above 70 from its current reading of 68, as shown below.
LTC's price downside target comes to be at around $40 in the event of a correction trend, down about 50% from current price levels.
This article does not contain investment advice or recommendations. Every investment and trading move involves risk, and readers should conduct their own research when making a decision.
Thanks to Ethereum, 'altcoin' is no longer a slur
Altcoin originally meant "Bitcoin alternative" because, in the early stages of cryptocurrency development, every blockchain-based currency was seen as a sort of Bitcoin (BTC) knockoff. Cryptocurrencies back then were mainly used for payments, such as Litecoin (LTC), XRP (XRP) and Peercoin (PPC). Altcoin was used as a catchall term for cryptocurrencies other than Bitcoin. 
That's changed since 2011. With the emergence of more than 20,000 cryptocurrencies, each linked to different types of crypto projects and tokens. We have also seen the dexterity of coins stretch across sectors of public chains, decentralized finance (DeFi), layer 2, decentralized autonomous organizations (DAOs), stablecoins and more.
If "altcoin" refers to non-Bitcoin cryptocurrencies with the same characteristics as Bitcoin, this definition certainly no longer suits all 20,000.
The evolved definition of an altcoin is now far more pinpointed — generally referring to an alternative coin within a particular track. Altcoins are often more advanced in technical features or ecosystem applications, but so far, no altcoin has come close to surpassing Bitcoin in consensus, ubiquity, or market capitalization.
So all things considered, does Ether (ETH) still fit in this box?
Ethereum's shifting altcoin status
Even Ethereum was first perceived as yet another Bitcoin wannabe in the eyes of investors when it first launched in 2015 — so much so that Ether didn't even land in the top ten cryptocurrencies that same year. At that stage, Ethereum would have absolutely fit the old description of what was considered to be an altcoin.
Shaking off this stigma is another story. Ethereum's status as the preeminent altcoin emerged from new developments in both the wider crypto ecosystem and its own operational capabilities. Technologically speaking, Ethereum hurdled over Bitcoin to become the first public chain to support smart contracts, essentially catalyzing DeFi.
Related: Tax on income you never earned? It's possible after Ethereum's Merge
Suffice to say, we have noticed the decentralized application and community aspects of Ether's growth have created a much more vibrant community. It is not only a currency but also an ecosystem platform. This growth has only compounded from 2017's initial coin offering (ICO) boom, the DeFi Summer of 2020 and the launch of numerous public chains supporting Ethereum Virtual Machine. By flexing its muscles in diverse applications, Ether has become a viable alternative in forming a legitimate consensus and community support.
Bestowing the altcoin title on Ethereum back in 2015 made sense, but its expansive applications and growth since then make that classification a bit constricting. And, we haven't even mentioned the Merge yet.
The game changer
The Ethereum Merge, a milestone transition of Ethereum's consensus mechanism from proof-of-work to proof-of-stake, actually only represented the first step in a six-part process. The next steps all aim to enable Ethereum to "process 100,000 transactions per second."
.@VitalikButerin claims that #Ethereum will be able to to process "100,000 transactions per second", following the completion of 5 key phases:

• The Merge
• The Surge
• The Verge
• The Purge
• The Splurge

A quick breakdown of what each stage means for $ETH. pic.twitter.com/FnaWww8mHZ

— Miles Deutscher (@milesdeutscher) July 22, 2022
While the Merge changed several things for the better — including a sharp drop in energy consumption and heightened security — investors did not expect an immediate price boost. Instead, it merely laid the groundwork for further infrastructure that could solve its problems in the years to come.
We can also expect that part of this infrastructure will include more revolutionary currencies to emerge as market challengers to Ethereum and Bitcoin. Though ETH holders now have their sights set on a potential flippening, in which the ETH market value overtakes that of BTC, to truly kill the altcoin classification once and for all, it doesn't mean the gates are closed to other blockchain players. After all, cryptocurrency is not meant to be an oligopoly.
Related: Post-Merge ETH has become obsolete
The dominance of a few big players like Bitcoin and Ethereum in the blockchain realm shouldn't dissuade the entrepreneurial spirit of other blockchain developers or alternative networks. It really isn't as simple as the Bitcoin camp versus the Ether camp. Networks like Polygon or Kusama already illustrate how community-building and diverse blockchain applications are not only reserved for the big shots in the crypto space.
If Bitcoin's position as the original cryptocurrency means all other coins are eternally considered altcoins, then no improvement to Ethereum — Merge or otherwise — can change that. But if the title is simply a matter of semantics, then altcoins have an opportunity to prove that the name doesn't matter. Removing the stigma associated with altcoins, not only benefits Ether but the wider community of blockchain and crypto developers.
James Wo founded has served as the CEO of Digital Finance Group in 2015, where he oversees $1 billion in digital assets. He was an early investor in companies including LedgerX, Coinlist, Circle, and 3iQ. He is also the founder and a board member of the Licensed Matrix Exchange in the United Arab Emirates and holds a master's degree in applied statistics from Columbia University's Teachers College.
This article is for general information purposes and is not intended to be and should not be taken as legal or investment advice. The views, thoughts, and opinions expressed here are the author's alone and do not necessarily reflect or represent the views and opinions of Cointelegraph.