Bitcoin Loses Critical Level Below $23,000, Bears Prepare For Assault?
Bitcoin has been slowly trending to the downside over this week. The first cryptocurrency by market cap seems to have lost momentum as uncertainty spills into the crypto market from legacy markets.
At the time of writing, Bitcoin trades at $22,600 with a 4% loss in the last 24 hours and a 1.2% loss over the past seven days.
The cryptocurrency has lost its 200 days simple moving average (SMA) at $22,800. In the short term, recapturing this level is crucial to maintain the bullish momentum.
Bulls need to sustain BTC's price current levels and push beyond its 200 SMA to prevent the cryptocurrency from re-testing previous support levels. Analyst Caleb Franzen presented the chart below to show how BTC's price was rejected at a critical level.
The cryptocurrency managed to hit the top of the channel shown above and now seems poised to re-test the lower level at $21,200. This level should operate as support in order to stop a downside trend below $20,000.
Data from Material Indicators (MI) show over $20 million in bid (buy) orders for Bitcoin between $22,200 to $22,400. Remains to be seen if these orders will be able to push the bears back, below those levels, the order book looks thin until $19,000.
At the time of writing, there are $16 million in buying orders at $19,000 which should act as the final line of defense in case Bitcoin continues to trend to the downside. Franzen said the following on BTC's potential to see further losses in the short term:
Whether you want to call this a parabolic trendline or a curved trendline is irrelevant to me. Based on what I've heard from the analysts who use them, should we be concerned about short-term momentum reversing for Bitcoin? I don't know (…). Markets can swing between both extremes of sentiment/trend. (…) I think the magnitude & velocity of this move has been too large.
Will This Time Be Different For Bitcoin?
A different perspective for the price of Bitcoin shows that it is currently trading just above its 200 weekly moving average (WMA) at $22,300. The cryptocurrency has only lost this level 7 times since its inception, said Yassine Elmandjra analyst at Ark Invest.
Once the cryptocurrency has reclaimed this level after a pronounced loss, it often tends to the upside. On average, Elmandjra said, Bitcoin records a 240% increase when this happens.
However, BTC might not follow a similar trajectory immediately, the cryptocurrency might face some bearish and sideways price action in the meantime. The analyst said:
On a relative basis, if this bear market is as severe as the 2018 bear market, bitcoin could see more downside. Bitcoin has corrected 72% relative to its all-time high. Bitcoin usually finds global cyclical bottoms with a correction greater than 80%.
Popularity of Crypto Investments Makes Case for Regulations, Australian Securities Watchdog Says – Regulation Bitcoin News
High rates of crypto ownership, with purchases often made on advice from Youtube and Facebook, make "a strong case for regulation," according to the Australian Securities and Investments Commission. The watchdog backs its stance with poll results showing nearly half of retail investors in Australia keep one coin or another.
Australian Securities Regulator Pushes for Rules to Protect Cryptocurrency Investors
Pressure on Australia's new Labor government is mounting, to put an emphasis on consumer protection as it takes over a task from the preceding conservative government to adopt a regulatory policy regarding digital assets like cryptocurrencies. A years-long study on the matter, initiated by the former cabinet, is yet to answer the relevant questions of whether and how to do that.
According to a survey conducted by the Australian Securities and Investments Commission (ASIC) in November, 44% of over 1,000 retail investors admitted to holding cryptocurrency. The results indicated that crypto is the "second most popular investment after Australian shares," Reuters noted in a report. A quarter of the polled investors who held digital coins said they were their only investment.
Statistical data suggesting high rates of cryptocurrency ownership in Australia were dismissed last year by a top central bank official who referred to the numbers as "implausible," the news agency remarks. But ASIC believes they make "a strong case for regulation."
Another argument for that, besides the high popularity of crypto, is the finding that 41% of respondents sought investment insight online, with a fifth of those polled naming the video sharing platform Youtube and at least one in ten pointing to the leading social media network, Facebook. Only 13% gained their info from a financial adviser or broker.
ASIC Chairman Joe Longo expressed the Commission's concerns about the large number of participants in the survey who reported investing in what he described as "unregulated, volatile crypto-asset products." The high-ranking official further elaborated:
There are limited protections for crypto-asset investments given they have become increasingly mainstream and are heavily advertised and promoted. There is a strong case for regulation of crypto-assets to better protect investors.
The survey was conducted in the same month when bitcoin (BTC) and ether (ETH), the two most popular cryptocurrencies, hit record highs, Reuters remarks. The prices of both coins have since dropped by about two-thirds, while the Australian stock market is down about 6%.
Part of the reason for that can be found in interest rate hikes that have likely convinced investors to exit speculative assets. Their retreat helped cause the latest crypto market slump and led to the bankruptcy of a number of businesses built around cryptocurrencies.
The popularity of crypto among Australian investors has attracted the attention of other government agencies as well. Earlier this year, the Taxation Office listed crypto-related profits among several priority areas where efforts are needed to ensure correct reporting. The authority reminded taxpayers they need to calculate any capital gains from the sale of coins and tokens and declare it with their tax returns.
Do you expect Australia to adopt restrictive regulations for cryptocurrency investment? Share your thoughts on the subject in the comments section below.
Image Credits: Shutterstock, Pixabay, Wiki Commons, Ms. Li
Polygon Accommodate 37,000 DApp, Scoring 400% This Year
Since the beginning of 2022, the number of decentralized apps (DApps) on the Ethereum scaling platform Polygon has surged 400%, hitting 37k. According to a blog post from partnered Web3 development platform Alchemy published by the Polygon team, the 37,000 figure signifies the total apps produced on both the testnet and mainnet.
At the end of July, there were 11.8k monthly active teams, a sign of blockchain developer involvement, a 47.5% increase from March. In addition, the project team offered an overview of dApp projects, noting that "74% of the teams are entirely integrated on Polygon."
Your capital is at risk.
The Reason Behind Its Surgence
Their collaboration with Alchemy was the driving force behind the expanding number of DApps. The Polygon team noted earlier this year that the increased amount of DApps being developed on the network was a major contributing reason.
~500 dApps in November, now 37,000+ with 11.8k active teams.

"Many projects are increasingly choosing to build solely on Polygon. Alchemy data shows that 74% of teams integrated exclusively on Polygon"
This is because the Web3 platform's infrastructure makes it "far easier for Polygon developers" to construct DApps.
Cooperation by Polygon and Alchemy Support dApps
The cooperation launched by Polygon and Alchemy in June 2021 aided in increasing the number of dApps on the network from 3,000 in October to 7,000 in January to over 19,000 in April.
Polygon's native asset, MATIC, has risen by 66.3% in the last month as cryptocurrency markets have turned green and recently exhibited signs of a possible positive revival. MATIC is presently the sixteenth most valuable cryptocurrency asset, having a market capitalization of $6.9 billion.

Polygon (MATIC) Price and Tokenomics
The current price of Polygon is $0.9241, with a 24-hour trading volume of $498 million. Polygon's value has risen by 2.50% in the last 24 hours. MATIC is now the world's 13th most valuable company, with a market capitalization of $7.6 billion.
It can hold up to 10,000,000,000 MATIC coins, but currently only 8,035,303,935 MATIC coins are in circulation.
Polygon (MATIC) Technical Outlook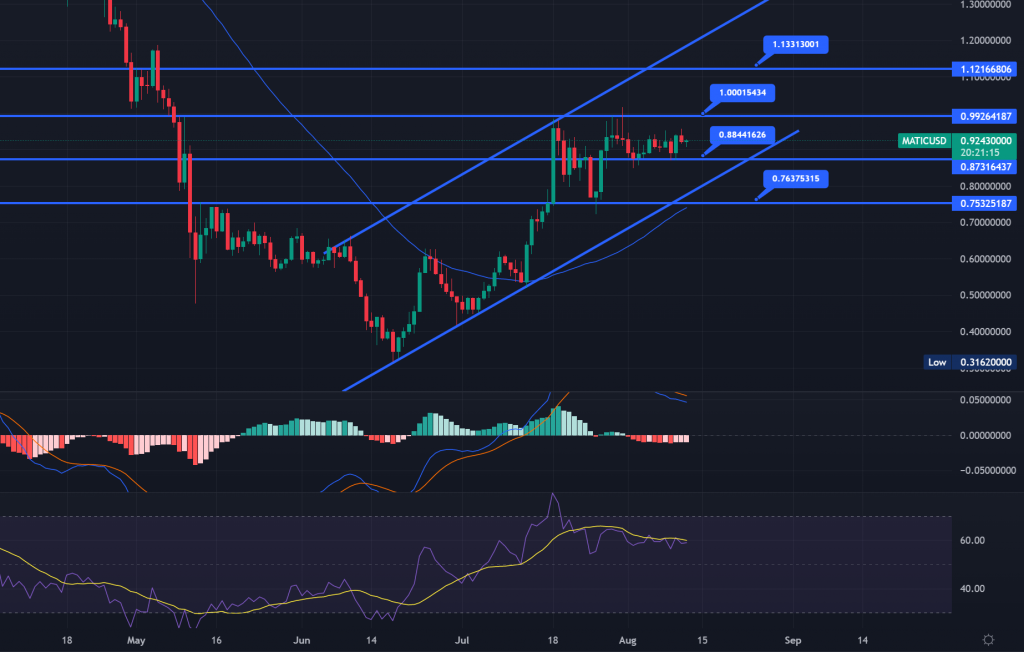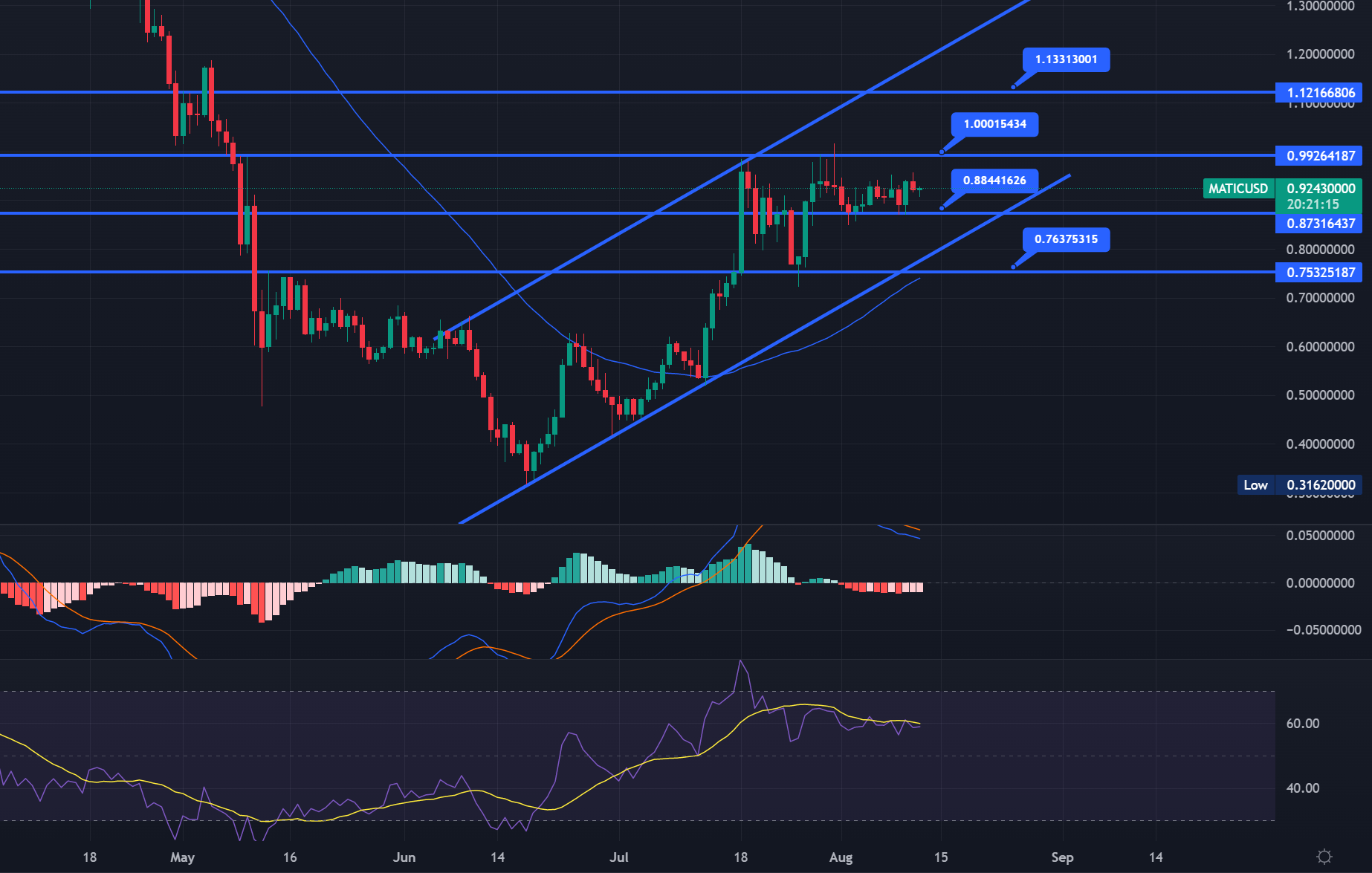 The MATIC/USD is currently trading at $0.9241 after consolidating in a narrow range of $0.8844 to $1.0001. Given the recent 400% increase in dApp registrations on the Polygon network, MATIC may experience a bullish trend.
A surge in MATIC demand could pierce the $1.0001 resistance level, exposing the MATIC price to the next target area of $1.1330. Further to the upside, MATIC's next resistance level will be $1.2770.
The leading indicators MACD and RSI indicate divergence, with one indicating a buying trend and the other indicating a selling trend. However, the 50-day EMA is in support of a buying trend.
On the support side, MATIC at $0.8844 is likely to be supported by the upward trendline. On the other hand, a bearish breakout could push Polygon's price down to $0.7635. Consider staying bullish above the $0.7635 level and vice versa. Good luck!
Read more:
Tamadoge – Play to Earn Meme Coin
Earn TAMA in Battles With Doge Pets
Capped Supply of 2 Bn, Token Burn
NFT-Based Metaverse Game
Presale Live Now – tamadoge.io
Cosmos Hub Soars Over 5% Within 24 Hours
Cosmos (ATOM) coin buyers have clasped on the $10 level as its support zone.
Cosmos (ATOM) coin soars by over 5% as seen in the past 24 hours.
ATOM still fluctuates wildly as observed in the upwards parallel channel.
Coin's price has made impressive traction and surged by 13% in the past week.
According to CoinMarketCap, ATOM is having a sweeping uptrend at $12.09 or an impressive spike of 4.46% as of this writing. Currently, ATOM's ATH is set at $44.45 which means the bulls have to work a bit harder than usual to push the price further up.
ATOM's Trading Volume Spikes 102.0% In Past Week
The daily chart shows the volatility and price movement for Cosmos Hub (ATOM). Currently, ATOM's trading volume has spiked by 102.0% as seen in the past week. The total circulating supply or volume of ATOM has however dropped by 0.27%. As of now, ATOM ranks as the 28th largest crypto in terms of the market cap which is currently at $3.47 billion.
It seems the bears moved away from ATOM as the bulls continue to drive the price higher. Cosmos Hub has had an impressive rally seen in the past couple of weeks due to aggressive buying pressure. ATOM coin is seen to be consistently moving upwards for the past few weeks. More so, the bulls were also re-energized after they revisited the coin's support line.
In the event that the buyers breach ATOM's resistance zone, the buyers are optimistic about a 60% ROI in the coming days. Buyers are definitely pushing the price up with $10 poised as the support zone and the $12.5 level as the bullish hurdle.
Cosmos: $20 On Target
Buyers are constantly eyeing the next resistance zone as a breach on this level may propel the asset's price to an uptick peaking at $20.
ATOM's market cap has spiked by 4.8% overnight or registered at $3.4 billion. The increase in trading volume also hints at the surge of buying momentum. ATOM's RSI also shows that it was able to break the falling trendline and near the oversold mark. Moreover, the coin's MACD also indicates a bullish movement for ATOM.
Buyers are looking forwards to the bulls breaching and hovering above the resistance zone of $12.5. Despite the hurdles that the bulls face, buyers are positive that a 60% spike is possible from the current level and may in fact pump the price to $20.
ATOM total market cap at $3.35 billion on the daily chart | Source: TradingView.com

Featured image from CoinCentral, Chart from TradingView.com