5 Best Cryptocurrency To Buy For The Weekend Rally October 2021 Week 4
The cryptocurrency market is cooling off a little after this week's exuberance. It's down by 1% in the past 24 hours, with bitcoin (BTC) and most major coins falling by comparable percentages. However, with overall sentiment remaining largely bullish, it's likely that the rally could kick off again soon. Accordingly, we've compiled a list of the 5 best cryptocurrency to buy for the weekend rally. While these coins all have a very good chance of jumping in the next few days, they also have great long-term potential.
5 Best Cryptocurrency To Buy For The Weekend Rally
1. Bitcoin (BTC)
BTC is down after hitting a new all-time high this week. At $63,736, it has sunk by 3% in the past 24 hours. That said, it's up by 11% in the past week, and by 58% in the past month.
As its 30-day moving average (red) shows, BTC is still in the midst of a significant upswing. At the same time, its pullback yesterday has pushed its relative strength index (purple) below 50. This means some of the excess heat has been removed from its market, and that there's renewed space to enter.
And of all the major cryptocurrencies, BTC really has the best chances of rallying this weekend. It has been riding high ever since the SEC gave the green light to the ProShares Bitcoin ETF. With more Bitcoin ETFs likely to follow, confidence in BTC's future is only growing. And when you add rising inflation into the mix, the chances of BTC ending the year with a series of new highs are now rising enticingly.
Indeed, this week's rally has added credibility to the stock-to-flow model, which predicted $63,000 around this time of the year. It also predicts more than $100,000 by the start of 2022.
$63K✅ https://t.co/tj6SSwSzKR

— PlanB (@100trillionUSD) October 19, 2021
ETH is another coin that has done very well this week. It recorded a new all-time high around 24 hours ago, moving to $4,361.18. It's now down by 1.3% in the past 24 hours, although at $4,156, it's up by 10% in a week. It's also up by 51% in a month.
ETH's 30-day average is also riding well above its 200-day average (blue), indicating a new level. And as with BTC, its RSI has cooled off after entering overbought territory yesterday. This suggests that short-term (if not long-term) gains are there to be had.
Ethereum is another platform about which there's every reason to be bullish. Indeed, even JPMorgan is starting to champion ETH, with a  a report from a couple of weeks ago revealing that some institutions are beginning to prefer ETH over BTC.
Why? Well, because ETH has become a deflationary cryptocurrency ever since Ethereum's London upgrade of early August. That's because the upgrade results in a portion of transaction fees being burned.
9.17k $ETH were burned yesterday 👀

Since the deployment of EIP-1559, a total of 342.9k ETH has been burned.

Check out the new #Ethereum supply metricshttps://t.co/Kk7UslZUPc pic.twitter.com/ySoIfpb8bu

— IntoTheBlock (@intotheblock) September 22, 2021
At the same time, more ETH holders are sending the cryptocurrency to Ethereum 2.0's staking contract, in anticipation of the move to proof-of-stake next year.
A breakdown on the #Ethereum staking contract.

The Ethereum 2.0 staking contract has become the largest holder of $ETH.

There are now 7.84m ETH, meaning that the contract has been growing at a pace of 23,442 Ether per day, with a total 51,200 unique addresses depositing. pic.twitter.com/VTlYy6AWyg

— IntoTheBlock (@intotheblock) October 5, 2021
This all creates a perfect storm of conditions ripe for ETH to surge strongly in the coming days, weeks and months. This is why it's one of our 5 best cryptocurrency to buy for the weekend rally.
3. Solana (SOL)
SOL is today's best-performing top-10 coin. It has risen by 6.4% in the past 24 hours, to $204.68. It's also up by 36% in a week and by 66% in the last 30 days.
SOL's 30-day average has raced ahead of its 200-day average in the past couple of days, indicating a breakout. This has only just occurred, so even though SOL's RSI is at 80, the rally still likely has some time left to run yet.
Indeed, Solana continues to provide plenty of compelling reasons to buy SOL. Its recent growth has seen Solana-based stablecoins becoming more popular and widely supported, for example.
Solana native stables are taking the world by storm ⚡️ https://t.co/M7l7Mw8fb8

— Solana (@solana) October 20, 2021
It has also seen to launch of new apps and protocols in recent days.
We are now live! 🍑📣

➡️ Access the mainnet here: https://t.co/ezjWSaXN9D#Solana pic.twitter.com/KwW4brYjyb

— Apricot Finance (@ApricotFinance) October 19, 2021
At the same time, its existing apps are growing in popularity.
🦄
$1B+ TVL.
7M+ SOL staked.
77 days since launch. pic.twitter.com/fW8VDqVS4P

— Marinade.finance – SOL Liquid Staking (@MarinadeFinance) October 18, 2021
In view of such growth, it's no surprise to learn that the total value locked into Solana has grown to a new record high. It now stands at $12.5 billion, having been only $1.2 billion as recently as the start of August.
4. Avalanche (AVAX)
AVAX is another coin that has risen over the past 24 hours while others have fallen. Its price is now $65.44, a rise of 4.5% in the last 24 hours. This also represents an increase of 16% in the last week, as well as a jump of 13% in the past month.
AVAX has just begun to overtake its 200-day average, suggesting that it's another coin beginning a breakout. As with SOL, it's also in 'overbought' territory now as far as its RSI is concerned.
However, Avalanche's fundamentals suggest that the rally can continue expanding to accommodate new buyers and growing bullishness. Its total value locked in has risen to $7.73 billion in recent weeks. It accounted for only $2 billion at the beginning of September, as well as $4 billion at the beginning of October. In other words, its total value as a network has nearly doubled in less than a month.
And Avalanche is likely to be growing in the long-term too. In mid-September, Polychain and Three Arrows Capital invested $230 million in the platform. This highlights the kind of resources it now has behind it, and how it would be unwise to bet against its growth.
📢 BIG News 📢@Polychaincap and Three Arrows Capital led a $230M investment in the #Avalanche ecosystem to support growth of the platform.https://t.co/T141NFEoIG

— Avalanche 🔺 (@avalancheavax) September 16, 2021
Another reason for its recent growth is that it launched the Avalanche Bridge back in August. Linking Avalanche with the Ethereum blockchain, this has now facilitated over 100,000 cross-chain transfers. It's a big part of the story of AVAX's recent price increases, as well as a big part of the reason why we've added it to this list of the 5 best cryptocurrency to buy for the weekend rally.
Another growth milestone achieved 📈

The Avalanche Bridge (AB) has now facilitated 102k+ unique transfers to #Avalanche since launch 🌉 https://t.co/UAY69mBjpo pic.twitter.com/rL4fduQpNM

— Avalanche 🔺 (@avalancheavax) October 21, 2021
5. Polkadot (DOT)
After flying below the radar a little over the past few months, DOT looks ready to capture the market's attention once again. It's up by 2.5% in the last 24 hours, rising to $45.59. It's also up by 12% in the last week and by an impressive 75% in the last 30 days. This makes it one of the best-performing cryptocurrencies of the month.
As its 30-day average shows, DOT is clearly breaking new ground right now. Encouragingly, it remains just outside of overbought territory, suggesting there's space for further price rises in the short-term.
And in the longer term, it's likely that DOT will continue to grow. This is largely because it has parachain auctions coming up next month. The network's governance structure last week voted in favour of holding such auctions, which will decide which projects get to run on Polkadot.
Once Polkadot's community ratifies last week's vote, auctions will commence on November 11. Once parachains are launched on Polkadot, demand for DOT itself will increase significantly. DOT will be needed to bond new parachains to Polkadot's central relay chain. At the same time, it will be used for staking and governance, as well as for paying transaction fees. So expect $45 to seem very cheap quite soon.
Referendum 39 is currently up for a community vote, if passed it will schedule the first auction to take place on November 11, 2021 [a little over 26 days]. Reminder for those wishing to take part in auctions, the unbonding period on Polkadot is 28 days.https://t.co/h9E4gNR60M

— Polkadot (@Polkadot) October 15, 2021
67% of retail investor accounts lose money when trading CFDs with this provider
Read more:
Polygon Accommodate 37,000 DApp, Scoring 400% This Year
Since the beginning of 2022, the number of decentralized apps (DApps) on the Ethereum scaling platform Polygon has surged 400%, hitting 37k. According to a blog post from partnered Web3 development platform Alchemy published by the Polygon team, the 37,000 figure signifies the total apps produced on both the testnet and mainnet.
At the end of July, there were 11.8k monthly active teams, a sign of blockchain developer involvement, a 47.5% increase from March. In addition, the project team offered an overview of dApp projects, noting that "74% of the teams are entirely integrated on Polygon."
Your capital is at risk.
The Reason Behind Its Surgence
Their collaboration with Alchemy was the driving force behind the expanding number of DApps. The Polygon team noted earlier this year that the increased amount of DApps being developed on the network was a major contributing reason.
~500 dApps in November, now 37,000+ with 11.8k active teams.

"Many projects are increasingly choosing to build solely on Polygon. Alchemy data shows that 74% of teams integrated exclusively on Polygon"
This is because the Web3 platform's infrastructure makes it "far easier for Polygon developers" to construct DApps.
Cooperation by Polygon and Alchemy Support dApps
The cooperation launched by Polygon and Alchemy in June 2021 aided in increasing the number of dApps on the network from 3,000 in October to 7,000 in January to over 19,000 in April.
Polygon's native asset, MATIC, has risen by 66.3% in the last month as cryptocurrency markets have turned green and recently exhibited signs of a possible positive revival. MATIC is presently the sixteenth most valuable cryptocurrency asset, having a market capitalization of $6.9 billion.

Polygon (MATIC) Price and Tokenomics
The current price of Polygon is $0.9241, with a 24-hour trading volume of $498 million. Polygon's value has risen by 2.50% in the last 24 hours. MATIC is now the world's 13th most valuable company, with a market capitalization of $7.6 billion.
It can hold up to 10,000,000,000 MATIC coins, but currently only 8,035,303,935 MATIC coins are in circulation.
Polygon (MATIC) Technical Outlook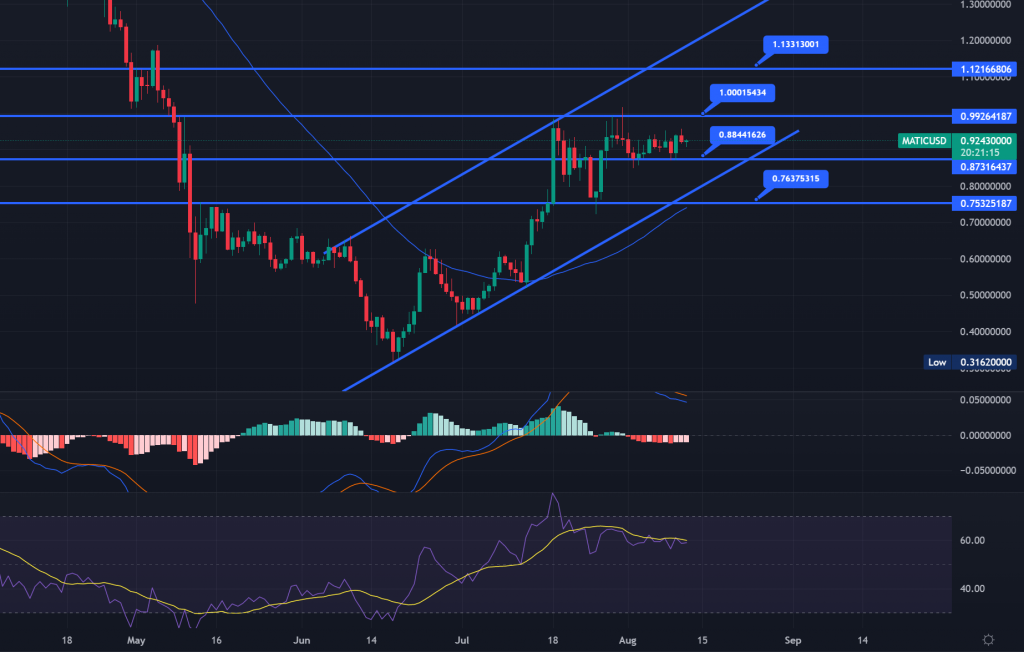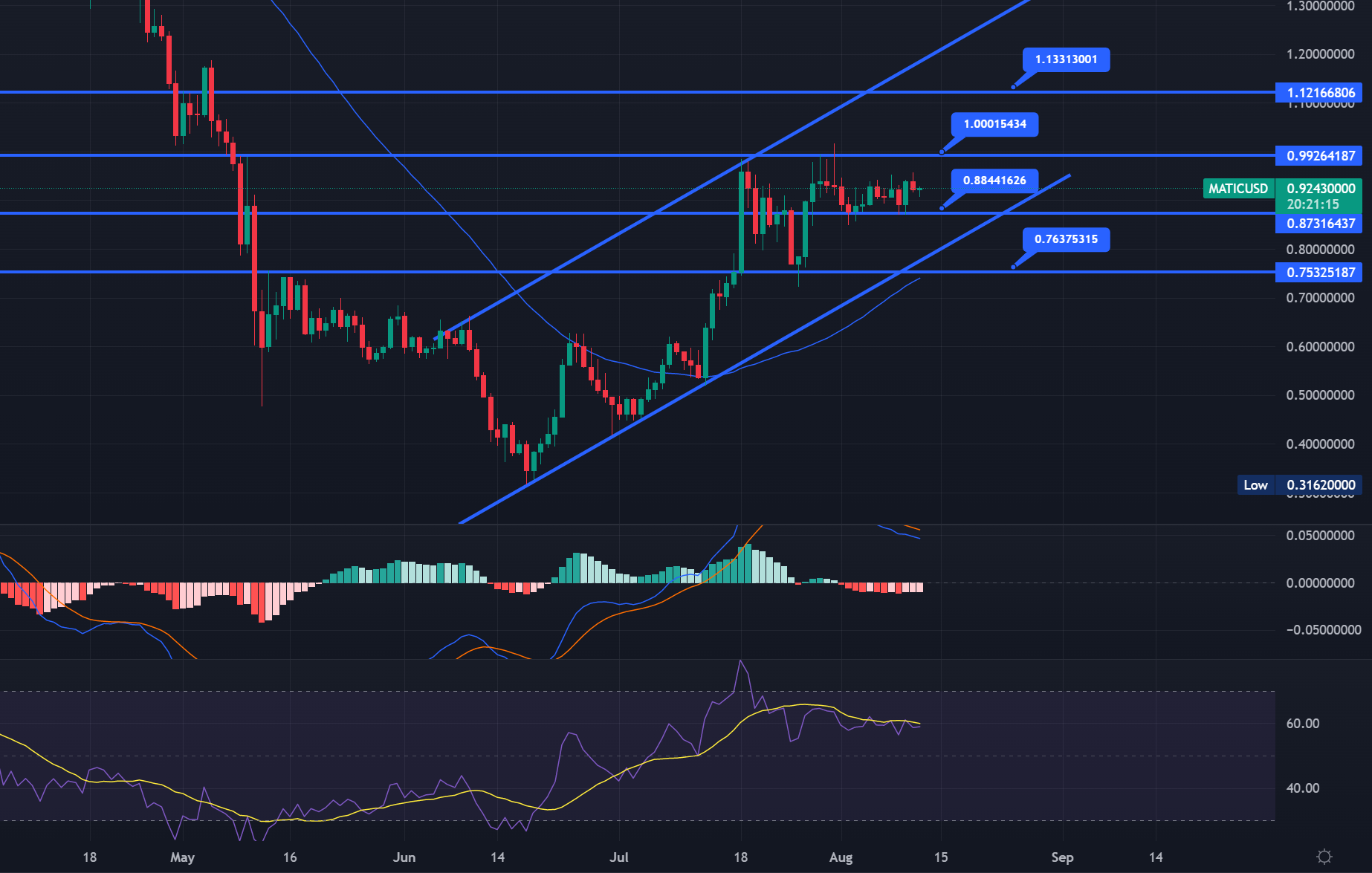 The MATIC/USD is currently trading at $0.9241 after consolidating in a narrow range of $0.8844 to $1.0001. Given the recent 400% increase in dApp registrations on the Polygon network, MATIC may experience a bullish trend.
A surge in MATIC demand could pierce the $1.0001 resistance level, exposing the MATIC price to the next target area of $1.1330. Further to the upside, MATIC's next resistance level will be $1.2770.
The leading indicators MACD and RSI indicate divergence, with one indicating a buying trend and the other indicating a selling trend. However, the 50-day EMA is in support of a buying trend.
On the support side, MATIC at $0.8844 is likely to be supported by the upward trendline. On the other hand, a bearish breakout could push Polygon's price down to $0.7635. Consider staying bullish above the $0.7635 level and vice versa. Good luck!
Read more:
Tamadoge – Play to Earn Meme Coin
Earn TAMA in Battles With Doge Pets
Capped Supply of 2 Bn, Token Burn
NFT-Based Metaverse Game
Presale Live Now – tamadoge.io
Vinteum launches in Brazil to aid the Bitcoin ecosystem
Vinteum, a nonprofit Bitcoin research and development firm, has been unveiled in Brazil. The firm announced the development in its press release. The entry of Vinteum into Brazil will help facilitate the decentralization of open-source networks within the country.
Vinteum will provide the necessary infrastructures for open-source developers' training and funding in Brazil. As revealed, this will help grow the country's bitcoin ecosystem.
The firm acknowledges the criticality enveloped in the Bitcoin ecosystem and the Lightning network. According to Vinteum, the two mechanisms have, in recent years, become complicated owing to bitcoin's growing maturity. It added that the development had become a significant challenge for developers within the country.
Vinteum believes its investment in proficient open-source developers will aid the Bitcoin and Lightning Network, thereby resolving the problem. Additionally, the firm reiterates its commitment to safeguarding and sustaining the next generation of Bitcoin developers.
According to reports, the firm decided to unveil its center in Brazil to safeguard the Bitcoin ecosystem. Vinteum is optimistic about Bitcoin as a deserving network owing to its various use cases. According to the firm, this necessitated the effort to establish the center, facilitating improved efficiency within the ecosystem. 
However, it noted that "there is no official team, nor is there any built-in mechanism for funding Bitcoin developers." According to the firm, the situation is obtainable because "it is an open-source software and a decentralized protocol with no owners nor a system of leadership."
This development is prompting Vinteum to source for investors so that integrated developers can work full-time on the lightning network and other notable open-source projects in the Bitcoin sphere. 
As of press time, it has secured the support of numerous investors. Some investors are John Pfeffer of Pfeffer Capital; Xapo Bank founder and early Bitcoin champion Wences Casares; Sebastian Serrano, CEO and co-founder of Bitcoin blockchain company Ripio; crypto-exchange Okcoin; and the Human Rights Foundation (HRF). However, the firm is yet to publish the amount it has raised through the commitment of these investors.
Vinteum further states that it is on the lookout for developers who can sustain the scaling of the Bitcoin ecosystem. More so, it added that the developers must be able to aid the network's security, privacy, and programmability.
Reportedly, the co-founders of Vinteum, Lucas Ferreira of Lightning Labs and André Neves of ZEBEDEE, will function as the foundation's executive director and director of partnerships of the firm.
Related
Tamadoge – Play to Earn Meme Coin
Earn TAMA in Battles With Doge Pets
Capped Supply of 2 Bn, Token Burn
NFT-Based Metaverse Game
Presale Live Now – tamadoge.io
Ethereum Co-Founder Vitalik Buterin Downplays Ethereum PoW Fork, Hopes It 'Doesn't Result in Folks Losing Money'
Ethereum co-founder Vitalik Buterin recently mentioned that he cares about the recent Ethereum proof-of-work (PoW) fork topic that's been finding its method into a variety of conversations inside the crypto community. Buterin remarked at the ETH-Seoul conference over the weekend, that he believes the folks introducing the forked token construct ar essentially a "couple of outsiders" that "mostly simply wish to create a fast buck."
Vitalik Buterin provides His Opinion on the Proposed Ethereum PoW Fork plan
A lot of individuals inside the crypto community are discussing a potential ETH captive fork (ETHW) that's distinctive from the present Ethereum Classic blockchain. Bitcoin.com News reported on the prestigious Chinese crypto manual miner Chandler Guo, who initiated the ETHW language when explaining that he participated within the birth of Ethereum Classic (ETC). The thought then gained additional traction, as a web site referred to as ethereumpow.org was revealed and a number of exchanges set to list the fork.
Presently, the promissory note tokens for ETHW ar value $138.69 per token, per coinmarketcap.com metrics and against Tron's USDD stablecoin, ETHW is exchanging hands for 142.27 USDD on Poloniex. This weekend, co-founder of Ethereum Vitalik Buterin mentioned ETHW throughout a Q&A session at the ETH-Seoul conference. Buterin downplayed the chance of a fork of this type seeing semipermanent acceptance. "I'm not expecting it to own substantial, semipermanent adoption," Buterin stressed.
The Ethereum developer and co-founder conjointly talked concerning Ethereum Classic (ETC) and Buterin complimented the ETC community. "I assume Ethereum Classic already incorporates a superior community and a superior product for folks quite with those pro-proof-of-work values and preferences," Buterin expressed. once Buterin was asked concerning the ETHW proposal, he explained that those attached its creation ar simply a "couple of outsiders that essentially have exchanges, and principally simply wish to create a fast buck." Buterin added:
"I hope that whatever happens, doesn't lead to people losing money."
Digital Currency Group CEO Barry Silbert Discusses ETHW, Buterin Doesn't See Fork Harming Ethereum's Ecosystem
Buterin's statement follows the statements the founder and chief executive officer of Digital Currency cluster (DCG), Barry Silbert, has created concerning the ETHW plan on Twitter. Silbert tweeted to the Evariste Galois Capital account on Twitter and said: "[For what it's worth], our full support is behind [Ethereum proof-of-work], additionally to [Ethereum Classic], and have zero intention to support any [Ethereum proof-of-work] fork. [Ethereum] miners ought to move to [Ethereum Classic] to maximise their revenue semipermanent. easy as that."
Silbert has conjointly created different statements on Twitter on to a number of Chandler Guo's threads, and Guo asks Silbert in one tweet: "why solely [Ethereum Classic]?" The DCG government replied and aforementioned it's "the good play for [ethereum] miners" and he conjointly mentioned that Antpool is leading the initiative to support the Ethereum Classic chain. once somebody told Silbert to prevent participating with Guo, Silbert responded and said: "I like and respect Chandler. simply trouble him on this strategy."
Meanwhile, at this weekend's ETH-Seoul conference, Buterin elaborated that he doesn't expect Ethereum (ETH) to be deterred by the chance of another fork. "I don't expect Ethereum to essentially be considerably injured by another fork," Buterin remarked. On Twitter, it's business as was common for Buterin, because the computer code developer tweeted concerning stealing addresses for ERC721 (non-fungible tokens) NFTs on Mon. "A low-tech approach to feature a major quantity of privacy to the NFT scheme," the Ethereum co-founder aforementioned.
The post Ethereum Co-Founder Vitalik Buterin Downplays Ethereum PoW Fork, Hopes It 'Doesn't Result in Folks Losing Money' first appeared on BTC Wires.